Cairo, 12 October 2023 (TDI): In a significant diplomatic encounter, the Foreign Minister of Egypt, Sameh Shoukry extended a warm and cordial reception to Eritrean Foreign Minister, Osman Saleh, and Eritrean President's Political Advisor, Yemane Gebreab.
The purpose of this meeting was to engage in substantive discussions to fortify the bilateral relations shared between their respective nations.
This pivotal dialogue was an essential stride towards fostering enhanced collaboration, setting the stage for heightened regional stability and cooperation.
The discussions, characterized by an atmosphere of mutual respect and openness, delved comprehensively into various dimensions of bilateral relations.
Both parties conveyed their eagerness and determination to cultivate stronger ties, particularly in the realms of trade, economy, and cultural exchange.
The recognition of the potential mutual benefits that could be reaped from such strengthened relations was underlined, emphasizing the shared aspirations of prosperity and growth.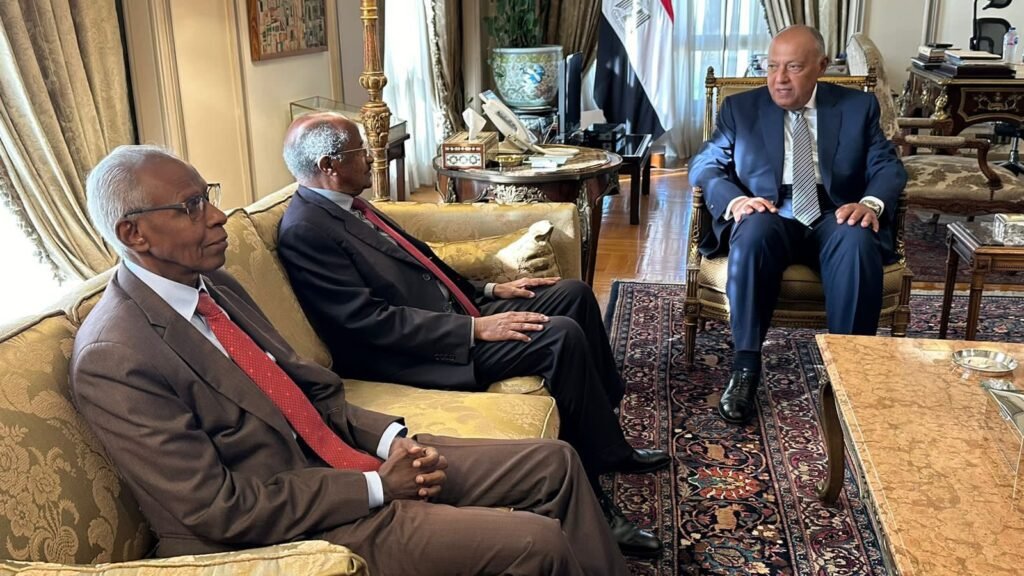 Moreover, the esteemed attendees engaged in an open and constructive dialogue concerning the evolving situation in Sudan, contextualized within the framework of the Neighbouring Countries Initiative.
This initiative serves as a critical platform for neighboring nations to collaborate and collectively address pertinent regional issues.
The conversations during the meeting allowed for an exchange of valuable insights regarding the ongoing developments in Sudan.
Importantly, both parties explored potential collaborative measures that could contribute to fostering peace and stability within the region.
Foreign Minister Sameh Shoukry reiterated Egypt's unwavering commitment to promoting peaceful coexistence and constructive collaboration with its neighboring nations.
He emphasized the importance of sustained dialogue and meaningful cooperation in addressing common challenges.
Furthermore, he underscored Egypt's dedication to playing a proactive and positive role in regional affairs, aiming for the betterment of the region as a whole.
Read also: Pakistan-Egypt Business Opportunities Conference in Cairo
Eritrean Foreign Minister conveyed gratitude for the warm reception and expressed Eritrea's deep-rooted interest in consolidating ties with Egypt.
He emphasized the significance of regional collaboration, underscoring that collective endeavors are pivotal for achieving shared objectives.
Additionally, he reiterated Eritrea's commitment to actively contributing towards regional stability and prosperity.
Yemane Gebreab, the Eritrean President's Political Advisor, echoed similar sentiments, placing emphasis on the necessity of joint efforts in ensuring lasting peace and prosperity across neighboring regions.
He commended the initiatives aimed at fostering understanding and collaboration among neighboring countries, including Sudan.
As the meeting reached its conclusion, a prevailing sense of optimism characterized the atmosphere. Both sides expressed their confidence in the prospects of their burgeoning bilateral relations and the potential for constructive engagement within the region.
They affirmed their unwavering commitment to sustained dialogue and collaborative efforts, working harmoniously towards the collective objectives of peace, stability, and sustainable development.