Melbourne, 8 January 2022 (TDI): The evolving geo-strategic regional environment compelled Australia and Japan to collaborate for enhanced security relations by signing an agreement to work closely on the realm of defense.
Japanese Prime Minister Fumio Kishida and Australian Prime Minister Scott Morrison convened a virtual summit to finalize the agreement called the Reciprocal Access Agreement (RAA) which was under perpetual planning for years.
The Australia-Japan Reciprocal Access Agreement has been signed! A significant step forward for our defence relationship. It will enable enhanced interoperability between #YourADF and the Japan Self-Defence Forces, supporting a free and open Indo-Pacific. 🇦🇺🇯🇵 pic.twitter.com/68ddmcVwju

— General Angus Campbell (@CDF_Aust) January 7, 2022
Australia is already working to boost its defense relations by devising dire proximal collaboration with other Quad states (India, US, and Japan) to resolve the trade conflicts as well as freedom of navigation in the region.
Views of Australian Prime Minister
Australian Prime Minister Scott Morrison stated prior to the meeting that deeper connections with Japan were required to deal with a new and even more demanding environment, notably inside the Indo-Pacific.
Further, he stated that RAA is the first unanimous agreement of its kind for Japan with any state. This will enable the Australian and Japanese forces to collaborate effectively on defense and humanitarian missions.
During the signing ceremony of the RAA, Scott Morrison revealed the closed strategic partnership with Japan by highlighting their mutual and equal partnership of shared trust between two great democracies committed to the rule of law, human rights, free trade, and a free and open Indo-Pacific.
Further, Morrison told the Japanese leaders that the RAA is a significant treaty that paves the path to advanced defense and security cooperation in a prompt transitional complicated world, which Australia and Japan both can realize very well.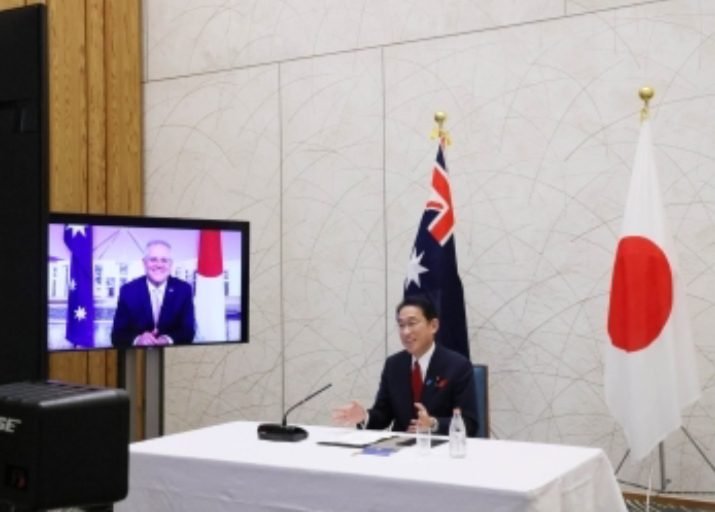 According to Prime Minister Fumio Kishida
During the ceremony, Japanese Prime Minister, Fumio Kishida called the said pact a 'breakthrough'. Further, he said with his confidence that Japan–Australia ties would be a model for the rest of the world.
Both Prime Ministers Kishida and Morrison showed their strong determination that both states would work together to amend a 2007 Japan-Australia Joint Declaration on Security Cooperation as soon as possible to pave a clear direction for their mutual relations. Said accord has been signed virtually.
Both Prime Ministers Kishida and Morrison emphasized the significance of peace and stability across the region and recommended the peaceful resolution of the subject issues.
It is worth mentioning that Japan and the United States have an agreement, which permits the US to base warships, fighter planes, and thousands of troops in and around Japan as part of an alliance that Washington portrays as the substratum of the regional security. Prime Minister Kishida was scheduled to fly to Australia but he canceled his trip to deal with an increase of COVID-19 cases in Japan.