Minsk, 19 February 2022 (TDI): The Embassy of Pakistan in Minsk, Belarus organized the first-ever Pakistan Kinnow Festival. The Festival was held by joint collaboration of Pak Trading House, Pakistani Embassy, and LLC Minsk.
The Kinnow Festival was held at one of the largest Shopping Malls in Minsk, today. The event is a part of the Public/Economic Diplomacy efforts of the Pakistani Mission in Belarus.
A record number of visitors attended the festival. This indicates the huge response from the general public. According to an estimate, roughly 6000 people visited the booth during the festival.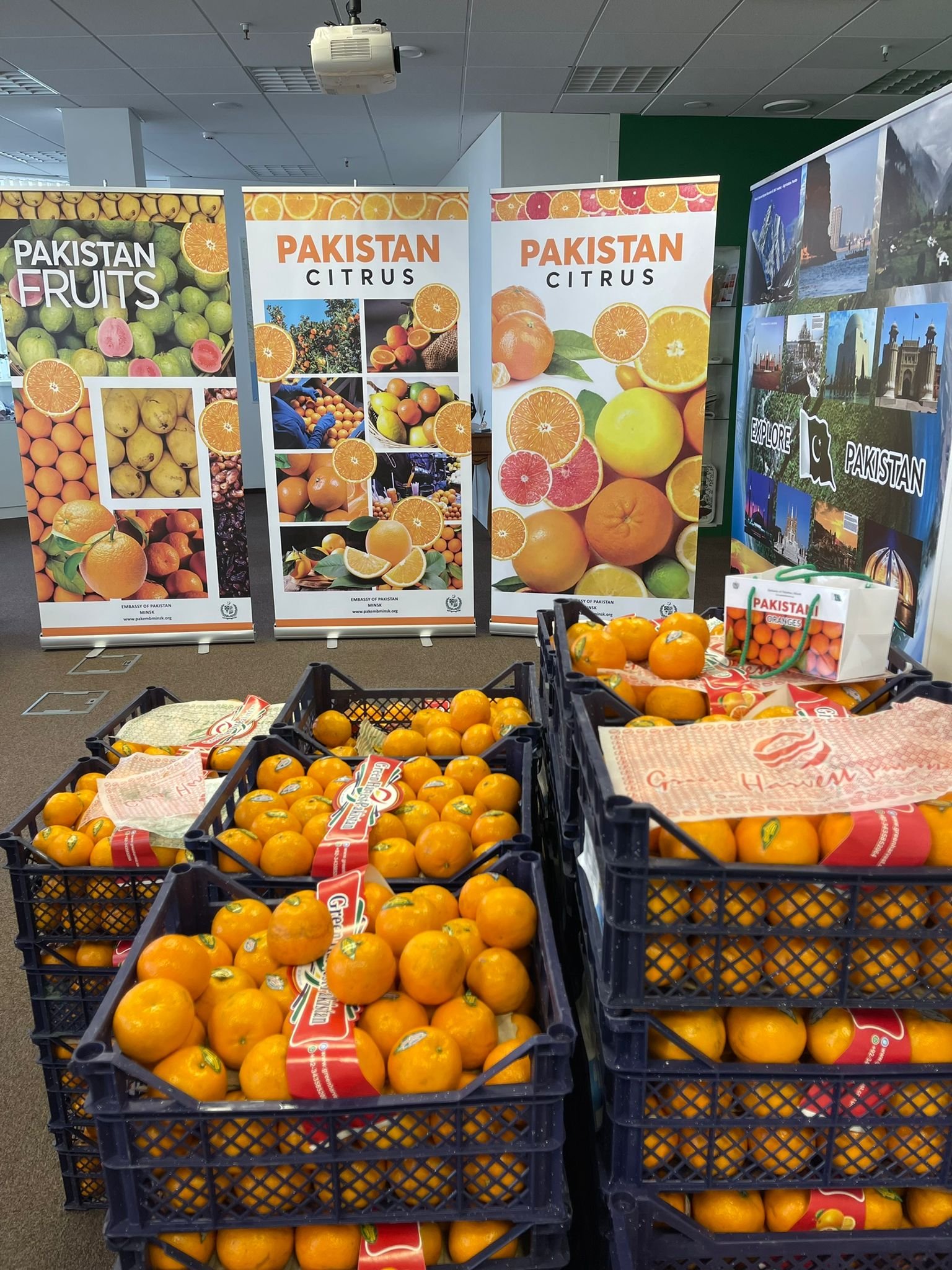 The festival lasted for four hours. Various items including Ice Cream, fresh orange juice, and orange gift were given to the guests.
Kinnow is a subform of oranges. It is smaller in size but tastes somewhat like oranges. It is a cross between the 'Willow-leaf' and 'King' species of citrus fruits and was created after successful experimentation at the University of California, the USA, Citrus Research Centre, in 1951.
However, both the parent breeds of this citrus fruit have Indo-China origins. Pakistani Kinnow has a distinctively unique flavor because of the soil and climatic conditions of the country.
Ideal conditions to grow Kinnow include rich nitrogen content in the soil, abundance of water, and relatively cool weather. Winter of Punjab province provides a favorable environment for this fruit, resulting in a sweet and tangy crop.
Presently, Sargodha is the principal citrus-producing district in Pakistan. Toba Tek Singh ranks second and Sahiwal comes third. Sargodha has about 23 % of Pakistan's total citrus plantings that produce around 650,000 metric tons of fruit annually.
Pakistan is the 10th largest producer of citrus in the world. According to an estimation, around 95 % of the Kinnow produced across the world is cultivated in Pakistan.
5 Health Benefits of Kinnows
Kinnow contains calcium. Daily consumption can make bones stronger.
Kinnows are enriched with vitamin C. Vitamin C acts as an anti-aging agent and an immunity booster.
Regular consumption of citrus fruit can help lower bad cholesterol along with improving good cholesterol in the body.
Kinnow improves blood circulation
It prevents stone formation in the kidney.