Rome, 9 June 2023 (TDI): The President of Uzbekistan, Shavkat Mirziyoyev, held discussions with the Italian President Sergio Mattarella and signed a joint declaration on strategic partnership.
The talks were centered on economic, international, regional, and humanitarian issues. Based on economic cooperation, the leaders praised the business forum that took place the previous day, which resulted in agreements and contracts worth over €9 billion.
President Mirziyoyev also discussed with his counterpart, President Mattarella, prospects for cooperation in the areas of education, archaeology, and environmental challenges.
Also Read: President of Uzbekistan visiting Italy to Strengthen Uzbek-Italian Relations
The presidents exchanged views on the current situation in Afghanistan. They emphasized the need to offer humanitarian assistance to Afghans and to hold regular consultations with the special envoys.
Meeting with the Council of Ministers President
Following his discussion with President Mattarella, the Uzbek President went further to meet with the Italian President of the Council of Ministers, Giorgia Meloni. This took place at the Chigi Palace in Rome on June 8.
Mirziyoyev noted that Italy had been an important and reliable partner to Uzbekistan in Europe. Recently, cooperation between both sides has grown in different fields, such as politics, economy, security, energy, culture, and humanitarianism.
In the aspect of culture, The leaders reached an agreement to hold an exhibition of the cultural and historical heritage of Uzbekistan in Italy.
The parties exchanged ideas on prospects for deepening relations in priority areas. Meanwhile, economic cooperation was noted as being central to the relationship between the two countries.
Signing of the Documents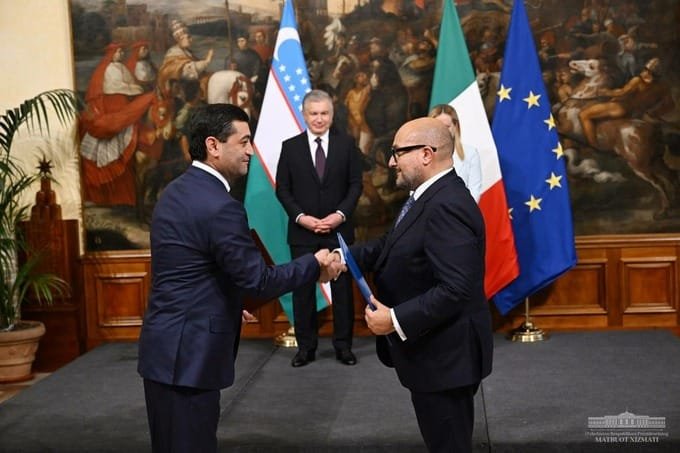 Sequel to their discussions, the Uzbek and Italian leaders established joint relations on strategic partnership between the two countries. This was followed by the exchange of 11 documents aimed at strengthening multifaceted cooperation in agriculture, legal matters, and industrial property.
Before Mirziyoyev's visit, a business forum between the two countries has led to investment agreements and trade contracts worth over 9 billion euros.