Dili, 28 November 2022 (TDI): On 28 November, Timor-Leste aka East Timor celebrates the 47th anniversary of the proclamation of independence. The Democratic Republic of Timor-Leste proclaimed its independence from Portuguese colonization on 28 November 1975.
Parabéns to Timor Leste on the 47th Day of the Declaration of Independence! pic.twitter.com/kMTBpDmRiO

— Marc Fiedrich (@FiedrichMarc) November 28, 2022
Flag hoisting ceremony held in Manatuto Municipality – a city in Timor Leste. President of the Democratic Republic, José Ramos-Horta presided over the celebration ceremony.
The celebration begins with the raising of Timor-Leste's National Flag. After that ceremony proceeded with a military parade, a silent minute, and cultural activities mainly music and dance.
During the official celebration ceremony, the President of Timor-Leste and other state officials commemorate the combatants and veterans of the Liberation movement.
Also Read: Timor-Leste celebrates Proclamation of Independence Day
In addition to the President of Timor-Leste, Presiden of Parliament; Aniceto Guterres Lopes, Prime Minister, Taur Matan Ruak, the state government officials, the country's influential personalities, and Ambassadors and diplomats of other countries also participated.
History of Timor-Leste's Independence Day
The Island of Timor is divided into two parts, East part is an independent state called Timor-Leste (aka East-Timor); while the West part is under the rule of the Republic of Indonesia.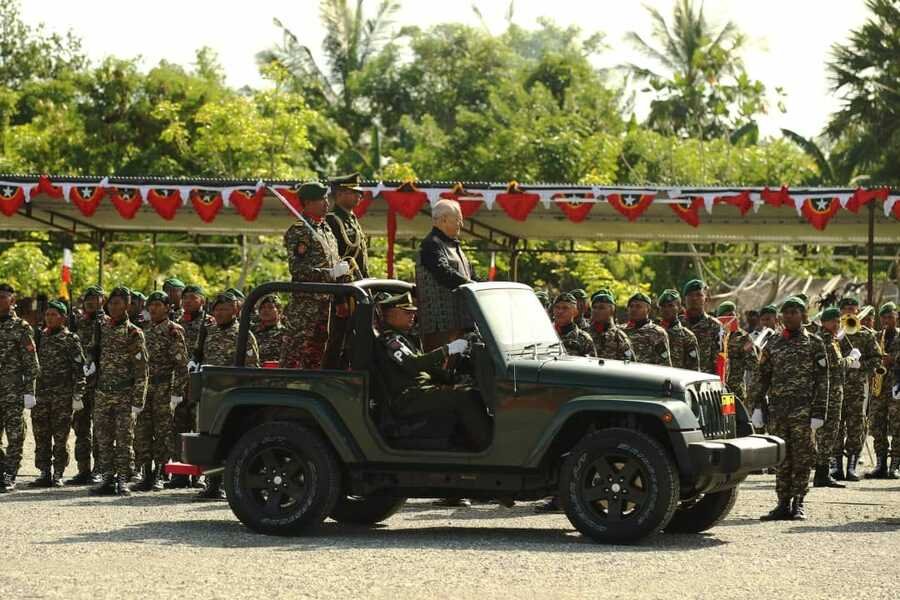 East Timor declared independence from century prolonged Portuguese colonization which ended on 28 November 2022. Nine days later Indonesia invaded East Timor and it remained Indonesia's province for the next 25 years.
The Portuguese were the first to invade the Island in the early 16th century. Over the next hundred years, Christian Missionaries from Portugal started developing religious influence and political influence to dominate.
Also Read: Mongolia commemorates Republic Day
By 1702, Portugal officially declared the Island of Timor their territory and renamed it Portuguese Timor. In 1859, the Dutch signed territory with the Portuguese to determine administrative borders at Island
They divided it into East Timor (administered by Portugal) and West Timor (administrated by the Netherlands). In April 1974, Portugal restored democracy which resulted in self-determination campaigns in Portuguese colonies.
Under the initiative, Portugal allowed the formation of political parties in East Timor. FRETILIN (Revolutionary Front for an Independent East Timor) was formed which supported the right to independence of East Timor.
In 1975 with the dissolution of the Portuguese Colonial Empire, the local liberation movement increased.
On 28 November 1975, FRETILIN leader Xavier do Amaral, unilaterally declared the independence of East Timor and became the first Prime Minister of East Timor which lasted for some days until Indonesia occupied the territory.