Doha, 13 July 2022 (TDI): The State of Qatar has topped the countries of the Middle East and North Africa (MENA) region for the fourth consecutive year as the most peaceful country.
According to the Global Peace Index (GPI) 2022 report, Qatar ranked 23rd globally out of 163 countries included in the report. Qatar has advanced by six places by last year. It has secured an overall score of 1.530, a score above many of the developed countries.
The State of #Qatar ranks first among Arab countries in the @GlobPeaceIndex report 2022. #Qatar attaches great importance to security and safety and places it among its priorities. pic.twitter.com/sCjML0LPVL

— مكتب الاتصال الحكومي (@GCOQatar) July 12, 2022
Qatar has maintained its lead in the MENA region as the most peaceful country since 2019 leading it to secure advanced positions globally.
According to the report, Qatar's first position in the MENA region confirms the high level of security that the state enjoys.
Moreover, it also affirms political stability, low crime rates, and no terrorist activities, both internally and externally.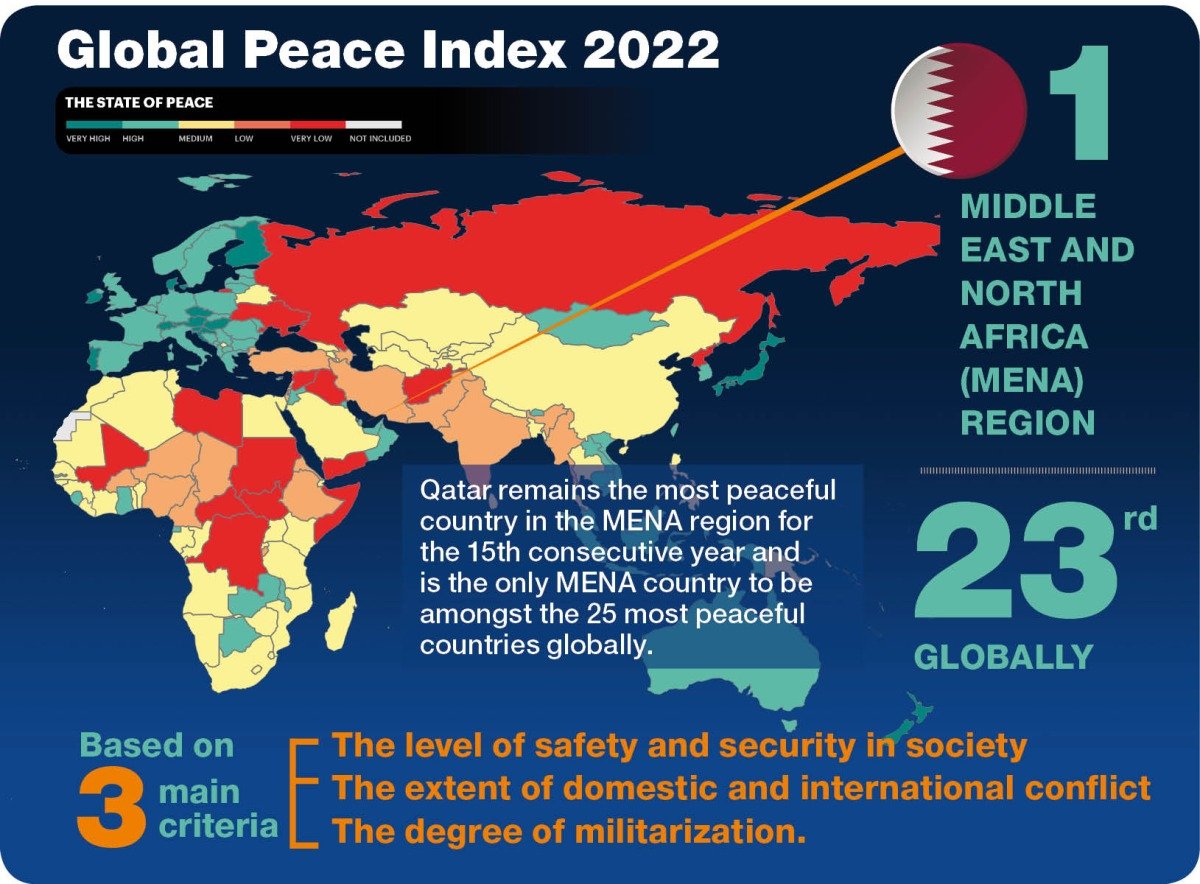 The report also says that Qatar is the only MENA country to be amongst the 25 most peaceful countries globally. Twelve GPI indicators experienced no change while eight improved as compared to last year.
The political stability indicator observed the highest improvement. It improved by 28.6 percent, the second largest improvement of any nation globally.
The report also ranked Qatar first in the Arab world and ninth globally in the index of countries with societal safety. Advancing by six points over the previous year, this index ranked Qatar as the 10th societally safe country in the world.
Global Peace Index (GPI)
The Global Peace Index report is issued by the Institute of Economics and Peace (IEP), Australia. It was released on 14th June 2022 this year and the reports are based on three main criteria.
These include the level of security and safety in a society, the extent of domestic and international conflict, and the degree of militarization.
Other criteria are related to the internal and external affairs of countries. Qatar has maintained a high rank in most of the indicators including political stability, terrorism, organized crimes, safety, and security.
Various other reports have also affirmed this degree of security and public safety in Qatar including the World International Security and Police Index, the Global Terrorism Index, and the Nambio Encyclopedia Index.