Beijing, 2 November 2022 (TDI): Prime Minister of Pakistan, Mian Muhammad Shahbaz Sharif, met with President of China, Xi Jinping in the Great Hall of the People Government office in Beijing, China, to discuss bilateral cooperation on November 2nd, 2022.
Prime Minister Muhammad Shahbaz Sharif met Chinese President Xi Jinping. Both leaders discussed mutual cooperation in all areas of bilateral relations, especially #CPEC projects and agreed to further strengthen strategic partnership.#PMShehbazinChina pic.twitter.com/NdKp6nmkXW

— Prime Minister's Office (@PakPMO) November 2, 2022
Prime Minister, Shehbaz Sharif is on a historic state visit to the People's Republic of China following the 20th National Congress. Prime Minister arrived in Beijing on 1 November 2022, received by Wu Jianghad, Assistant Foreign Minister of China.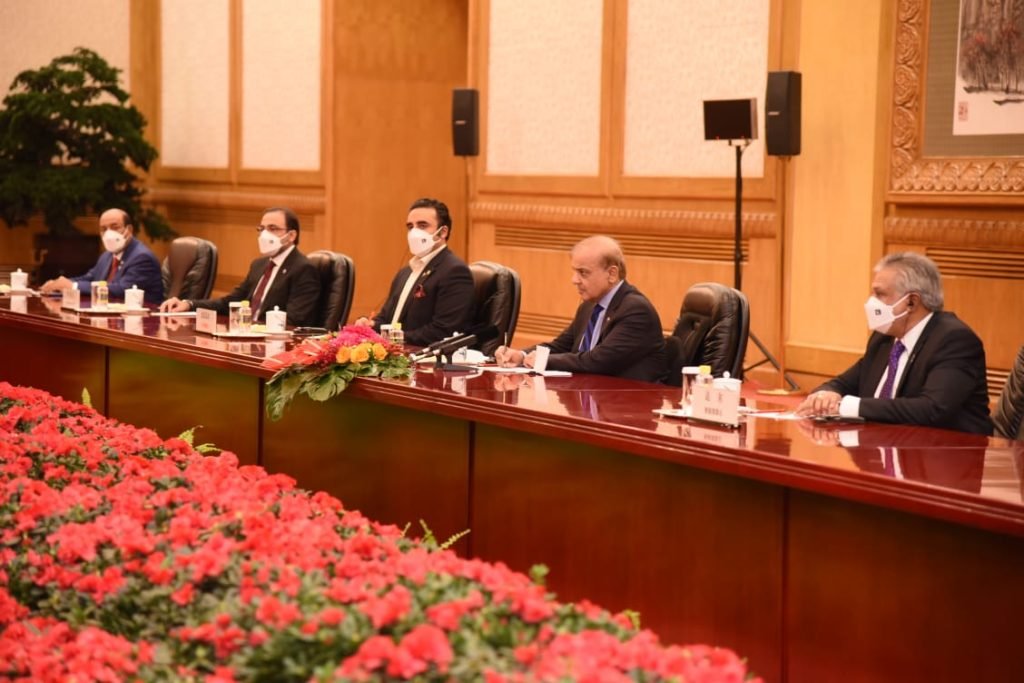 Shehbaz Sharif accompanied by the Foreign Minister of Pakistan, Bilawal Bhutto Zardari, Federal Minister for Finance and Revenue, Ishaq Dar, and other state officials attended the meeting. In the meeting, both sides discussed mutual cooperation in all areas of bilateral ties and partnership between Pakistan and China.
Also Read: Pakistan-China to further enhance brotherly relations
China and Pakistan both agreed to enhance multilateral cooperation in CPEC and further strengthen the strategic partnership. Both leaders discussed expanding trade and investment ties.
A high-level delegation of both Pakistan and China talked about bolstering CPEC projects across various sectors to progress the socioeconomic condition of the people of Pakistan.
Shahbaz Sharif's visit to China
Prime Minister Shahbaz Sharif is on his maiden state visit to China after taking charge of the office. He led a high-level delegation to China and is among the first few leaders to have been invited after the 20th National Congress.
Also Read: Prime Minister of Pakistan to visit China
Engagement with the Chinese leadership on the revitalization of CPEC and meeting Chinese investors and Pakistani businessmen in China is also on the agenda of Pakistan's Prime Minister during the visit.
It was announced that during the visit, Pakistani leadership will emphasize the importance of 2nd phase of CPEC and consolidate the momentum of CPEC cooperation.
Federal Minister for information and Broadcasting of Pakistan, Marriyum Aurangzeb reaffirmed the importance of the visit and said, this visit will advance the all-weather strategic partnership between Pakistan and China.