Shenzhen, 29 June 2022 (TDI): The Huawei ICT Competition 2021-2022 Global Final held in Shenzhen concluded on June 25. 2022 marks the sixth Huawei ICT Competition.
Three competitions were included in the event; Practice, Innovation, and Industry.  The competition drew 150,000 students from more than 2000 universities in 85 countries around the world.
130 teams from 43 countries and regions, after making it through the national and regional competitions, faced off in the global final. This year's final was the largest so far.
The participants of this year were also the first to contest for a recent series of Women in Tech Awards. The Awards have been developed to celebrate the extraordinary talent exhibited by the young women contenders in the Competition.
During the awards ceremony, a TECH4ALL Digital Inclusion Award was also presented as part of Huawei's TECH4ALL Digital Inclusion Initiative.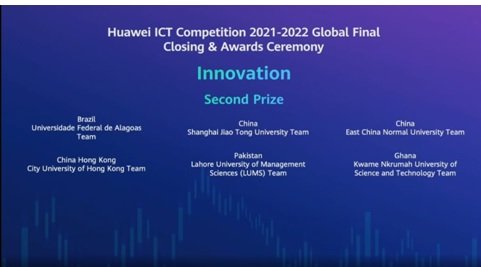 The 2021-2022 Regional finals winners were from Pakistan's team one; Sateesh Kumar, Iqra Fatima, and Bhagchand Meghwar, and their instructor Dr. Faheem Khuhawar while team two; Hafiz Rizwan, Adnan Ali, and Mukhtar Memon and their instructor took part in the practice competition.
Hailing from Mehran University of Engineering & Technology, Islamiya University Bahawalpur, and UET Lahore, these students represented Pakistan.
Moreover, in the Innovation Competition, two more teams from Pakistan were selected this year. 'Homevism' team from NUST was represented by Osman Ahsan Sheikh, Muhammad Abdullah Ahsan Sheikh, Aqsa Amir, and their instructor Merai Syed.
The second team, 'Boltay Haroof', from LUMS, comprised Umer Farooq, Tabish Rafiq, Areej Ahmed along with their instructor Muhammad Saeed.
Pakistan Team One clinched the 1st prize, and Pakistan Team Two grabbed the 3rd prize, in the Network category of the Practice competition, after a hotly contested competition.
While in the Innovation competition, Team Boltay Haroof won the 2nd prize, and Team Homevism was awarded the 3rd prize.
Xiao Haijun, the President of Global Partner Development and Sales of Huawei Enterprise addressed the event about the significance of the ICT for work and lives.
The Huawei ICT Competition is devised to help build an ecosystem that students around the world as one of Huawei's key initiatives in talent cultivation.
This is so that digital divides can be bridged and global digital transformation is accelerated by enhancing their ICT knowledge, talents, and innovation capabilities.
Mark Meng, the CEO of Huawei Pakistan stated, "Despite the lingering pandemic, this Huawei ICT Competition attracted more participants than before.
The achievements and milestones Pakistan students and teachers have achieved reflect on the great vision and determination of Pakistan government towards ICT talent nurturing, innovation and technology adaptation."
Dr. Faheem, the mentor of Pakistan's Team One remarked, "This is nothing short of a privilege and honor for Pakistan, we highly appreciate and are thankful to Huawei for the continuous support throughout this journey that led to achieving this level of success.
Their cooperative nature and professionalism to resolve issues that ICT academy instructors and students face from all over Pakistan are extremely noteworthy."
Bhangchand Meghwar from Tharparkar, Sindh, commented, "I come from a village where there aren't a lot of resources on hand, being able to represent and win for Pakistan on such a prestigious platform has been nothing short of a dream come true."
Huawei plans to continue making industry, education, and public talent ecosystems by establishing talent alliances, improving talent capabilities, integrating talent standards, and demonstrating talent value.
Along these lines, Huawei has also announced plans to facilitate 1 million certified ICT professionals by 2024 for improving the digital skills of the whole society.
The objective is to promote industry development, scientific and technological progress, and sustainable economic and social development.