Fez, 23 November 2022 (TDI): Pakistan participated in the 9th United Nations Alliance of Civilizations (UNAOC) Global Forum in Fez city of the Kingdom of Morocco, on Tuesday.
Minister of State for Foreign Affairs @HinaRKhar participated in the Ministerial Meet of the Group of Friends of #UNAOC held during the 9th Global Forum of the United Nations Alliance of Civilizations in Morocco.#FezForum pic.twitter.com/hSR3TveQAC

— Spokesperson 🇵🇰 MoFA (@ForeignOfficePk) November 22, 2022
The high-level Ministerial Meeting of the UNAOC Group of Friends is taking place from 22 to 23 November. The theme of this year is "Towards an Alliance of Peace: Living Together as One Humanity."
The Islamic Republic of Pakistan was represented in the forum by the Minister of State for Foreign Affairs, Hina Rabbani Khar.
Read more: Pakistani Foreign Minister meets UNAOC Representative
While addressing the forum, Khar stated, "We can defeat the plague of religious intolerance by bridging divides and accepting our differences."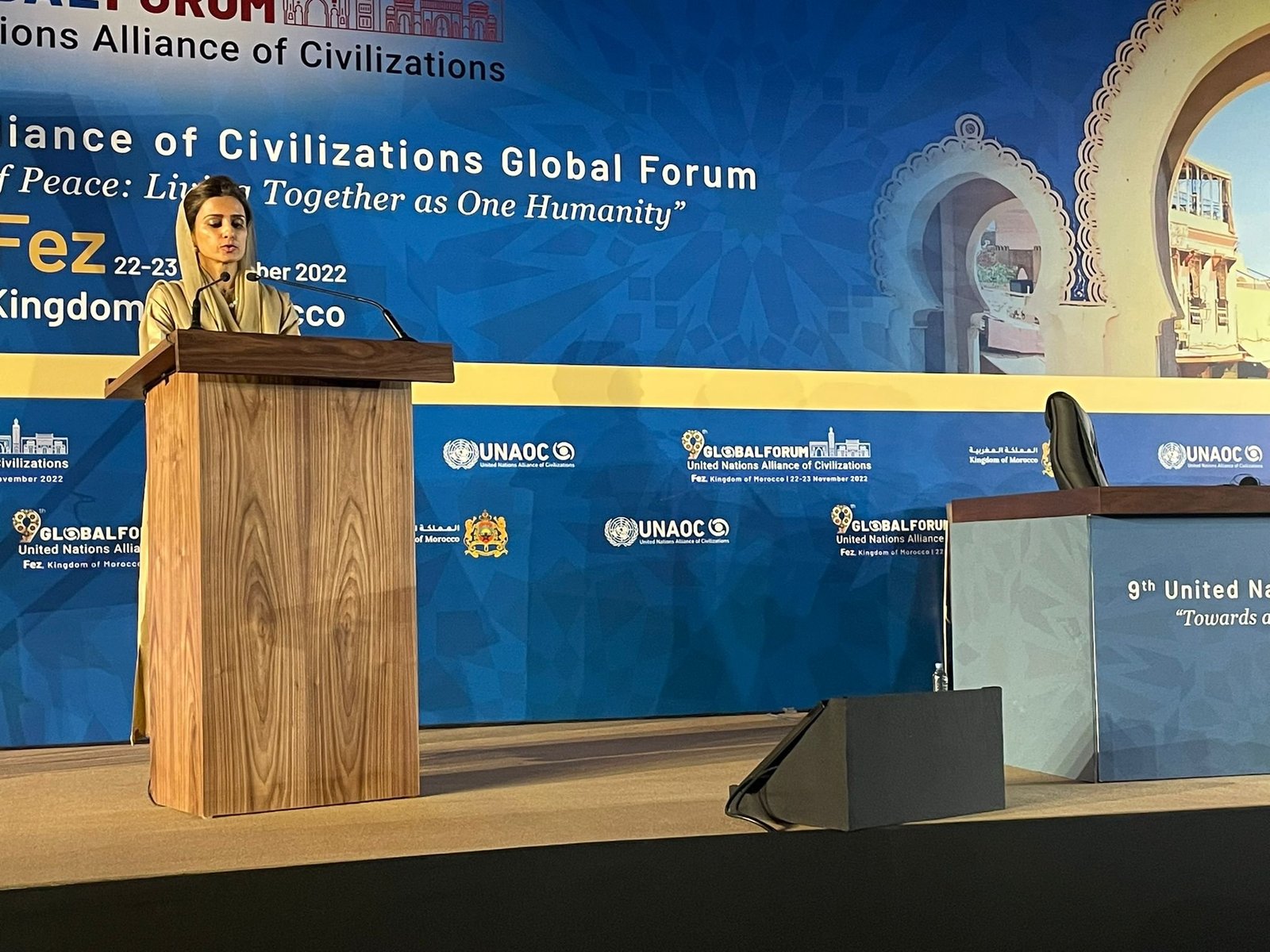 In this vein, the Minister highlighted the importance of harmony and patience while referring to the teachings of the Holy Prophet Muhammad ﷺ.
Free speech is not a free pass under international human right law. Freedom of speech must not undermine interfaith harmony, she continued.
Khar highlighted the paradox of the globalized world and said, "While it has enhanced connectivity among people, it has also spawned frictions within societies."
Read also: Pakistan's Minister of State attends High-Level UN Meeting
It is pertinent to mention that the forum was attended by the Ministers of Turkiye, Qatar, Egypt, and Indonesia among others. Additionally, the Ambassadors of various states were also present.
What is the Global Forum of UNAOC?
The United Nations Alliance of Civilizations (UNAOC) was established in 2005. It is a political initiative of Kofi Annan, former UN Secretary-General, and co-sponsored by the Governments of Spain and Türkiye.
The forum aims to explore the roots of polarization between societies and to recommend a practical program of action to address this issue.
It brings together the global network of partners representing the UNAOC Group of Friends to improve cross-cultural relations between diverse nations and communities.
Among them are states, faith leaders, youth, civil society groups, foundations, and the private sector.