Tokyo, 8 July 2022 (TDI): Former Japanese Prime Minister Shinzo Abe was shot and killed at a political rally on Friday.
Abe was shot while delivering a speech in Nara, a city in southern Japan. Witnesses say that a man with what they said was a big gun shot at Abe twice from behind.
On-site security officers were able to stop the gunman, and the 41-year-old suspect is now in police custody.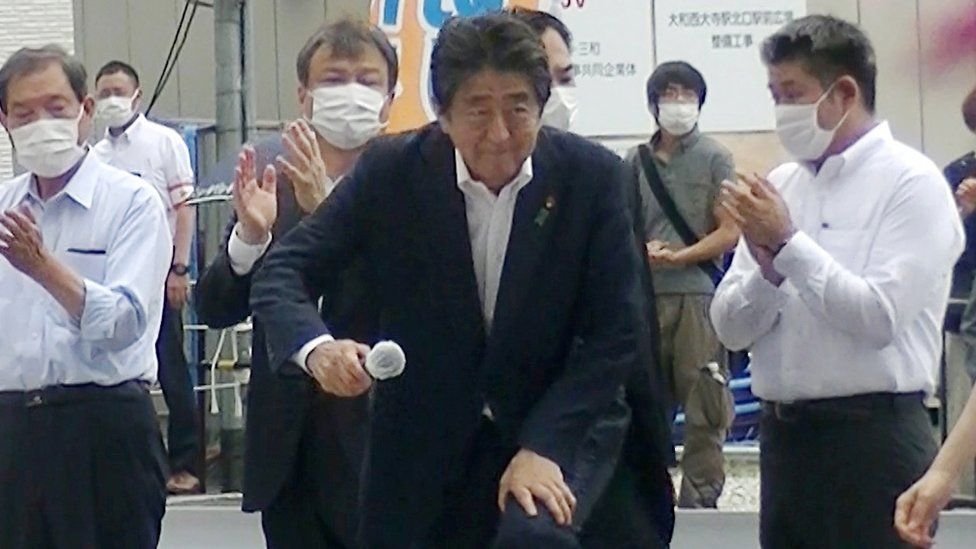 According to reports, after initially being conscious and responsive, Abe appeared to be in cardiac arrest when airlifted to the hospital.
In the first place, Shinzo Abe arrived at the hospital on Friday at 12:20 PM without any vital signs. Hidetada Fukushima, Professor in Charge of Emergency Medicine at Nara Medical University Hospital, stated that he had two minor neck wounds and that the bullet had entered his heart.
Doctors attempted to stop the bleeding and perform a blood transfusion but could not revive him. He passed away just after 5 PM.
Prior to the announcement of Abe's death, Prime Minister Fumio Kishida condemned the attack, stating, "It is barbaric and malicious and cannot be tolerated."
Kishida stated, "This attack is an act of brutality that occurred during the elections—the very foundation of our democracy—and is absolutely unforgivable."
International responses
Prime Minister of Pakistan 
Prime Minister of Pakistan, Shehbaz Sharif condemned the attack. In a tweet, Prime Minister offered his condolences.
I extend my profound condolences over the sad demise of former Japanese Prime Minister Shinzo Abe. He made invaluable contributions to the Pakistan-Japan relationship. Our prayers are with bereaved family. At this difficult time, we stand in solidarity with the people of Japan.

— Shehbaz Sharif (@CMShehbaz) July 8, 2022
The Chinese embassy in Japan
Similarly, the Chinese embassy in Japan expressed condolences over the assassination of Prime Minister Abe. According to a press release shared on the embassy's website, the Spokesperson of the Chinese Embassy in Japan commented, "We are shocked by the shooting incident of former Prime Minister Shinzo Abe. During his tenure in office, former Prime Minister Abe contributed to the improvement and development of China-Japan relations. We express our condolences on his passing and our condolences to his family."
British Prime Minister
The British Prime Minister, Boris Johnson, also expressed his sadness over the news in a tweet.
Sri Lanka's Prime Minister
Furthermore, Sri Lanka's prime minister, Ranil Wickremesinghe, expressed shock over the attack on Abe, whom he described as a "close friend of Sri Lanka." He wrote, "Our thoughts and prayers are with the family and people of Japan."
I am shocked to hear of the cowardly attack on Former Prime Minister Shinzo Abe. He is a close friend of Sri Lanka and I wish him a speedy recovery. Our thoughts and prayers are with the family and people of Japan.

— Ranil Wickremesinghe (@RW_UNP) July 8, 2022
Russia's Foreign Ministry
The Russian foreign ministry said in a statement that the attempted murder of  Abe has "stunned" them, and called it "an act of terrorism."
In a statement, the ministry's spokeswoman, Maria Zakharova, called Abe "an outstanding political figure who has made an important contribution to the growth of relations between Russia and Japan."
President of the EU
Ursula von der Leyen, President of the European Commission, also shared her sadness over the demise of the former Japanese Minister
Shinzo Abe: The longest-serving Prime Minister of Japan
As Japan's longest-serving prime minister, Shinzo Abe broke records by pushing for ambitious economic reforms and making important diplomatic alliances.
Abe, the longest-serving Japanese prime minister, held office in 2006 for one year and again from 2012 to 2020 before resigning for health reasons.
During his time in office, he pushed for tough defense and foreign policies. He had also been trying for a long time to change Japan's post-war constitution, which is based on peace.
He also pushed for a plan for the economy called "Abenomics," which was based on monetary easing, fiscal stimulus, and changes to the way the economy works.
His close party ally Yoshihide Suga took over, and Fumio Kishida took over after him.
Throughout his tenure as prime minister, Abe engaged in proactive diplomacy with close allies and countries with which Japan had tense relations. He tried to show that his country was a supporter of the liberal international order and a balance to China's rise in the area.