Beijing, 8 February 2022 (TDI): Ecuador and China signed a Memorandum of Understanding for a solid relationship. Both states await a future Free Trade Agreement that will be signed in 2022.
It was Ecuadorian President Guillermo Lasso and Chinese President Xi Jinping that signed the Memorandum of Understanding. This event occurred during the visit of President Lasso to China.  
El Tratado de Libre Comercio entre Ecuador 🇪🇨 y China 🇨🇳 está cada vez más cerca:

✅ Se firmó un "Memorando de Entendimiento" para iniciar negociaciones de inmediato.

✅ El objetivo es firmar el Tratado de Libre Comercio en este 2022. pic.twitter.com/oe3upjFLZn

— Cancillería del Ecuador 🇪🇨 (@CancilleriaEc) February 6, 2022
In the Memorandum, both talked about ways to strengthen their relationship. For instance, they tackled the Future Trade agreement of both States, the debt negotiation progresses, the future donation of 2.5 million Covid vaccines to Ecuador by China, and more. 
What happened During the meeting?
This meeting took place on February 5 at the Great Hall of the People. This negotiation aims to explore the potential of trade, optimize the value chain and promote the liberalization and facilitation of trade and investment. Both countries agreed to enhance cooperation in areas of the digital economy and Green development.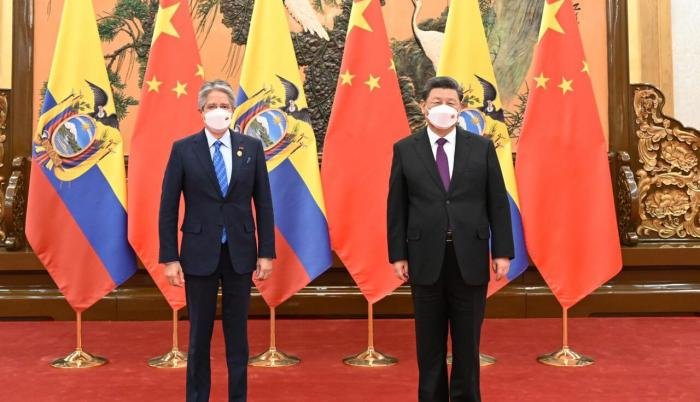 Xi Jinping wished that the two sides should strengthen strategic ties and continue to support each other on common issues. In addition, Xi Jinping stresses that China will continue to assist Ecuador in the fight against covid. Moreover, China hopes that Ecuador will provide a convenient business environment for Chinese businesses to invest and operate in Ecuador. 
The Ecuadorian President reminded the covid period and said that Ecuador never forgot the valuable helping hand of china when Ecuador was in its most difficult time. Lasso hopes to strengthen cooperation with China in trade, energy, communications, infrastructure, and other fields.
The Trip of President Lasso to China coincides with the opening of the 2022 Beijing Olympic Games. Indeed, the Ecuadorian President participated in the opening ceremony thanks to the invitation of counterpart Xi Jinping.
Ecuador and China Relationship
The two states started an official relationship in 1970. Ecuador and China have become sincere partners with mutual trust. Both enjoy beneficial cooperation, and bilateral relations are at their best. Indeed, In Latin America, Ecuador is the Country that interacts the most with China. 
For instance, in 2008, both countries had a free trade agreement, bilateral trade between the two reached $3.826 billion in 2015, and in 2018, Ecuador joined the Belt and Road Initiatives.