Islamabad, 11 November 2023 (TDI): Spanning around 1,000 kilometers alongside the Arabian Sea, Pakistan's coastal region stands not just as a bustling economic center but as a vital lifeline for over 22 million residents.
These shores host thriving fishing grounds, a buoyant seafood industry, and essential seaports that not only offer significant employment but also shape the economic fortunes of millions.
The inherent vulnerability of coastal areas to natural and climate-induced disasters, which puts lives and livelihoods in danger, casts a shadow over this prosperity.
Ameer Hyder, at the helm of the National Tsunami Early Warning Center within the Pakistan Meteorological Department, points to the coastal area's vulnerability to tsunamis, owing to its location on the edge of the Arabian plate colliding with the Eurasian plate.
Historic events, like the 1945 earthquake-triggered tsunami that claimed over 4,000 lives, serve as stark reminders of the imperative to take proactive measures.
Enter the collaborative effort between the Government of Japan and UNDP—the successfully concluded US $3.7 million project, "Strengthening tsunami and earthquake preparedness in coastal areas of Pakistan," under the aegis of Climate Change Adaptation and Mitigation II.
This initiative not only forged robust partnerships with the Government of Pakistan but also delivered crucial policy support, institutional strengthening, capacity enhancement, research, and the implementation of an early warning system.
Getting important groups like the Pakistan Meteorological Department, the National and Provincial Disaster Management Authorities, the Pakistan Red Crescent Society, the NED University of Engineering and Technology, and district authorities involved was key to making sure that everyone worked together smoothly and that the interventions worked.
In collaboration with NED University, a detailed tsunami risk assessment unfolded, supplying essential data for disaster preparedness and response planning in coastal areas.
This culminated in the Disaster Preparedness, Mitigation, and Response Plan (DPMRP), identifying vulnerable areas and potential consequences.
This, in turn, prompted the revision of national tsunami Standard Operating Procedures (SOPs) and the formulation of tsunami building bylaws.
A broader policy framework emerged, encompassing the National School Safety Guidelines on earthquake and tsunami preparedness, fostering a holistic, coordinated approach to disaster risk reduction.
The installation of five satellite-based early warning siren systems along heavily populated coastal areas and the setting up of four 120-hertz broadband stations made earthquake and tsunami analysis more automated.
Cutting-edge software now streamlines the recording of key parameters and the preparation of intensity shake maps, reducing the time required for issuing early warnings.
Along with the construction of 14 multipurpose emergency shelters on public lands intended to withstand disaster impacts, community drills to raise awareness are a complement to this.
The retrofitting of 19 facilities, including schools and health facilities, enhances resilience to earthquakes and tsunamis. These retrofitted structures not only contribute to community safety but also ensure access to essential services during natural disasters.
Giving out 10,000 Information, Education, and Communications (IEC) materials at the same time raises community awareness and helps set up 30 village Disaster Risk Management Committees, youth groups, and emergency response teams in coastal districts.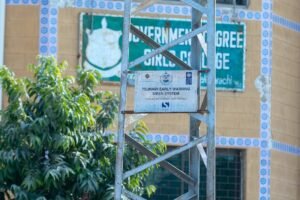 In partnership with the Pakistan Red Crescent Society, the project provided training for 1,366 community members on coastal hazards, empowering them to play vital roles in recovery, evacuation, and rescue efforts during disasters.
Simultaneously, 30 community resource centers, strategically placed in target districts, further strengthen these committees.
The establishment of three Emergency Operations Cells, intricately linked with provincial Emergency Operation Cells, ensures a coordinated and effective response during disasters.
Beyond disaster preparedness, the project ventured into socio-economic empowerment, providing enterprise development training for 210 women in target districts.
This initiative not only equips them to harness income-generating opportunities but also addresses the economic consequences of natural disasters.
Environmental concerns, notably the pollution of the sea in Karachi, were also addressed through the planting of 410,000 mangrove seeds on 100 hectares in the coastal areas of Gwadar district.
This comprehensive approach significantly contributes to the protection of coastal communities from natural disasters. Mangroves, acting as natural barriers against tsunamis, flooding, and erosion, also provide vital habitats for marine species.
Moreover, the mangroves absorb substantial amounts of carbon dioxide, aligning with efforts to achieve carbon neutrality.
Consequently, the coastal communities of Pakistan emerge not just better prepared to face the challenges of tsunamis and earthquakes but also armed with a versatile blueprint.
The lessons learned from this project resonate as a valuable guide for enhancing disaster preparedness across vulnerable communities globally.