Beijing, 11 July 2023 (TDI): Pakistan's Minister for Planning, Development, and Special Initiatives, Ahsan Iqbal, reached China on July 10, 2023, to be part of the 12th Joint Cooperation Committee (JCC) to celebrate the 10th anniversary of the China-Pakistan Economic Corridor (CPEC).
Minister Iqbal was received by the Chairman of the China International Development Cooperation Committee (CIDCA), Luo Zhaohui, at a ceremonial dinner organized at the Friendship Palace.
Federal Minister Ahsan Iqbal has reached China for the Commemorative JCC as both countries celebrate a decade of the transformative CPEC initiative. The Planning Minister was welcomed by Chairman CIDCA at a memorable dinner hosted at Friendship Palace. #10YearsofCPEC pic.twitter.com/AcINPAvtyL

— Ministry of Planning and Development (@PlanComPakistan) July 10, 2023
Both countries are celebrating a decade of successful collaboration and progress achieved through the CPEC. The CPEC, the flagship project of China's Belt and Road Initiative, changed the landscape of Pakistan and has played a crucial role in dictating the country's future.
CPEC brought in $25.4 billion in terms of direct Chinese investment, which has significantly contributed to Pakistan's economy.
It has led to the development of infrastructure projects such as highways, railways, and power plants, improving connectivity and energy supply in the country.
Also Read: CPEC Draws $25.4 Billion Chinese Investment in 10 Years
During the visit, he also participated in and addressed the First High-Level Conference on Global Action for Shared Development arranged by CIDCA.
While sharing his views, the Planning Minister underscored that it is time to leverage technology and innovation to stay aligned and be the beneficiaries of this digital era.
He continued that automating businesses and using robotics in the Industrial sector has the potential to increase productivity and efficiency, ultimately accelerating growth and development.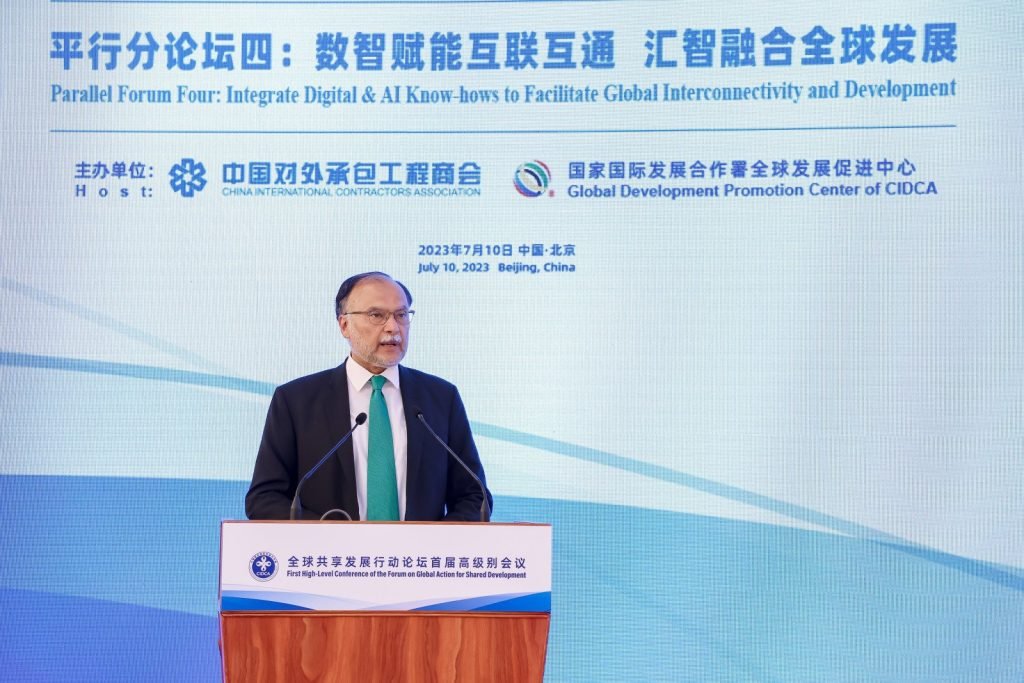 Furthermore, he added that Pakistan is learning from the experience of China in digital and industrial development.
He also disclosed that the Government of Pakistan is heavily investing in Research and Development by fostering collaboration in academia and research organizations.
On the sidelines of the Conference on Global Action for Shared Development, Minister Iqbal also attended the cake-cutting ceremony to celebrate the successful completion of 10 years of CPEC.
This kind of celebration highlights the strong bilateral ties between both countries and reaffirms their commitment to further strengthening cooperation.
It also serves as a testament to the strong partnership between China and Pakistan in promoting economic growth and regional connectivity.