Islamabad, 2 July 2022 (TDI): The Assistant Secretary of State for the Bureau of International Narcotics and Law Enforcement Affairs (INL), Todd D. Robinson stated that the United States (U.S) looks forward to cementing bilateral relations with Pakistan.
Robinson elaborated that the projects will help Frontier Corps Khyber Pakthunkhwa North and South. As well as train more women personnel and station them throughout the province.
"An honor to engage in another exciting venture to cement U.S. and Pakistan relations. Today, w/ Pakistani partners, we celebrated projects which will help Frontier Corps Khyber Pakhtunkwa North and South train more women personnel & station them throughout KP province." – TDR pic.twitter.com/Vq7vkj7UV2

— US Dept of State INL (@StateINL) July 1, 2022
Noteworthy, the U.S State INL recently sponsored the training of 16 Airports Security Force Pakistan officials for ICAO-certified Aviation Security National Instructors training at the Gulf Aviation Academy (GAA) in Bahrain.
More to this, the Assistant Secretary of  INL is currently on an official visit to Pakistan that began on 29 June and is expected to end on 2 July.
Highlights of the visit
This year marks the 75th anniversary of US-Pakistan bilateral relationships. For this purpose, Robinson also participated in the celebrations of the 75 years of US-Pakistan relations and INL's 40-year partnership under the theme "justice, security, and prosperity."
Therefore, he met senior government officials to discuss the US-Pakistan partnership on current issues and threats. These issues include border security, transnational crime, counternarcotics, and gender issues.
In addition, the Assistant Secretary also participated in the groundbreaking of the Anti-Narcotics Force Academy (ANF) construction and training project.
At the same time, they delivered his remarks on this event. Also, Robinson thanked ANF and United Nations Development Program (UNDP) for their partnership with INL to achieve common objectives.
Additionally, he elaborated that INL aims to combat drug transition across Pakistan. Along with promoting the recruitment, retention, advancement, and gender mainstreaming of women police in Pakistan.
Meeting with Frontier Corps KPK and Secretary of Defense
During the signing of an agreement for two projects worth $10.5 million (2.1 billion PKR), the Assistant Secretary was joined by Inspector General of Frontier Corps Khyber Pakhtunkhwa North, Adil Yamin.
Along with the Inspector General of Frontier Corps Khyber Pakhtunkhwa South, Muhammad Munir Afsar and senior Frontier Corps were also present during the signing.
In addition, the completion of 45 new structures at FC KP North's Warsak Training Center was celebrated.
The Officials also signed an agreement for the construction of women's facilities at eight existing FC KP South regional headquarters.
Robinson had a meeting with the Interior Minister of Pakistan, Rana Sanaullah. They discussed the importance of continued support of civilian security in the border regions.
"I had a fruitful meeting with Minister Khan of the 🇵🇰 Ministry of the Interior. I stressed the importance of our continued support of civilian security in the border regions and look forward to our continued cooperation." – @INLState A/S Todd D Robinson #PakUSAt75 #40YearsPakINL pic.twitter.com/oajQLmM7xu

— U.S. Embassy Islamabad (@usembislamabad) July 1, 2022
Concurrently, the Assistant Secretary met with the Secretary of Defence, Mian Hilal Hussain, and discussed means to bolster the bilateral relations between Pakistan defense and INL to ensure the security and stability of the people of Pakistan.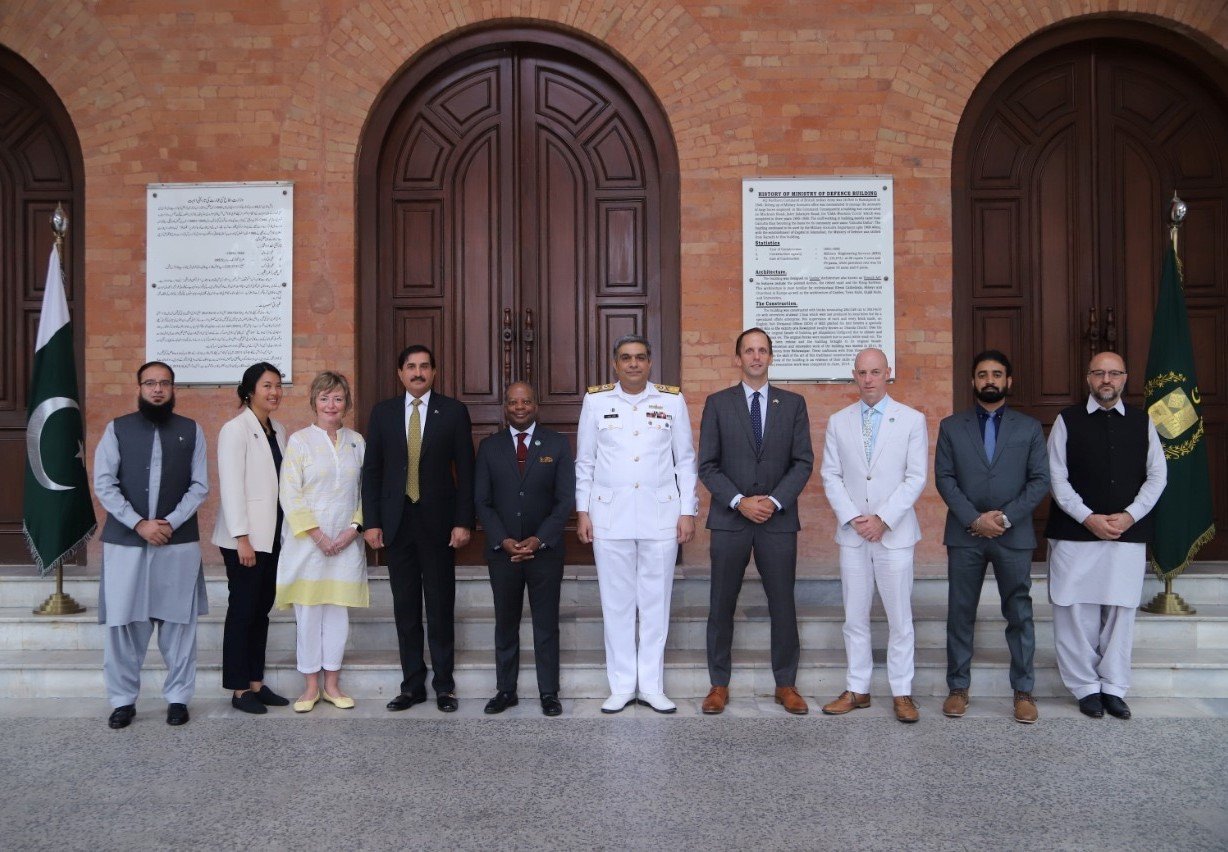 Fight against drugs
Furthermore, he also attended the ceremony of delivering $1.44 million (295.7 million PKR) of commodities to the Excise, Taxation, and Narcotics Control of Khyber Pakhtunkhwa, a KP provincial agency.
He stated that the fight against drugs and illicit contraband is a priority for Pakistan, the US, and the international community.
Therefore, he highlighted that Pakistan faces several issues due to its neighborhood. However, he said that partnership and collaboration can help achieve this joint task.
In conclusion, the U.S Ambassador to Pakistan, Donald Blome, hosted Robinson for a reception marking the 40th anniversary of INL's partnership with Pakistan.