New York, 13 July 2022 (TDI): The UN General Assembly (UNGA) approved a special resolution on July 11, 2022. The resolution was about strengthening the connectivity between South and Central Asia. 
Special Representative of the President of Uzbekistan on Foreign Policy Matters, Abdulaziz Kamilov presented the document. The initiative for this resolution was put forth at the Tashkent Conference.
The #UN General Assembly has supported important initiative of the President of #Uzbekistan🇺🇿. All member States approved a special resolution on strengthening the interconnectedness between Central and South Asia, developed by Uzbekistan in collaboration with 40 countries.

— Shavkat Mirziyoyev's Press-service (@president_uz) July 12, 2022
The Conference was held on the topic "Central and South Asia: regional interdependence. Threats and opportunities" and hosted by the President of Uzbekistan, Shavkat Mirziyoyev, in July 2021.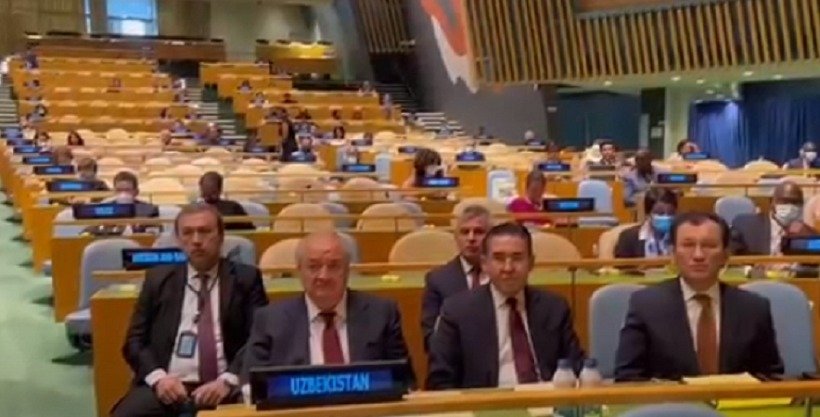 The resolution will develop and strengthen the common approaches, main principles, and directions of the dialogue between the two regions. 
In his speech at the Conference, the President of Uzbekistan highlighted the significance of supporting dialogue based on the historical likeness of the Central and South Asian regions, as well as mutual trust and deliberation of interests. 
Approximately 600 representatives from 50 countries of the world, including heads of state and government, foreign ministers, and heads of international and regional organizations participated in the Tashkent Conference.
The UN Secretary-General, António Guterres underscored in his video address to the participants, that "interconnection plays an important role in trade, economic growth, and sustainable development."
Along these lines, he went on to say that, "it can contribute to the establishment of long-term peace, stability, and prosperity in Central and South Asia". 
Co-authors of the initiative include Angola, Pakistan, Russia, Senegal, Vietnam, Azerbaijan, Armenia, Vanuatu, Ghana, Cuba, China, Ivory Coast, Morocco, Tajikistan, Turkey, Kazakhstan, Sri Lanka, Philippines, Kyrgyzstan, Qatar, Egypt, Malaysia, Iran, Nepal, Mongolia, Turkmenistan, and others. 
The objective of the resolution is to strengthen collaboration for the implementation of the Vienna Declaration along with its 2014-2024 action program for landlocked developing countries.
Likewise, it will also aim to highlight the significance of transit corridors and transport to accelerate economic growth as well as boost the efficacy of economic ties between Central and South Asian states.
Along these lines, the resolution underscores the unique importance of realization of transport, transit as well as investment potential. 
The document presented at the UNGA recognizes the pivotal role of regional organizations to augment regional ties, and the role of Afghanistan to establish linkages between Central and South Asia.
In the same vein, it focuses on the importance of Afghanistan's integration into interregional economic processes for economic development as well as lasting peace and stability. 
Aside from that, the document portrays the rules for establishing close collaboration between the states of Central and South Asian regions.
This will be to alleviate poverty, expand transport infrastructure, and improve food security, along with creating new global transport corridors to provide stable, convenient, and safe passage to seaports.