Phnom Penh, 30 August 2023 (TDI): On August 28th, the cultural evening gala celebrating the 65th anniversary of the establishment of diplomatic relations between China and Cambodia, along with the launching ceremony of the 'Beautiful China, Colorful Yunnan' cultural exchange series of events, took place at the Diamond Island Opera House on the banks of the Mekong River in Phnom Penh, the capital city of Cambodia.
Chinese Ambassador to Cambodia, Wang Wentian, attended and delivered a speech. He expressed that China-Cambodia relations are close, special, and rooted in a long history.
Over the 65 years since the establishment of diplomatic relations between China and Cambodia, the two countries have always stood by each other, shared hardships, and endured various international challenges, making their relationship stronger and unbreakable.
It has become a model for building new international relations and a community with a shared future for mankind. He believed that under the leadership of Cambodia's new Prime Minister, Hun Manet, Cambodia would embark on a new journey towards prosperity and strength.
The China-Cambodia relationship will also experience even greater development, benefiting both countries and their peoples. It will contribute to regional and global peace, stability, and development. He mentioned that Yunnan, a province in China, is home to the most diverse ethnic groups, boasting picturesque landscapes, abundant resources, ethnic harmony, and robust economic development, earning it the reputation of 'Colorful Yunnan.'
Monday night's cultural performance not only featured captivating song and dance performances showcasing Yunnan's ethnic charm but also traditional Cambodian artistic displays from Cambodian art institutions. This event is a grand collision of traditional national cultures from China and Cambodia, a celebration brimming with passion and promises.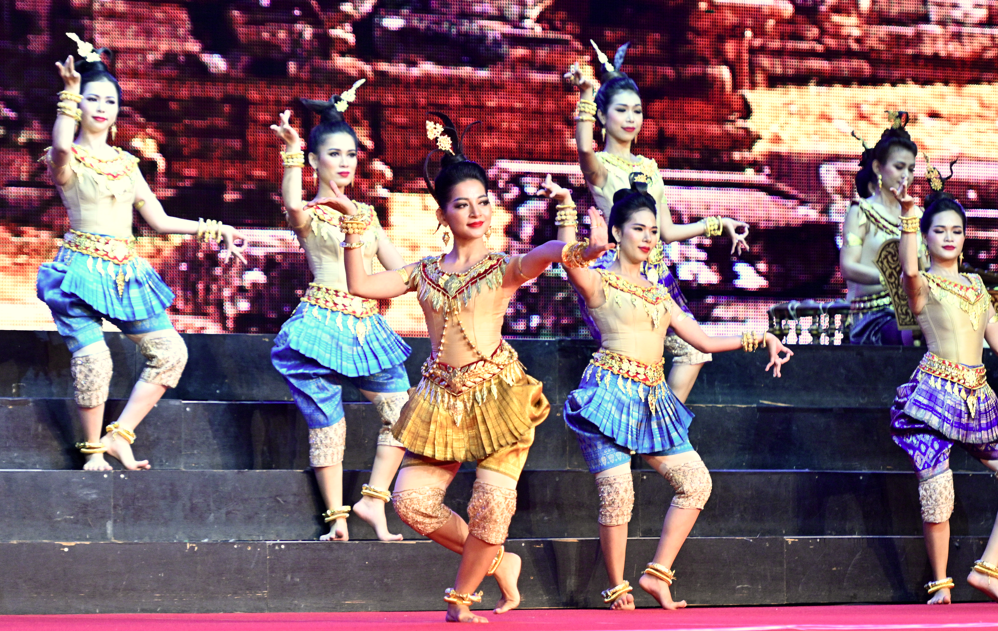 Cambodian Deputy Prime Minister and Minister of the Council of Ministers, Weng Saseveaso, attended and delivered a speech, stating that China is a good friend of Cambodia, providing continuous support for preserving Cambodia's national cultural heritage and developing its socio-economy.
In recent years, the joint construction of the 'Belt and Road' initiative has facilitated the development of Cambodia's infrastructure, economic and trade investment, and connectivity, creating cooperative opportunities and mutual benefits for the people of both countries. He wished for an everlasting friendship between Cambodia and China.
The artistic gala celebrating the 65th anniversary of China-Cambodia diplomatic relations, titled 'Bound by Water,' was divided into three chapters: 'Sharing the Waters,' 'Building a Common Bond,' and 'Journeying Together.' Artists from Yunnan, China, and Cambodia presented a captivating performance to the live audience, featuring various forms of expression including dance, singing, and musical performances.
This performance showcased the essence of Chinese traditional culture, Yunnan's ethnic characteristics, and the fusion of Chinese and Cambodian cultural arts. The splendid show, held at the opera house with a capacity of 3000 seats, was met with enthusiastic applause from the engaged audience.
It is understood that the 7-day series of events also include a 'Life Named Yunnan' photo exhibition held in Phnom Penh, Cambodia, and Siem Reap Province, 'Invitation from Yunnan' cultural and tourism promotion and signing activities, 'Journey to the Land of Breezes' Chinese cultural experience day, and the 'Gaze and Smile' exchange conference on the heritage exploration, preservation, and utilization between China (Yunnan) and Cambodia (Siem Reap).
The year 2023 marks the 65th anniversary of China-Cambodia diplomatic relations and the 'China-Cambodia Friendship Year,' as well as the tenth anniversary of the initiation of the Belt and Road Initiative.
Organized by the Embassy of China in Cambodia, the Ministry of Culture and Fine Arts of Cambodia, and the People's Government of Yunnan Province, China, and co-hosted by the Information Office of the People's Government of Yunnan Province and the Foreign Affairs Office of the People's Government of Yunnan Province, this series of cultural exchange activities aims to further enhance cultural exchanges and mutual learning between China and Cambodia, adding new dimensions to the solid 'ironclad' friendship between the two nations.