Moscow, 8 February 2022 (TDI): Russian President, Vladimir Putin says that Moscow and the West must try to find compromises. These remarks were made by Putin during his meeting with French President Emmanuel Macron.
The meeting between the two counterparts took place in Moscow. On the other hand, the German Chancellor, Olaf Scholz met with Jo Biden, the US President in Washington.
Moscow and West over Ukraine
Russian President Putin said "We will find our best over Ukraine with the West. As far as we are concerned, we will do everything to find compromises that suit everyone." Putin said, adding that there would be "no winners" if war breaks out on the European continent.
The Russian leader also stressed that NATO and the United States had ignored Moscow's demand for security guarantees including NATO's non-expansion and would press them for a firm commitment.
"I don't think that our dialogue is over," he said, adding that Russia would soon send a response to NATO and Washington.
He also insisted that Ukrainian authorities should respect Western-brokered Minsk Agreements on the country's separatist conflict. "I believe that there's simply no alternative," Putin said.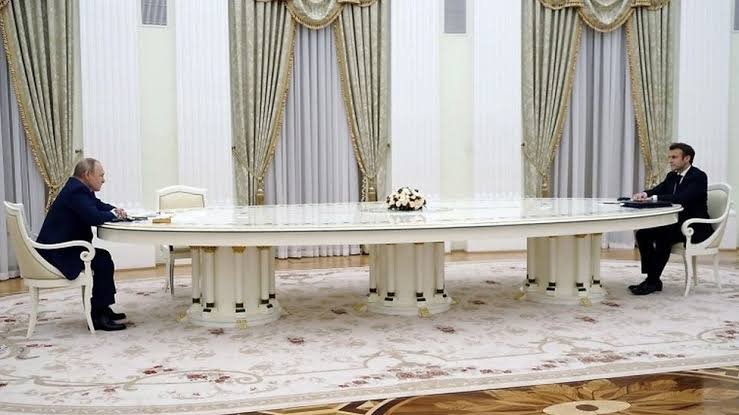 French President Emmanuel Macron on his part said that he had made proposals of "concrete security guarantees" to the Russian leader, Vladimir Putin at Monday's talks.
"President Putin assured me of his readiness to engage in this sense and his desire to maintain stability and the territorial integrity of Ukraine," Macron said after nearly five hours of talks with Putin in the Kremlin.
Russian President Vladimir Putin described Monday's talks with French President Emmanuel Macron in the Kremlin as useful, substantive, and business-like, and said that some of Macron's ideas could form a basis for further joint steps.
In a joint news conference after the talks, Putin said that a number of Macron's ideas concerning security were realistic and that the two would talk again once Macron had traveled to Kyiv to meet Ukraine's leadership.
"A number of his ideas, proposals, which are probably still too early to talk about, I think it is quite possible to make the basis of our further joint steps," he said.
"We have agreed that after his trip to the Ukrainian capital we will call each other again and exchange views on this matter," he said.
Scholz, Biden Meeting
US President Joe Biden promised on Monday to "bring an end" to the disputed Nord Stream 2 pipeline built to bring Russian gas to Europe if Moscow invades neighboring Ukraine.
"If Russia invades – that means tanks or troops crossing the border of Ukraine, again – then there will be no longer a Nord Stream 2," Biden told a joint news conference with Germany's Chancellor Olaf Scholz.
"I promise you," Biden said, "we will bring an end to it." He declined to elaborate on how he could make such a promise when Germany controls the pipeline.
Scholz said Germany and the US have been working closely together to ensure sanctions can be imposed quickly on Russia in case of an attack on Ukraine.
When pressed on Nord Stream 2, he said some details from his discussion with Biden could not be made public.
Pentagon's Statement
Russia continues to add military forces along its border with Ukraine, the Pentagon claimed on Monday.
"Even in just over the course of the weekend, we saw Putin add to his force capability along that border with Ukraine and in Belarus," Pentagon spokesman John Kirby said.
Kirby said that none of the Russian forces appeared to be directly aimed at NATO's eastern flank at this time. "He is well north of 100,000, and it continues to grow," Kirby said.
He added that no additional US troops had given prepare-to-deploy orders at this time.
President Joe Biden's Statement
Germany and the United States are in lockstep to address presumed Russian aggression amid the Ukraine crisis, US President Joe Biden said on Monday as he hosted German Chancellor Olaf Scholz at the White House.
"Germany is one of America's closest allies," Biden said, adding they were "working in lockstep" to further deter Russian aggression in Europe. Scholz, said earlier on Monday that an invasion would be imprudent.