Astana, 15 June 2023 (TDI): Kazakhstan's Foreign Minister met with the EU Special Representative for Central Asia on June 14, 2023, to exchange dialogues regarding EU-CA inter-regional cooperation issues and promote the development of prospective projects between EU and Kazakhstan.
The meeting was attended by Kazakh Deputy Prime Minister-Minister of Foreign Affairs, Murat Nurtleu, EU Special Representative for Central Asia Terhi Hakala, and Deputy Secretary General of the European External Action Service Enrique Mora.
A Glimpse of EU-Kazakhstan Meeting
Following successful consultations with European partners in Brussels, the Kazakh Minister expressed readiness to foster productive relations with the EU.
The Minister acknowledged the constructive high-level political dialogues between the Presidents of Kazakhstan and the European Council on the sidelines of the second meeting of Leaders of Central Asia and EU on June 2, as well as the deputy Foreign Ministers' dialogue at the 10th meeting of the Central Asia-EU High-Level Dialogue.
Also Read: UN Under-Secretary-General Meets Kazakhstan's Minister of Ecology
The Minister intended to interact regularly to enhance regional and bilateral cooperation, particularly in transportation and logistics.
Moreover, CEB's pre-assessments on sustainable transport corridors between CA and Europe, presented at the second CA-EU Economic Forum on May 19, were also considered.
The Minister also emphasized EU-visa policy towards the people of Kazakhstan as one of the significant issues of bilateral cooperation and expressed Kazakhstan's readiness to hold proper consultations regarding this issue while referring to the agreements signed during his visit to Brussels.
Also Read: EU-Tunisia Joint Statement on Comprehensive Partnership Package
On the other side, the EU representative reaffirmed the continuation of dialogues and interaction with its key partner in Central Asia and showed confidence in achieving mutual goals of economic prosperity, support for reforms and peaceful processes and realizing sustainable development.
The European External Action Service also participated in the conversation by appreciating the relations between Astana and Brussels and reassuring Kazakhstan that the two would continue to develop relations.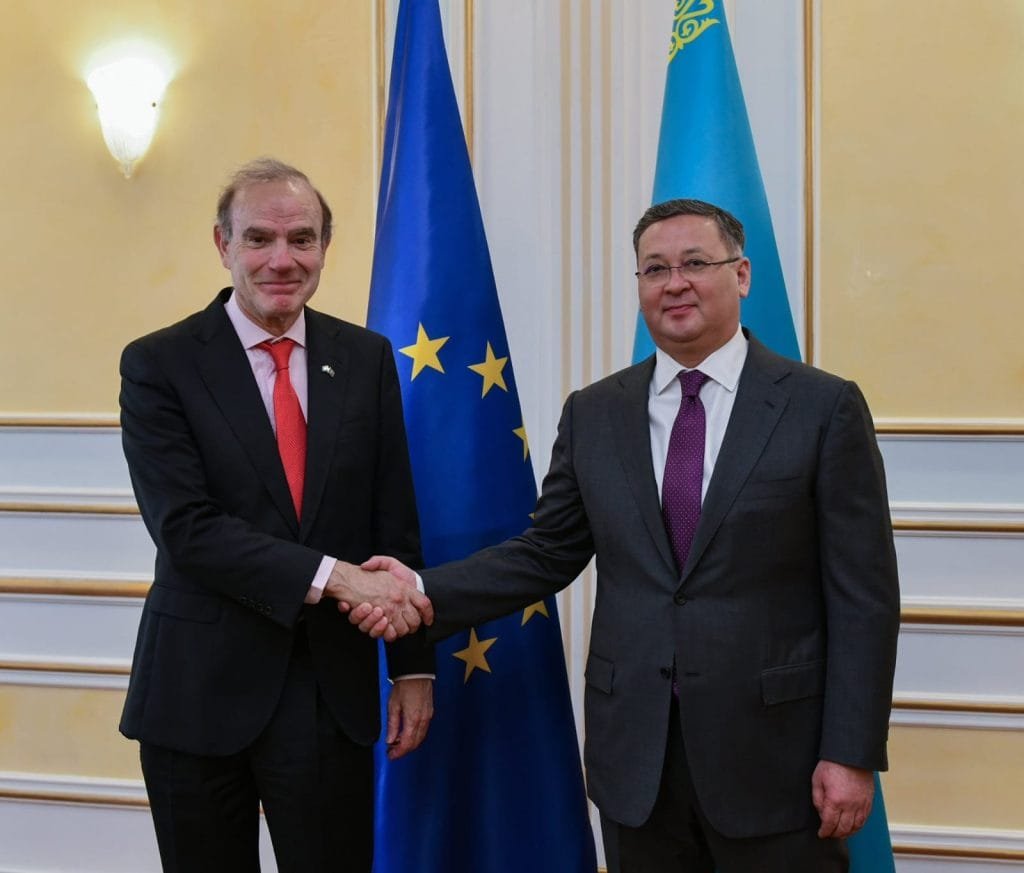 The meeting acted as a ground for exchanging views on common priority areas, including collaboration in transport and logistics, visa facilitation, and critical raw materials.
Moreover, the participants reviewed the implementation of agreements reached during the second meeting of the Heads of Central Asian States and the President of the European Council and also the arrangements for the upcoming EU-CA Ministerial Meeting.