The outcome of Türkiye's much-anticipated elections reflects the choices of the Turkish people. Recep Tayyip Erdoğan was declared the victor, receiving 49.44% of the vote, maintaining his esteem and gaining support from a sizable percentage of the public.
Kemal Kılıçdaroğlu, the Republican People's Party (CHP) leader, acquired 44.86% of the vote, posing a severe challenge to Erdoğan's candidacy. The newly founded party's representative, Sinan Oğan, obtained a commendable 5.26% of the vote.
Despite only garnering 0.44% of the vote, Muharrem Ince participated in the campaign and contributed to the democratic dialogue and spectrum of viewpoints.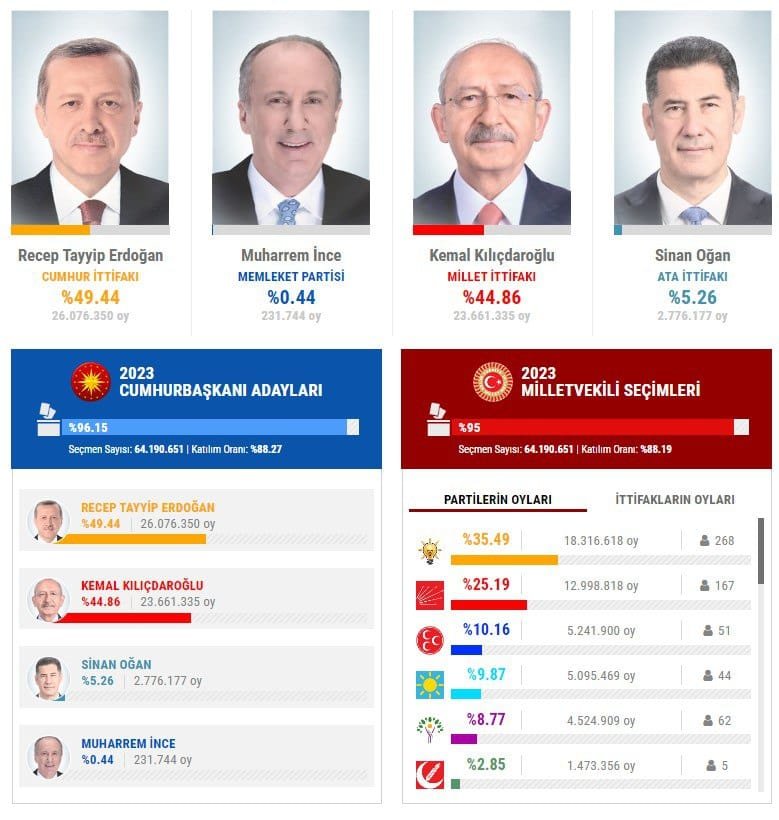 These elections demonstrate Türkiye's dedication to transparency and democracy, with an incredible 96.15% of the ballot boxes being unsealed. The high ratio of boxes opened illustrates the Turkish people's determination to participate fully in the electoral process.
Erdoğan's success is evidence of his decades of devotion and allegiance to the Turkish people. Türkiye has had significant economic growth, infrastructure expansion, and sector improvements under his leadership. The electorate has decided to stay on the path of advancement in recognition of the accomplishments realized during his administration.
President Erdoğan made a statement on the announcement of the election results, expressing his pleasure with the peaceful and democratic atmosphere in which the election was held.
He stated, "The fact that the 14 May elections took place in the form of a great feast of democracy with peace and tranquility is an expression of the democratic maturity of our Turkey. While the election was held in such a positive and democratic atmosphere and the vote counting is still going on, trying to announce results hastily means a usurpation of the national will.
We are pleased that the favor of our nation is reflected in the ongoing vote count. I ask all my friends and colleagues to stay at the ballot boxes, no matter what until the results are officially finalized. I congratulate all my citizens who voted in the name of democracy and took part in the election work, and I express my gratitude to each and every one of them."
The Turkish government acknowledges all candidates' engagement and appreciates citizens' active participation and trust in voting. These elections serve as a reminder of Türkiye's thriving democracy and its people's loyal dedication to determining their future.
Erdoğan: A Visionary Leader Shaping Türkiye's Destiny
The recent Türkiye elections exhibited the Turkish people's unwavering support and trust in President Recep Tayyip Erdoğan. President Erdoğan has emerged as an influential figure in molding Türkiye's future, driven by his steadfast devotion to the nation's prosperity and growth.
Türkiye has made incredible strides in various industries under President Erdoğan's direction, cementing its status as a regional powerhouse. His unrelenting efforts at enhancing Türkiye's economic stability and global influence produced substantial results, attracting international investments and encouraging long-term growth.
President Erdoğan has guided the country toward becoming a financial hub by enacting effective policies and opening up many opportunities for its people through his visionary economic policies, such as the "2023 Vision." Erdoğan desired to transform Türkiye into a globally competitive economy through the centennial anniversary of the Republic.
President Erdoğan's unwavering commitment to infrastructure development has served as one of the pillars of his administration. His vision for a contemporary and integrated Türkiye is evidenced by the start and completion of various projects, including the Istanbul Airport and the Istanbul Canal.
These initiatives increase Türkiye's connectivity and trade potential and improve the lives of countless Turkish residents by generating jobs and stimulating economic growth.
Millions of people's lives have changed due to President Erdoğan's dedication to social reforms. Under his leadership, substantial social reforms that support inclusivity, equality, human rights, and women empowerment have been made.
Erdoğan has also ensured everyone in Türkiye can access affordable, high-quality healthcare through ambitious reforms. The implementation of the "4+4+4" education system, which expanded compulsory education and prioritized vocational training, was introduced to provide Turkish youth with the skills required for a competitive job market.
Also Read: Azerbaijan Delegation Commemorates Pakistan's Constitution Golden Jubilee
Furthermore, President Erdoğan's foreign policy initiatives have boosted Türkiye's prominence on the global stage. Through strong ties and a balanced strategy, he has established Türkiye as an influential figure in regional and international affairs. His tireless advocacy for Turks at home and abroad has won him much recognition.
Türkiye has been hosting millions of refugees fleeing conflicts in neighboring countries, and Erdoğan's government has provided significant support to these populations, offering shelter, healthcare, and education.
The Turkish President has actively engaged in diplomatic efforts, mediating regional conflicts and facilitating peace talks. Türkiye has played a vital role in mediating peace processes in Syria, Afghanistan and between various regional actors.
Erdoğan has prioritized the development of Türkiye's defense industry, leading to increased self-reliance in defense capabilities. Türkiye has become a key exporter of defense equipment and has undertaken the production of advanced military technologies.
On February 6, 2023, a devastating earthquake struck Türkiye and Syria, leaving a trail of destruction and heartbreak. The confirmed death toll of 59,259 is a tragic reminder of the power and unpredictability of nature.
In the face of this immense loss, President Erdoğan has shown remarkable leadership and compassion, promising to compensate for the destruction caused by the earthquake fully.
As a symbol of the government's commitment to its citizens, President Erdoğan declared that the state is like a mother, providing material and emotional support for every individual affected by the earthquake. The government has made an incredibly kind offer to cover the rent for displaced people for a year while new homes are being built in suitable areas.
President Erdoğan's ability to manage difficult times and unwavering commitment to protecting Türkiye's sovereignty has been admirable. In the face of external and domestic pressures, his leadership has stayed unshakeable, supporting national stability and togetherness.
As Recep Tayyip Erdoğan begins a new term, the Turkish people are confident that their interests and aspirations will remain at the forefront of his agenda. With a depth of expertise and successful history, he is unwavering in his dedication to guiding Türkiye toward a better future.