Beijing, 25 November 2022 (TDI): President and First Secretary of the Central Committee of the Communist Party of Cuba, Miguel Diaz-Canel Bermudez during his official visit to China met the President of the People's Republic of China, Xi Jinping.
They met in a meeting at the Great Hall of the People in Beijing, China. The meeting took place on 25 November 2022.
President Xi held talks with Cuban President Miguel Diaz-Canel Bermudez. China-Cuba relations have become a good example of solidarity & cooperation& mutual support between socialist countries & developing countries. pic.twitter.com/hMDCGEzKOA

— Hua Chunying 华春莹 (@SpokespersonCHN) November 25, 2022
During the meeting, both sides exchanged views on the relations, cooperation, and support between socialist countries.
President Xi Jinping pointed out that the visit of President Miguel Diaz-Canel Bermudez was the first Latin American country's head of state visit to China after the 20th National Congress of CPC.
He emphasized the importance of ties between the two countries as well as deepening political mutual trust, expanding practical cooperation, and strengthening coordination and cooperation in international and regional affairs.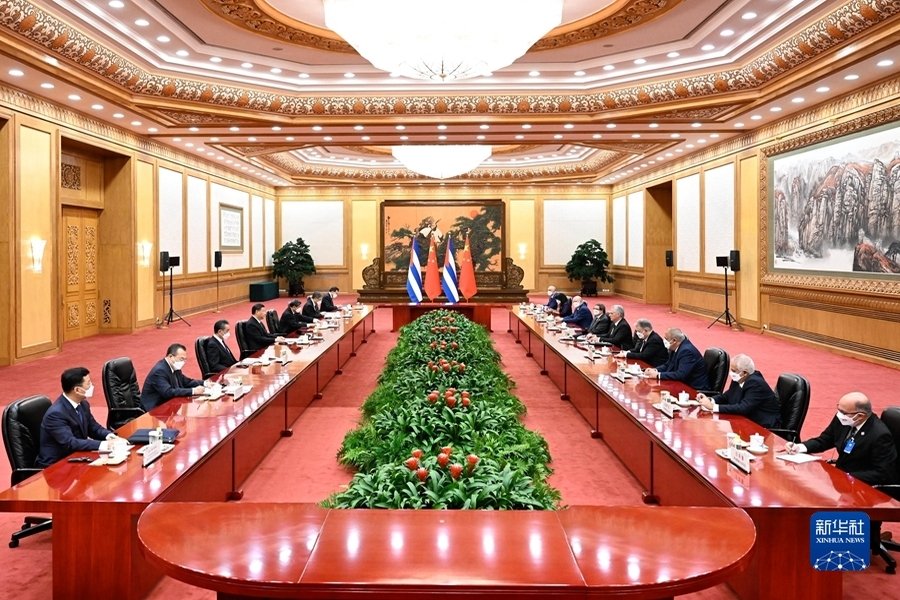 Chinese President highlighted the importance of the Belt and Road Initiative (BRI) and China-Latin America Comprehensive Cooperative Partnership for the progress and development of Cuba, the Caribbean, and Latin American countries.
Also Read: China supports the efforts to maintain social stability in Cuba
Moreover, he expressed his desire to cooperate with Cuba in various fields to jointly succeed in the "Belt and Road" and promote Socialist Modernization.
President of Cuba's remarks 
President of Cuba, Diaz-Canel sincerely thanked President Xi Jinping for inviting him after the convening of the 20th National Congress of CPC.
Cuba is facing a severe economic and political crisis, the President of Cuba underlined.  In this vein, he conveyed his desire to work closely with China on facing challenges and goals to build Socialism.
The President of Cuba pinned relations with China as Cuba's top priority. Cuba adheres One-China policy and will show full support to Belt and Road, President added.
Also Read: Cuba, China to facilitate BRI construction
He further reaffirmed Cuba's willingness to work closely with China to further strengthen cooperation at regional and multilateral mechanisms such as the Latin American Forum and the "Group of 77 + China".
In addition, both heads of state witnessed the signing ceremony of the bilateral agreement on inter-party exchanges, the joint construction of the "Belt and Road" initiative, and practical cooperation between the two countries.
To conclude, the two sides jointly issued a Statement between the People's Republic of China and the Republic of Cuba on Deepening China-Cuba Relations in the New Era.