Geneva, 11 January 2022 (TDI): An alarming tweet was posted by Miami Mizutori, the Special Representative for Secretary-General within the United Nations for Disaster Risk Reduction (UNDRR). The tweet represented the data gathered on the change in the Earth's temperature according to the Copernicus Climate Change Service (C3S) provided by the European Centre for Medium-Range Weather Forecast (ECMWF).
New data from @CopernicusECMWF shows the last seven years were the hottest on record. The dramatic impact of extreme weather events should be a wake up call: we need new urgent #climateaction https://t.co/rXmo8pEPDG pic.twitter.com/kOkDuyev3D

— Mami Mizutori (@HeadUNDRR) January 11, 2022
What is the Copernicus Climate Change Service
Copernicus is an international research project that aims to provide the most detailed and accurate picture of the Earth's atmosphere. Human activities are the reason behind the rising climate change. The Copernicus Climate Change Service (C3S) is a service based on Copernicus Atmosphere Monitoring Service (CAMS) data. It monitors greenhouse gas concentrations in the atmosphere, as well as surface temperature, precipitation, and wind speed for a range of weather stations around the world.
However, in 2017 C3S reported that greenhouse gas concentrations show a mixed picture globally. CO2 levels are going up but methane levels are going down. The average temperatures continue to rise steadily. This may lead to more violent storms and extreme weather events around the globe.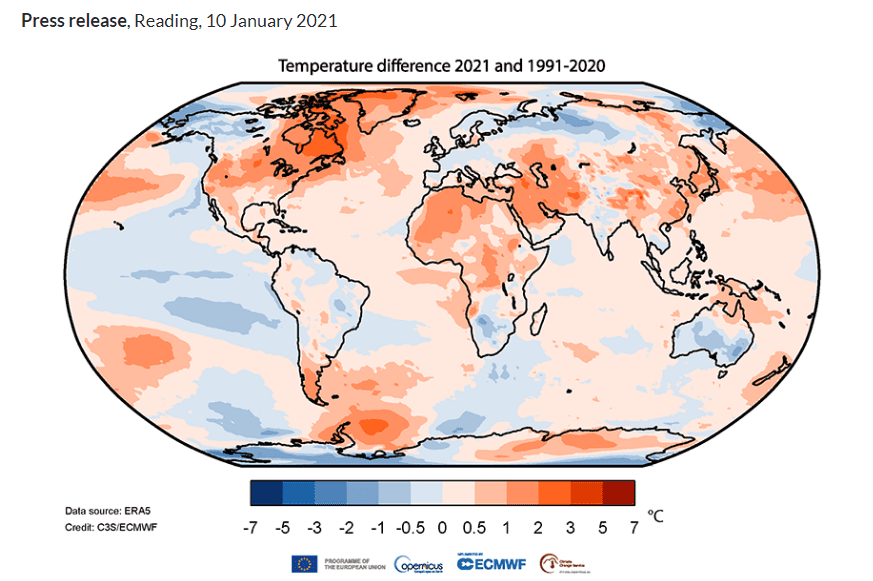 The recent rise in climate change
Climate change is a rising phenomenon for the past few decades. A rapid and substantial rise in temperatures and carbon dioxide is being observed over time. Such tools like this assist in helping fight climate change.
Moreover, climate change is happening in plain sight, from the rise in smog to forest fires. The Climate Change & Global Warming report by the UN's IPCC has predicted that by 2040, climate change will cause the death of almost 2.5 billion people. Countries like Syria and Yemen are already feeling its effects.
The UN's Intergovernmental Panel on Climate Change (IPCC) has also warned that if we don't act now. The Earth will become uninhabitable for humans by 2040. This is when carbon dioxide and methane concentrations reach a level where they will be irreversible. The global temperatures will rise to more than 1.5 degrees Celsius, and natural disasters such as hurricanes and floods would be a regular occurrence.