Beijing, 10 February 2022 (TDI): China Financial Plan shared strategies to improve the standard of the financial sector over the 14th Five-Year Plan period (2021-2025). This is to establish a financial standard system to fit modern finance by 2025.
The People's Bank of China, the State Administration for Market Regulation, the China Banking and Insurance Regulatory Commission, and the China Securities Regulatory Commission jointly published the document.
China to empower modern financial system by 2025 https://t.co/5gB7x5KLM0

— Zhang Heqing张和清 (@zhang_heqing) February 9, 2022
Objectives and Estimated Results of the 14th Five-Year Plan (2021-2025) 
The authorities plan to improve standardization in a wide range of areas, including supervision, risk prevention, financial technology, green finance, and digital currency to establish a modern financial standard system in 2025.
Following this plan, China will improve the monitoring and early warning of financial risks, especially in digital finance, and guide the use of technologies, including cloud computing, big data, and 'Artificial Intelligence'-AI.
The correct management system will arrange the financial data to ensure the protection of public security, business secrets, and personal privacy.
Previous Attempts to accomplish the 14th Five-Year Plan
The Chinese government published 137 national and industrial standards in the financial sector between 2016 and 2020. This standardization played an increasingly significant role in serving the genuine economy, avoiding risks, and strengthening reforms.
Earlier, on 15 January 2022, China's State Council also published a plan for the development of the digital economy that aims to raise the contribution of basic digital economy industries to 10 percent of "The Gross Domestic Product (GDP) by 2025".
The document's objectives were brought in line with the country's 14th 'Five-Year Plan' that runs from 2021 to 2025, capturing China's goal to boost its global competitiveness in advanced technologies such as semiconductors and 'Artificial Intelligence (AI).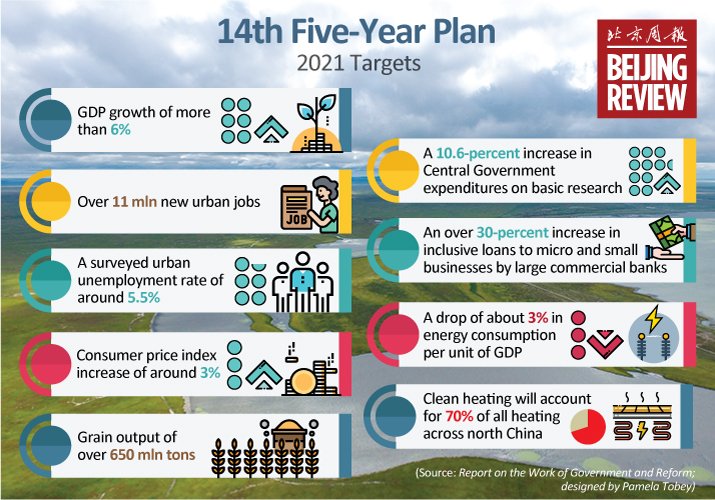 Encouraging Results for China
According to the plan, the expected growth in China's digital economy's share of GDP will be focused primarily on next-generation technologies like the 6G internet and big data. As per this plan, China forestalls users of gigabit broadband, the current fastest internet connection speed, to increase from 6.4 million in 2020 to 60 million in 2025.
Along with promoting the commercial positioning and large-scale application of 5G, China will also increase support for 6G research and development and plans to play a more central role in modeling international standards surrounding the emerging technology.
The China 14th five-year financial plan also strengthens its self-sufficiency in areas such as semiconductors and emphasizes its efforts in accelerating "the construction of the information network infrastructure, and a national-level integrated big data center system coordinating computing power, algorithms, data, and application resources."
China will encourage the large companies to focus on the integration of new technologies such as 5G and artificial intelligence with China's real economy to promote "digital transformation,"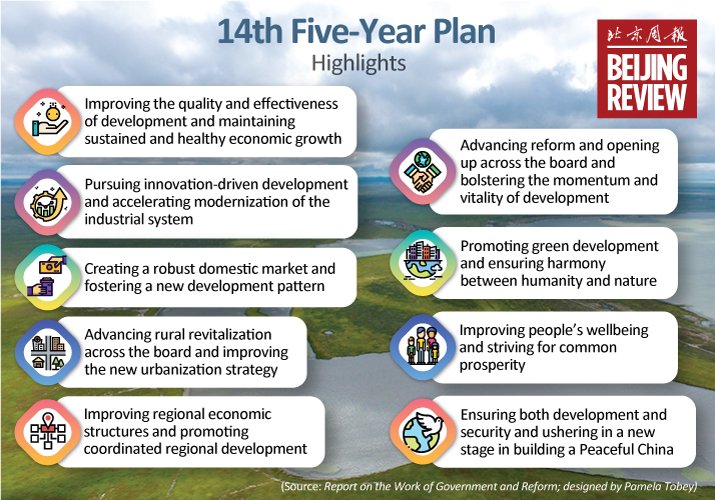 Expectations regarding China's Initiative
China also announced its state-backed blockchain company 'Blockchain Services Network' (BSN), in January and plans to launch infrastructure to enable the trading of 'Non-Fungible Tokens' (NFTs). NFT is a blockchain-based technology that allows its users to stamp a certificate of authenticity on their unique digital products.
This news was surprising to many observing the development because China banned public blockchains in 2021, quoting fears that the pseudonymity offered on blockchains can enable fraud and money laundering.
To address this issue, BSN will reportedly launch its NFT infrastructure on improved blockchains that will require the verification of real user identities and create a backdoor for Chinese regulators.
Although the Chinese government banned transactions using decentralized digital currencies like Bitcoin and Ethereum now it has been eager to promote the essential blockchain technology.
In 2021, China included the blockchain in its 14th Five-Year Plan and termed it a 'key digital technology' and artificial intelligence, big data, and cloud computing. China's central bank has also accepted centralized digital currencies, introducing a digital currency as the "Digital Yuan."