Karachi, 20 June 2023 (TDI): Today, China and Pakistan signed a memorandum of understanding (MoU) to build a new unit of 1,200 MW C-5 Nuclear Power Project worth $3.48 billion.
The President of the China National Nuclear Corporation Overseas Ltd (CNOS), Wang Yongge, and a Pakistan Atomic Energy Commission (PAEC) member, Muhammad Saeedur Rehman, signed the MoU.
Prime Minister of Pakistan Shehbaz Sharif also attended the event together with Chinese Chargé d'affaires Pang Chunxue.
Highlighting the importance of the new power project, Prime Minister Shehbaz Sharif stated that the agreement between the two countries is a commendable step towards enhancing economic cooperation between both countries.
He then recalled his earlier inauguration of the K-3 nuclear power project in Karachi and expressed his hope to promptly kickstart the C-5 project.
Strong Trust and Friendship between China and Pakistan
The Pakistani Prime Minister stated that China's substantial investment worth $4.8 billion serves as a clear demonstration of China's trust in Pakistan's potential.
He further acknowledged that the strong and enduring friendship between China and Pakistan is higher than the Himalayas, deeper than the ocean, and stronger than iron and steel.
Also, he quoted the Chinese President referring to the relationship between both countries as that of the "iron brothers."
Also read: China opens doors for Pakistan's boiled beef
Expressing gratitude for China's unwavering support, he further mentioned that despite fulfilling all the terms and conditions of the International Monetary Fund's (IMF) ninth review, Pakistan had faced unexpected delays.
In these challenging days, China's timely assistance underscored the true essence of friendship.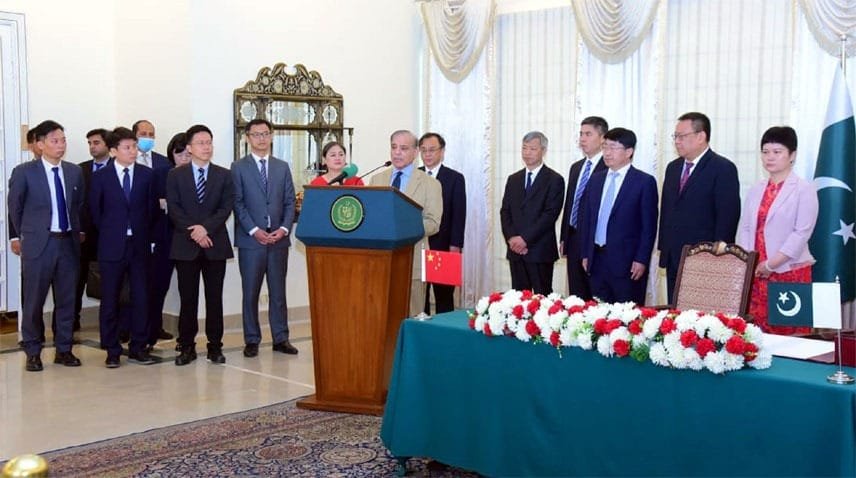 Furthermore, he also recognized the support from other countries like Saudi Arabia, the United Arab Emirates, and Qatar, along with emphasizing China's financial assistance at this crucial juncture had been exceptional.
Besides that, Sharif also praised the efforts of Pakistan's Finance Minister Ishaq Dar and his team.
Progress and Future Prospects
Marking the agreement as a "major step forward" and explaining the depth of friendship between the two countries, Prime Minister Shehbaz Sharif finally went on to emphasize the project's importance in ensuring energy security, diversifying the energy mix, and providing affordable electricity to industries and the public.
Also read: POWERCHINA and COMSATS arrange Book Donation activity
Also, he thanked the Chinese leadership for their trust and support for Pakistan and their shared commitment to a prosperous future for the people of both countries.