Bagan, 7 July 2022 (TDI): The Foreign Minister of China, Wang Yi, met with Myanmar's Foreign Minister, Wunna Muang Lwin, on the sidelines of the Seventh Lancang-Mekong Cooperation (LMC) Foreign Minister's Meeting held in Myanmar.
Meanwhile, at a joint press conference, the Chinese Foreign Minister expressed the country's resolve to enhance cooperation with Myanmar by increasing imports and improving bilateral economic cooperation.
#WangYi said 🇨🇳supports🇲🇲people in exploring devt path that suits its own national conditions,expects🇲🇲achieve political&social stability,improve people's livelihood,realize political reconciliation&lasting peace&stability thru consultations within constitutional&legal framework. pic.twitter.com/pxk1Q7ShHh

— Ji Rong嵇蓉 (@JiRongMFA) July 4, 2022
Since the coup in Myanmar, it is officially the first visit of Chinese Foreign Minister Wang Yi to Myanmar. The two countries are looking for greater economic and geopolitical cooperation in the Mekong River region.
China has shown its willingness to increase the import of its agricultural products. The two sides have also agreed to implement poverty reduction projects. Moreover, China has agreed to increase direct flights to Myanmar for local students.
Both countries showed practical resolve to speed up work on the China-Myanmar Economic Cooperation and the construction of the China-Myanmar Oil and Gas Pipeline as well as the cross-border power grid agreement.
Foreign Ministers' statements 
Foreign Minister Wang said that despite immense changes in the international arena, China-Myanmar friendship has remained solid.
He said that his country seeks to continue its friendly policies toward Myanmar and foster better people-to-people relations and cultural ties.
On the other hand, Myanmar's Foreign Minister expressed that Myanmar will uphold the "Paukphaw" friendship between Myanmar and China.
He assured to support China's concerns over Taiwan, Hong Kong, Xizang, and Xinjiang Autonomous Region. Both agreed to improve China's relations with ASEAN.
Bilateral Relations 
Relations between Myanmar and China have been turbulent since 1949 when Myanmar was among the first non-communist nations to recognize the country.
On June 29, 1954, the two countries signed a treaty of friendship and mutual non-aggression and put out a Joint Declaration, making the Five Principles of Peaceful Coexistence, the official basis for their relationship.
After a 1988 coup, Myanmar was subjected to increased Western-led economic sanctions. Shortly thereafter, it implemented a number of economic reforms. Under these conditions, relations between China and Myanmar began to gain momentum.
Bilateral Trade
In terms of bilateral trade, China is Myanmar's most important trading partner. It holds the largest share of Myanmar's imports and exports.
Based on data from 2019, the amount of bilateral trade is about USD 12 billion, which is about a third of the total USD 36 billion in trade.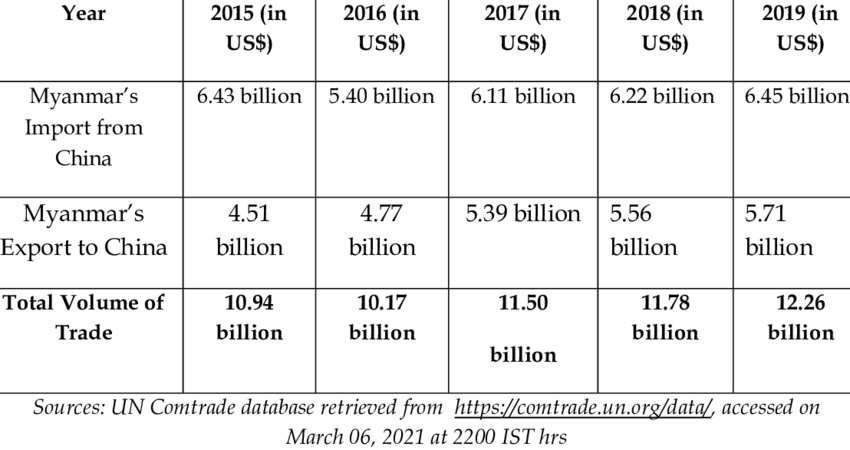 At Kyaukphyu, China also built an oil terminal that can handle 22 million tonnes of oil a year. As of March 2020, it was one of Myanmar's largest sources of FDI (foreign direct investment), which totaled USD 21 billion.
Defense Ties
Since 1988, China has been one of Myanmar's largest military suppliers. According to the SIPRI database, Myanmar spent $1.3 billion on Chinese arms from 2010 to 2019.
Between 2014 and 2019, China accounted for roughly half of major arms imports to Myanmar. It included radars, warships, combat, and trainer aircraft
Aside from that, China supplies armed drones, armored vehicles, and missiles, among many other things. The country provided 90 percent of Myanmar's military transport.