Vienna, 28 June 2022 (TDI): The Ambassador of Pakistan to Austria, Aftab Khokher held the monthly e-Kachehri. This engagement was organized as a part of Pakistan's Embassy's outreach to the Pakistani Community.
During the virtual event, Ambassador Khokher informed the community about the Passport Amnesty Scheme 2022 as well as Pakistan's ratification of the Apostille Convention.
The Apostille Convention is the Convention of 5 October 1961 Abolishing the Requirement of Legalisation for Foreign Public Documents; an international treaty drafted by the Hague Conference on Private International Law.
In addition, the Ambassador also briefed about the meeting with the Austrian Interior Minister, along with other pertinent consular matters.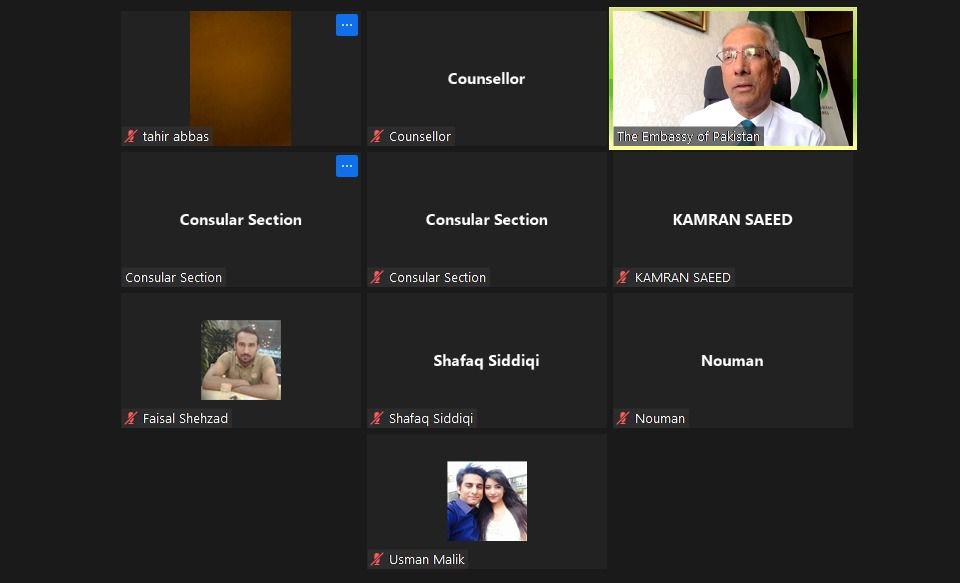 He shared that the Government of Pakistan had made a one-time exception for the cancellation of dual passports and that the deadline for the Amnesty Scheme was set for 31 December 2022.
Likewise, the Pakistani Ambassador informed that Pakistan's ratification of the Apostille Convention would reduce the processing time and attestation requirements from Austrian and Slovakian Embassies.
Furthermore, Ambassador Khokher shared about raising issues of the community with the Interior Minister of Austria. Lastly, he thanked the community members for their participation.
The Ambassador also urged them to inform the rest of the Pakistani community about the amnesty scheme and Convention.
E-Kachehri Initiative 
E-Kachehri Initiative was launched in line with the vision of the former Prime Minister of Pakistan, Imran Khan to reach out to the community.
The objective of this venture is to serve the Pakistani community residing in different countries in a better manner.
Pakistan's diplomatic missions all around the world organize E-Kachehris for Pakistani nationals every month to provide them with assistance.
During the virtual sessions, the community members are invited to share their problems/issues with the Missions for quick solutions.
Furthermore, they will also be asked to share ideas on how to improve the quality of consular services rendered by the Missions of Pakistan.