Libreville (Gabon), 22 August 2023(TDI): At the UNOCA headquarters, a delegation from the Council of Notables and Dignitaries of the Nation (CNDN), headed by its President, former minister Paul Malekou.
Discussions were held with Abdou Abarry, the Special Representative of the Secretary-General of the United Nations for Central Africa. This meeting took place on Monday, August 21, 2023.
The primary purpose of this meeting was to address concerns regarding specific situations that needed continued attention.
These concerns were centered on maintaining peace before, during, and after the general elections scheduled for August 26, 2023.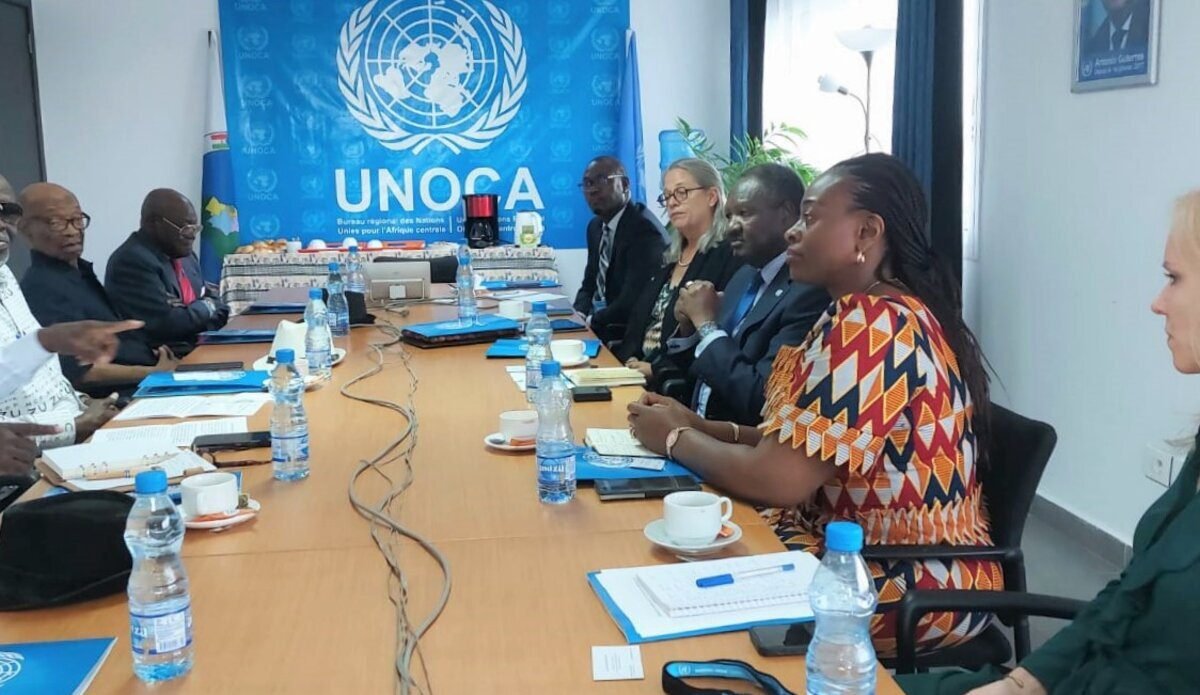 The four members of the Council who participated in the meeting emphasized the importance of citizens demonstrating resilience and, if necessary, expressing dissatisfaction calmly, while also considering the safety of both property and people.
The delegation of elders from Gabon called upon the competent authorities to fulfill their supervisory role, which includes ensuring the protection of civilians and their integrity.
The Head of UNOCA expressed his support for this considered approach, emphasizing its alignment with his mandate.
He also expressed his confidence in the commitment of various stakeholders to work towards the goals advocated by the notables and dignitaries of the nation.
He mentioned his optimism following discussions with President Ali Bongo Ondimba, including one held on August 11, 2023.
Abarry reiterated his determination to continue offering the good offices of the UN Secretary-General to guarantee violence-free elections.
#Gabon – General #elections (#presidential, #legislative and #local) of 26 August 2023: #Peace is the main priority of the notables and of the @UN as well as of the representatives of the associations met by the Head of @UNOCA_NEWS, #AbdouAbarryhttps://t.co/hZ2cnEM9VV

— ONU Afrique centrale (@UNOCA_NEWS) August 22, 2023
He reminded everyone of the dual nature of his role, which requires impartiality while also ensuring that conditions are conducive to strengthening stability and coexistence.
He stressed the importance of all socio-political actors showing restraint and avoiding incendiary rhetoric and hate messages.
Furthermore, he encouraged civil society to intensify their efforts to raise awareness about the dangers of such issues.
In a separate meeting with around 20 representatives from various groups, Mr. Abarry commended their commitment to a peaceful, inclusive, free, and credible electoral process that values all voices, including those of people with disabilities.
He pledged to listen to them and take necessary actions within his mandate to support their efforts aimed at consolidating peace and democracy in Gabon.
These meetings with the Council of Notables and Dignitaries of the Nation, as well as with members of Gabonese civil society, followed a previous meeting held on August 8, 2023, with the opposition under the Alternance 2023 coalition.
Savina Ammassari, the UN Resident Coordinator in Gabon, was also present at all these meetings.