London, 2 November 2023 (TDI): The UN General Assembly has overwhelmingly rejected the United States' economic and trade embargo against Cuba, which was initially imposed in 1960. Out of 190 states, 187 voted in favor of the resolution denouncing the embargo, with only the US and Israel opposing it and Ukraine abstaining.
The US representative, Paul Folmsbee, explained that his nation firmly stands with the Cuban people and supports their pursuit of a future characterized by respect for human rights and fundamental freedoms.
He noted that sanctions are just one part of a broader effort by the US to encourage Cuba to advance democracy and respect human rights.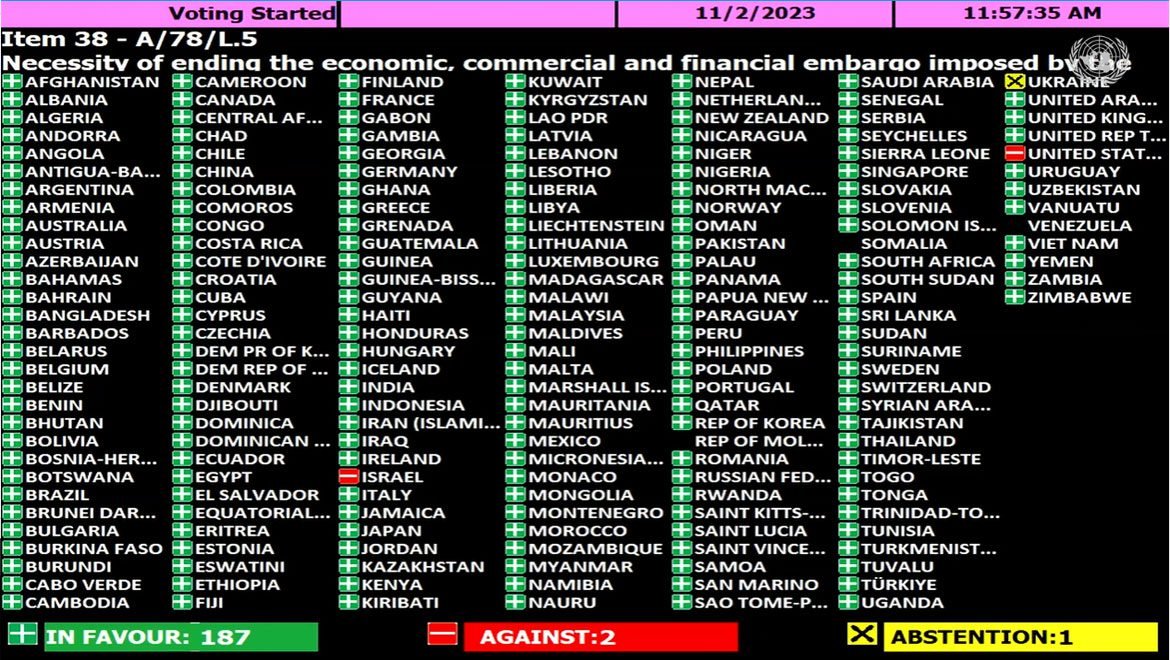 The US recognizes the challenges faced by the Cuban people and has provided exemptions and authorizations related to the export of food, medicines, and humanitarian goods to Cuba.
Despite this, the US opposes the resolution and encourages the General Assembly to call on the Cuban government to uphold its human rights obligations and listen to the aspirations of the Cuban people in determining their own future.
The resolution's full title is "necessity of lifting the United States of America's economic, commercial, and financial embargo against Cuba."
The General Assembly expressed concern that, despite resolutions dating back to 1992, the embargo is still in place and has adverse effects on the Cuban people and Cuban nationals living abroad.
It also noted the contrast between measures applied by former US President Barack Obama in 2015 and 2016 to modify aspects of the embargo and measures implemented since 2017 to reinforce it.
The General Assembly reiterated its call for all states to refrain from enacting and implementing such restrictive laws and measures in line with their obligations under the UN Charter and international law.
Cuban Foreign Minister Bruno Rodríguez Parrilla introduced the draft resolution, emphasizing that the over 60-year blockade violates the rights of all Cuban men and women.
He highlighted the difficulties faced by Cuban families, including shortages of goods, long queues, high prices, and the Cuban government's efforts to provide for its people.
The blockade also deprives the agricultural industry of essential funds for purchasing animal fodder, industrial equipment, and other necessities for food production.
Despite waivers on food products, the US is still violating international trade rules, preventing Cuba from directly acquiring necessary equipment, technologies, medical devices, and pharmaceuticals from US companies and their subsidiaries in third countries.
As a result, Cuba is forced to purchase these items at exorbitant prices through intermediaries or opt for less-effective generic drugs. This situation has had a profound impact on the lives of Cuban families, particularly those dealing with serious illnesses.
During the COVID-19 pandemic, the embargo posed challenges for Cuba in obtaining medical oxygen, requiring the US government to issue a special license for the transaction, even amid the global health crisis. This highlighted the inhumane nature of the embargo policy.