New York, 2 November 2023 (TDI): The escalating conflict in Gaza, with casualties nearing 9,000, has raised serious concerns about the aftermath of Israeli airstrikes on a densely populated refugee camp near Gaza City.
This situation has led to multiple challenges, including a key hospital ceasing operations and UN humanitarian efforts facing obstacles in delivering aid to the north as the ground war intensifies.
According to the Hamas-run Ministry of Health, which has been keeping track since October 7, 8,805 Palestinians have lost their lives, with casualties including 3,648 children and 2,187 women, while injuries have reached 22,240.
UN humanitarian coordination affairs office OCHA has reported that heavy airstrikes in Jabalia Refugee Camp have become among the deadliest incidents in the ongoing conflict.
The UN Office of the High Commissioner for Human Rights (OHCHR) has expressed serious concerns about the scale of destruction and civilian casualties in Gaza, suggesting that these attacks may be disproportionate and potentially amount to war crimes.
Also read: UNICEF: Gaza child casualties demand action
Additionally, the critical shortage of fuel at Gaza's main cancer treatment center, the Turkish-Palestinian Friendship Hospital, has put around 70 patients in immediate danger.
Furthermore, there have been reports of shells hitting Al Hilo Hospital in Gaza City. Currently, 14 out of 35 hospitals in Gaza are non-operational, severely limiting medical care.
Gaza City and northern Gaza have been effectively cut off from the rest of the strip due to Israeli ground operations, which have disrupted the delivery of humanitarian aid to the displaced populations in the north.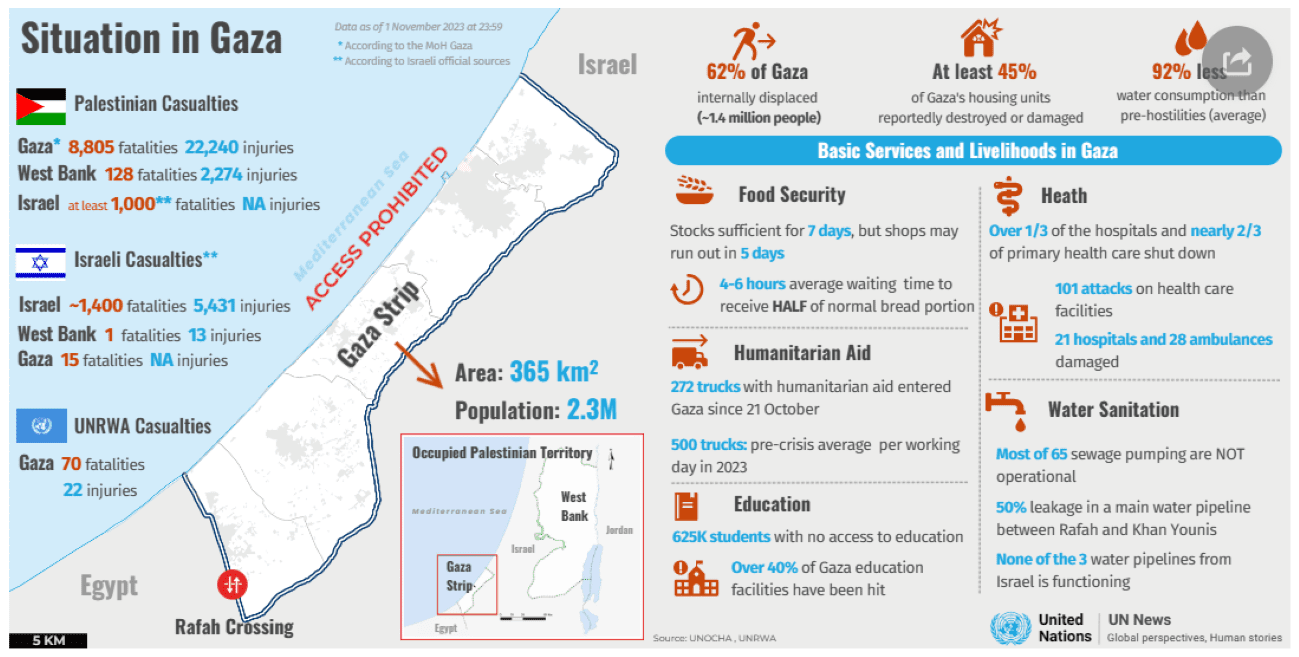 While some aid trucks have managed to enter Gaza through the Rafah crossing, UN relief chief Martin Griffiths, following his recent visit to the region, has stressed that the amount of aid provided remains insufficient.
Notably, Israeli authorities continue to restrict the entry of crucial fuel for hospitals, ambulances, and water desalination plants, worsening the dire humanitarian situation.