Islamabad, 23 August 2023 (TDI):  UN human rights experts have expressed their concerns about enforcing counter-terrorism laws in Indian Illegally Occupied Jammu and Kashmir today.
In a recently disclosed joint message, UN human rights specialists and advocates have raised grave alarms about the implementation of counter-terrorism regulations in Indian Occupied Kashmir, predicting increased human rights violations in the contested region.
The #UN human rights experts have voiced concern over enforcement of counter terrorism laws in #IIOJKhttps://t.co/4SQjsP1LJk

— Radio Pakistan (@RadioPakistan) August 23, 2023
The UN human rights experts and defenders expressed significant worries through a shared communication about India's breach of the Universal Declaration of Human Rights, International Covenant on Civil and Political Rights, and International Covenant on Economic, Social, and Cultural Rights.
The experts emphasized that designating legitimate dissent as terrorism, sedition, or criminal acts would inherently infringe upon the essential freedom of opinion and expression.
This approach also carries the notable potential for encroaching upon rights like freedom of religion, belief, and association, among other fundamental freedoms.
They remarked that legislation such as the Unlawful Activities Prevention Act is detrimental to human rights advocates and members of civil society.
Furthermore, India has not reacted to numerous joint communications forwarded by UN human rights specialists in the past four years.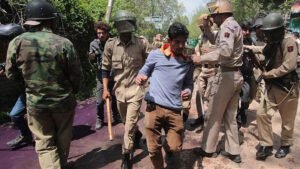 The joint communication strongly advised the Indian Government to conduct a separate evaluation of the counterterrorism and wider national security structure applied in Jammu and Kashmir and other regions.
This step aims to guarantee alignment with international norms and standards of human rights law.
Preceding that, in Indian Illegally Occupied Jammu and Kashmir (IIOJK), Indian forces apprehended over a dozen Kashmiri youths using severe laws on pretences.
These individuals were all detained during a search operation in the Nazninpura region of the Shopian district.
The All Parties Hurriyet Conference has emphasized that the present dire state of Indian illegally occupied Jammu and Kashmir demands urgent global attention.