Phnom Penh, 12 January 2022 (TDI): Cambodian archaeological site Angkor temple attracts tourists in its lands to visit. The temple was the capital city of the flourishing Khmer Empire.
Cambodian Angkor temple
Cambodia is the Southeast Asian country on the Indochina mainland. The country is enriched with natural flowing rivers. The capital of Cambodia is Phnom Penh.
The Temple located in northern Cambodia is an enormous Buddhist temple complex. In the 12th century, Khmer Empire has built as a Hindu Temple. Angkor Wat has been spread across more than 400 acres of land. The monument also holds religious importance across the world
Key facilities to access the country services 
The country has been providing a key facility of e-visa service through online apply for visitors. The portal allows the tourists to fill the 4 steps procedure to get easy access to enter Cambodia.
The southeast Asian country requires negative COVID-19 (PCR) test results issued within 72 hours of arrival. The vaccinated travelers are free to travel across the country's border without quarantine. Hey, have also eased the restrictions imposed due to Covid-19.
The tourists visiting Cambodia can discover the true country. They can visit a deserted beach to shine on Sun.
The country's street food is of high worth on account of its taste. The vendors in the streets of Cambodia sell a variety of local delicacies. The Siem Reap Street Food Evening Tour also provides a happy experience additionally.
Travel Packages
There are many travel packages but the travel consultancy of Premio Travel and Tours is one of the most exceptional. For example, it is the 05 Days Tonle Sap Holiday Travel & Tour Package.
In this, tourists are charged 370 US dollars per head for the visit. Moreover, the consultancy provides a 5 Day Siem Reap Holiday Travel & Tour Package to foreign visitors.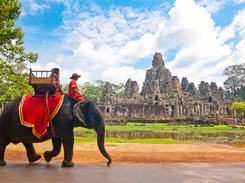 In addition, there is another package to visit the country. For instance, the 05 Days Phnom Penh Holiday Travel & Tour Package is 380 Dollars per tourist from the same advisory. That is why it depends on tourists to decide whether pay for a more expensive travel consultancy or follow their budget.
Nonetheless, what is recommendable for them is to analyze which service is better and complete.
Travel Agencies
In addition to it, Luxury travel ltd offers 100% private and tailor-made tour packages in Cambodia.
Moreover, Intrepid travel is also working to provide worldwide adventure tours. Back in 1989, two travelers from Melbourne, Australia founded the agency. Likewise, spice roads cycling is an agency that encourages cycling tours around Cambodia.
In summary, Cambodia is a magnificent place to visit and its accessibility for its services makes the tourist stay pleasant.