Beijing, 14 February 2022 (TDI): ROC figure skaters, Victoria Sinitsina and Nikita Katsalapov, have secured a silver medal in ice dance at Beijing Winter Olympics. The event took place on 14 February 2022. In this regard, ROC has won the eighteenth award of the Beijing Winter Olympics.
Competition Key Timeline Events
Team ROC having Victoria Sinista and Nikita Katsalapov scored a total score of 220.51. Overall, France went gold in the ice dance competition.
🇷🇺🥈 @Olympic_Russia figure skaters Victoria Sinitsina and Nikita Katsalapov secured a silver medal in the #FigureSkating ice dance, thus bringing the Russian team the 18th award at at #BEIJING2022.

Powerful performance!#WeWillROCYou #GoRussia pic.twitter.com/N8zDqHy67M

— Russia 🇷🇺 (@Russia) February 14, 2022
The French ice-dancers, Papadakis and Cizeron performed well and scored 226.98. Earlier, the French duo registered 136.15 in the free dance.
Furthermore, Team USA won the bronze with a total score of 218.02. It consisted of Madison Hubbell and Zachary Donohue.
ROC Athlete Profiles
Victoria Sinitsina was born on 29 April 1995 in Moscow. Whereas, Nikita Katsalapov was born on 10 July 1991.
Sinitsina became part of the national team in 2008 whereas Katsalapov became part of the national team in 2009.
Both, Victoria Sinitsina and Nikita Katsalapov train in Moscow. In the recent match, their choreographer was Sergei Petukhov.
Achievements
Roc duo teamed up in 2014. Until now, the pair has acclaimed gold in the World Championship 2021. But, in 2019, the duo secured silver in the World Championship championship.
However, in 2016 and 2014, the pair finished ninth and seventh respectively. It is pertinent to note that Sinitsina and Katsalapov are two-time European champions in 2020 and 2022. The pair has also secured fourth place in the 2016 and 2019 events.
Biographical Info
The biographical information of the ROC duo is as under;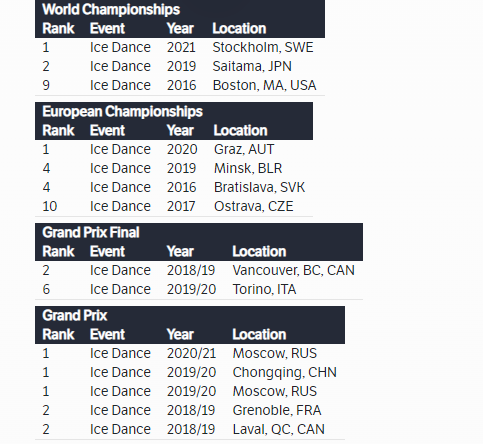 Ups and Downs
Both Nikita Katsalapov and Victoria Sinitsina missed qualifying for the PyeongChang Winter Olympic Games in 2018. But, in the following season, the pair secured silver at World Championship. In 2021, they won the first ice-dance world title for Russia.
Returning to Russia
ROC has trained in the USA till the 2016 World Championships. Thereafter, the duo returned to Russia following Katsalapov's shoulder surgery. However, in 2017, they joined Alexander Zhulin's training group. Moreover, Alexander Zhulin is the Olympic Silver medalist.