Austin, 29 June 2022 (TDI): The Ambassador of Pakistan to the United States, Masood Khan, had a meeting with the Governor of Texas, Greg Abbott.
The discussion focused on leveraging gaps to connect Pakistan and Texas businesses and corporate leaders in diverse fields through bilateral trade and investment.
According to the sources, the meeting emphasized that Pakistan and United States should enhance cooperation in petro, livestock, agriculture, genetic engineering, information technology, and industry relocation to Special Economic Zones (SEZs).
In addition, the meeting also highlighted the need for additional measures to strengthen linkages between Karachi and Houston.
Accordingly, Ambassador Khan expressed his gratitude for the governor's hospitality and invited him for a visit to Pakistan. Furthermore, he emphasized increasing diplomatic ties through people-to-people exchanges.
Honored to meet Governor @GregAbbott_TX, the resolute and successful Texas leader. Received me graciously, with immense friendliness. Invited him to visit Pakistan 🇵🇰 to connect Pak-Texas businesses and corporate leaders in diverse fields. pic.twitter.com/926yZCsI6y

— Masood Khan (@Masood__Khan) June 28, 2022
The governor welcomed the Ambassador to his office in Austin and highlighted the strengthening ties between both nations in the last seven decades.
Welcomed Pakistan's Ambassador to the U.S. @Masood__Khan to the Governor's Office in Austin today.

This year marks the 75th anniversary of formal relations between our two nations. @PakinUSA pic.twitter.com/Q7JwpJiQtv

— Gov. Greg Abbott (@GovAbbott) June 28, 2022
In addition, the governor accepted Ambassador Khan's invitation to visit Pakistan soon.
Pakistan in the US
Ambassador Masood Khan said that the 150,000 Pakistani diaspora communities spread over Houston, Dallas, Fort Worth, Austin, and St Antonio are an asset to building bridges between the two nations.
With attention to the commitment of the US leadership, Ambassador Khan stated that Pakistan is ready to host Texas investment in semiconductors, agriculture, technology, and the healthcare sector.
To emphasize, he suggested creating linkages between Pakistan and Texas agricultural universities to enhance agricultural productivity.
Promoting Partnership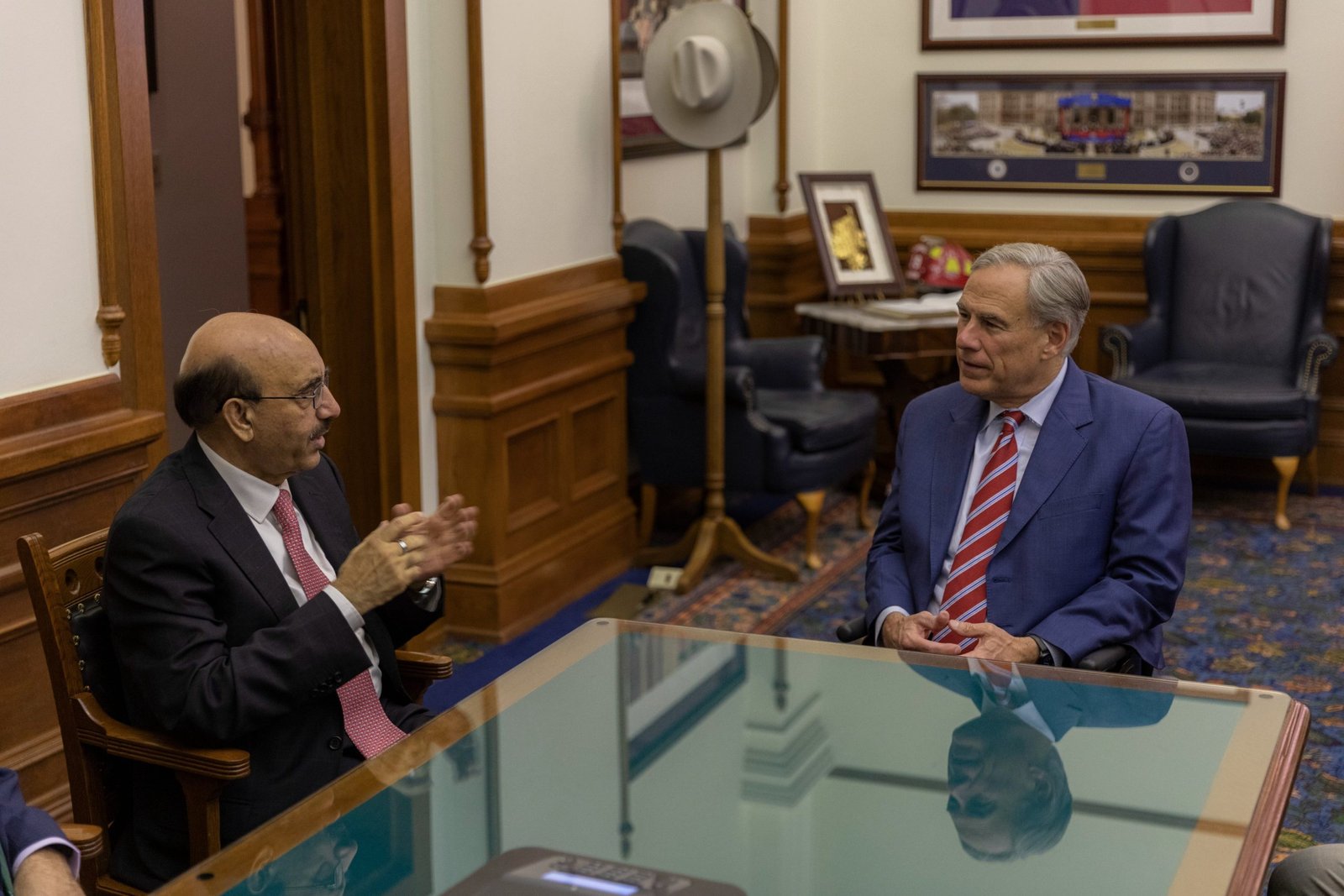 While appreciating the emergence of Texas as a cyber-state, Ambassador Khan highlighted the extraordinary success of tech startups in Pakistan in the recent past and the improved safety and security measures for Foreign Direct Investments.
Further, he appreciated Pakistan's regulatory environment, which is hospitable for US companies to start businesses in diverse areas.
To enumerate, Khan said that the population of Pakistan is unleashing entrepreneurship and innovation through a business-friendly regulatory climate. "Pakistan has the necessary manufacturing infrastructure and growing human capital," he said.
In particular, the Ambassador underscored the role of corporate leaders in businesses to develop and strengthen the plan for economic collaboration before joint ventures between Pakistan and Texas.