Islamabad, 6 November 2022 (TDI): On the request of Dr. Darem Tabba, Syria's Minister of Education, Rana Tanveer Hussain, Federal Minister for Education and Professional Training in Pakistan, travelled to Syria for a fruitful bilateral visit.
He was in Pakistan as a follow-up to the Syrian Education Minister's trip there the previous year. Rana Tanveer Hussain met with Hussein Arnous, the Syrian Arab Republic's prime minister; Bassam Bashir Ibrahim, the country's minister of higher education; Namir Habib Makhlouf, the governor of Homs; and Mahmoud Zanubua, the governor of Hama.
While expressing his best wishes to the Prime Minister of Pakistan, the Prime Minister of Syria noted that Pakistan is a brotherly nation that supported Syria during its difficult times. Best wishes from Prime Minister Shahbaz Sharif were also sent to the leader and people of Syria by Minister Rana Tanveer Hussain.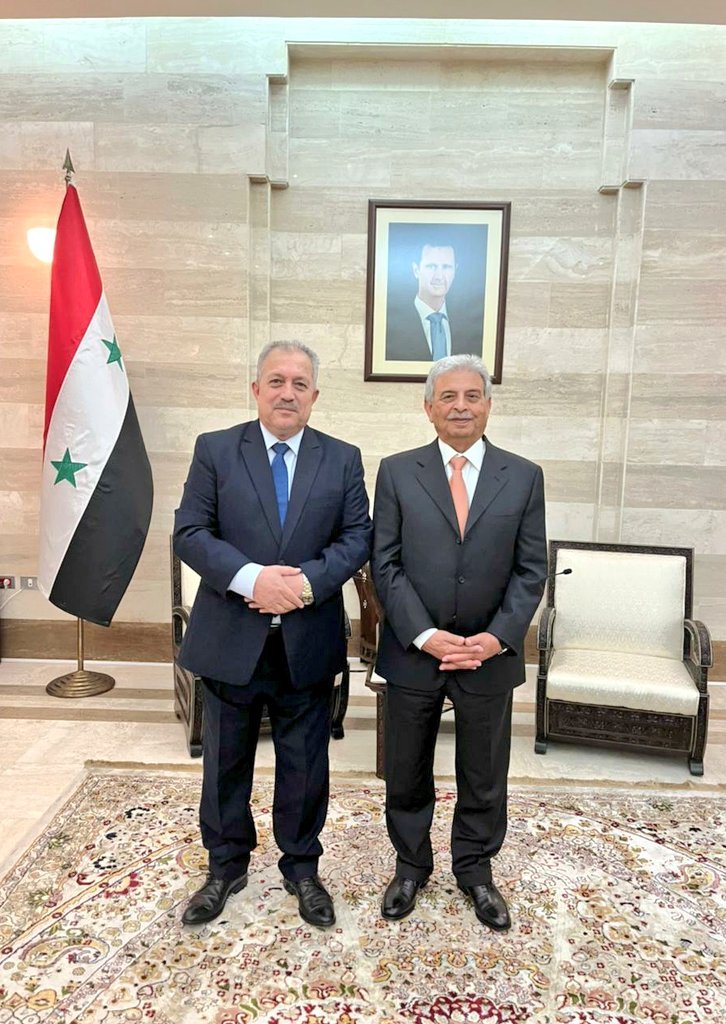 Both parties decided to further deepen their partnerships in the areas of education, skills development, and scientific research during the conference, which was also attended by the Syrian minister of education and Pakistan's ambassador to Syria.
Also read: Pakistani Foreign Minister meets his Iraqi Counterpart
Federal Minister Rana Tanveer Hussain also paid a visit to the Pakistan International School Damascus, which is regarded as one of the best educational institutions in Syria, in addition to the Ministries of Education and Higher Education.
He also paid a visit to the National Center for Distinguished (NCD), Homs, where he was welcomed and briefed by Dr. Hala Al Dakkak, President of the Distinction and Creative Agency, Syria. He was accompanied by the Syrian Education Minister and Governor Homs.
The Federal Minister promised that Pakistan will offer teachers in basic sciences the opportunity to work in NCD for one year in answer to Dr. Hala's request, while praising the residential model used by NCD to identify and develop the brightest potential.
Along with visiting the Hama Education Platform (HEP), which is designed to handle remote learning operations, Federal Minister Rana Tanveer was joined by the Syrian Education Minister and Governor Hama. While there, he saw live lectures being aired on the Syrian Education Channel.
After HEP, the delegation also went to Hama's Industrial High School, a TVET sector training facility. At the Basic Education School in Qatana City, Damascus, the Minister Rana Tanveer Hussain launched the educational programme "Iqra (read)" with his Syrian counterpart, the Minister of Education.
Also read: Pakistani Foreign Minister meets UAE's counterpart
Federal Minister Rana Tanveer Hussain offered 80 fully funded undergraduate and graduate scholarships (under various programmes) to the Syrian side, primarily in the fields of medicine, dentistry, engineering, physical, natural, and applied sciences, agriculture, education, and other related fields, during delegation-level discussions at the Ministries of Education and Higher Education.
Additionally, he stated that students from NCD-Homs will be given precedence for 20 of the 80 available spots at Pakistan's top-ranked Quaid-e-Azam University (QAU). Additionally, he said that QAU was offering fully financed (local hospitality) six-month research scholarships to Syrian academics and students.
In acknowledgement of the significance of the agricultural sector in both countries, the Federal Minister proposed establishing a consortium of agriculture and livestock institutions between Pakistani and Syrian universities. This partnership will promote collaborative study on common agricultural and livestock concerns on both sides by MSc and PhD students and scholars.
In addition to providing research facilities for collaborative research projects, the consortium will propose professor exchange visits between Pakistan and Syria. The University of Veterinary and Animal Sciences in Lahore and the Agriculture Universities in Faisalabad, Peshawar, Rawalpindi, Tandojam, and Multan will represent Pakistan, according to the Federal Minister.
The Pakistani side also promised a capacity-building programme at the National Academy of Higher Education at HEC for Syrian university and school teachers, with different modules focusing on teacher development and leadership qualities, for which the duration and need assessment will be agreed upon by the two sides.
Also read: Pakistani Prime Minister to visit Egypt for COP-27
As part of a proposal for the development of an AIOU campus in Syria, the National Curriculum Council of Pakistan and the Syrian Directorate of Distance Learning will work together.
A cultural nook dedicated to Pakistani culture will be established by HEC in Syrian universities, primarily those in Damascus, Aleppo, Latakia, Homs, and Hama. The proposal for the creation of a Visual Arts Center by the National College of Arts in Syria was welcomed by both Syria and Pakistan.
Both parties have agreed to send a group of 10 to 15 kids from the same grade level to Islamabad and Damascus for ten days in order to familiarise themselves with the educational systems and cultures of both nations.
Syrian officials received assurances from Federal Minister Rana Tanveer that basic science instructors will be sent to NCD Hama fort for one year. Additionally, it was decided to sign a second memorandum of understanding (MoU) between NAVTTC Pakistan and the Syrian side in the TVET sector.
Syrian officials thanked Pakistan's education minister and also informed him that the Syrian president had approved a unique scheme allowing Pakistani academics and students to receive scholarships at several Syrian universities. Syrians will also explore the possibility of opening a cultural hub in Islamabad.
Both Pakistan and Syria decided to establish a Joint Working Group (JWG) composed of senior officials from both sides in the fields of school education, higher education, and TVET, along with ambassadors of the two countries, in order to implement and monitor the overall engagements agreed upon. Every two years, the panel will convene and present a report to both parties.
Both parties commended Air Marshal (Retd.) Saeed Muhammad Khan, a former Pakistani ambassador to Syria, for his active participation in advancing the two nations' bilateral relations.