Astana, 4 July 2023 (TDI): Kazakhstan President Kassym-Jomart Tokayev received the Chairman of the Japanese Parliamentary League of Friendship with Kazakhstan Toshiaki Endo.
🇰🇿🇯🇵 Президент Касым-Жомарт Токаев принял председателя Японской парламентской лиги дружбы с Казахстаном Тошиаки Эндо https://t.co/P9ikHDiXBY pic.twitter.com/W77uYSfi9a

— President Kassym-Jomart Tokayev's Press Office (@aqorda_press) July 4, 2023
Topical issues of deepening cooperation and strengthening parliamentary interaction between Kazakhstan and Japan were discussed during the meeting.
Welcoming Toshiaki Endo, the Kazakhstan President noted that Kazakhstan citizens have always had a special sense of respect and interest in the Japanese people.
Furthermore, Kassym-Jomart Tokayev noted the special level of trusting relations between Kazakhstan and Japan and highly appreciated the contribution of the Japanese Parliamentary Friendship League with Kazakhstan to strengthening ties.
Economic cooperation is central to the Kazakhstan-Japan relationship. Hence, the Kazakhstan President stressed the need for significant opportunities in trade and investment for both sides.
Also Read: CICA Summit kickstarts in Astana with opening remarks of Kazakhstan's President
Additionally, the Kazakhstan President expressed Kazakhstan's interest in enhancing economic cooperation with Japan.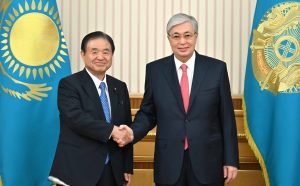 Kassym-Jomart Tokayev said that Japan has invested $8 billion in Kazakhstan. Thereby making Japan one of the ten largest investors in Kazakhstan's economy.
In the same vein, Tokayev noted that the trade turnover between the two countries reached $2 billion and emphasized that there is a huge potential for its further development.
On the other side, Toshiaki Endo appreciated the opportunity to meet and conveyed the message of Japanese Prime Minister Fumio Kishida to the Kazakhstan leader.
It is wealth noticing that the two countries have a rich history of economic and cultural exchange, culminating in establishing diplomatic relations in 1992.
Cultural Ties
In the aspect of culture, the Japanese Culture Day organized by Kazakhstan Japan Center at the National Academic Library in Astana portrayed to local audiences a glimpse of Japanese rich culture.
Also, the two countries value music as a significant component of culture and tradition. Therefore, music is another cultural element that aligns both Kazakhstan and Japan in the context of culture.
The Chairman of the Parliamentary League of Friendship with Kazakhstan affirmed the readiness of the Japanese Parliament to expand mutually beneficial partnerships with Kazakhstan in all areas.