Rawalpindi, 13 May 2023 (TDI): A Defense Delegation from Kazakhstan, led by Vice Minister Beispekov Azamat, recently visited Pakistan's Ministry of Defense Production to discuss and strengthen defense cooperation between the two countries.
The visit aimed to investigate potential cooperation areas and emphasize the significance of executing the present accord on military-technical collaboration.
During the visit, the Kazakh delegation met with the Secretary of Defense Production, Lt Gen (R) Humayun Aziz, and other Ministry of Defense Production officials. The discussions focused on fostering more significant defense ties and enhancing bilateral cooperation.
Both countries acknowledged the importance of implementing the agreement on military-technical cooperation. They also expressed their commitment to advancing cooperation in this domain.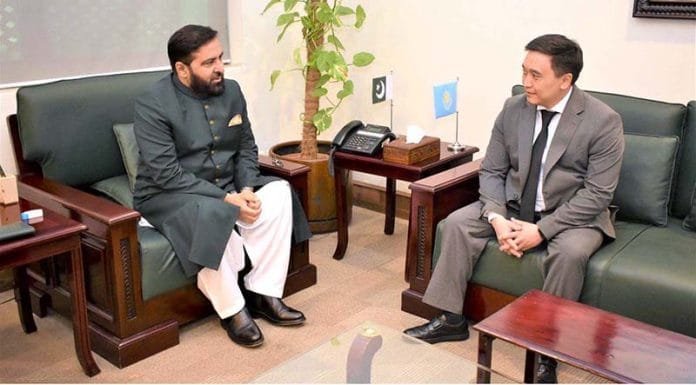 Azamat, Vice Minister of Kazakhstan, conveyed his gratitude to Secretary of Defense Production, Lt. Gen, (Retd) Humayun Aziz, for the warm welcome and hospitality extended to the delegation.
He underlined the significance of future cooperation between Kazakhstan and Pakistan, not only in the defense sector but also on regional and international platforms.
The Ministry of Defense Production and the Kazakh Defense Delegation expressed confidence that their engagement would lead to fruitful outcomes and contribute to the overall security and stability of the region.
Both countries are willing to work together to promote the region's peace, stability, and security, recognizing the shared interests and common objectives.
Also Read: Youth is Promoter of Pakistan-Kazakhstan Relations, Envoy
Pakistan and Kazakhstan have a history of friendly relations. The visit of the Kazakh Defense Delegation marks a juncture in the bilateral relations between Kazakhstan and Pakistan, underscoring the mutual commitment to deepening cooperation and collaboration.
The discussions held during the visit will pave the way for enhanced defense cooperation, technological exchange, and joint research and development endeavors.
Both countries look forward to future exchanges and joint initiatives that will further strengthen the bonds of friendship and cooperation between Kazakhstan and Pakistan.