The United Nations General Assembly (UNGA) declared October 11 as the International Day of the Girl on December 19, 2011. This day is dedicated to acknowledging the rights of girls and the unique challenges they encounter worldwide.
It focuses on addressing these challenges, promoting girls' empowerment, and ensuring their human rights are fulfilled.
Girls have the entitlement to a safe, educated, and healthy life throughout their developmental years and into adulthood.
By providing effective support and education to girls, they possess the potential to be influential figures, shaping the world as empowered individuals, future workers, entrepreneurs, mentors, household leaders, political representatives, and mothers.
This investment in girls' empowerment upholds their rights and promises a more equitable and prosperous future, where half of humanity plays an equal role in addressing global issues.
The International Day of the Girl serves as a global platform to advocate for the full spectrum of girls' rights.
It has become particularly critical at a time when there are various movements and actions challenging the rights of girls and women and hindering progress in gender equality.
In response to these challenges, there is an urgent need to allocate more attention and resources to key areas that enable girls to realize their rights and reach their full potential.
The global community must move beyond reaffirming commitments and take bold actions to facilitate change in line with girls' calls for improvement.
Many girls are already driving change in their communities, championing solutions, and demonstrating leadership.
They should have the opportunity to shape government policies, influence business practices, and set research priorities, with these examples becoming the norm rather than exceptions.
UN Women, in collaboration with other UN agencies, civil society, and girls worldwide, celebrates the International Day of the Girl Child under the theme "Digital generation. Our generation."
They emphasize the importance of equal access to the internet and digital devices for girls and advocate for targeted investments to facilitate safe and meaningful use of technology.
Digital inclusion and literacy are key to opening up new opportunities for girls, especially during the COVID-19 pandemic.
However, the pandemic has exacerbated gender disparities in connectivity and online safety, with girls facing barriers to internet access.
The Generation Equality Forum earlier this year prioritized technology and innovation as a means to promote gender equality.
Commitments were made to create more inclusive digital societies, provide equitable opportunities to girls, invest in feminist technology, and involve girls and young women in designing solutions for the digital world.
Being a girl today means being part of a digital generation. Girls worldwide have shown their readiness to lead the digital transformation.
However, it's crucial to consider the diverse digital realities girls face, as these can deepen the gender divide in terms of connectivity, skills, and online safety. Efforts are needed to ensure that all girls have access to technology and that they are safe online.
UN Women will continue to support initiatives that enhance digital access and skills, invest in feminist technology, establish inclusive innovation ecosystems, and develop tools to combat online gender-based violence and discrimination.
The right to education, including in information and communication technology (ICT) and STEM subjects, remains non-negotiable.
On this International Day of the Girl, the focus is on connecting, supporting, and empowering girls to co-lead the digital transformation journey.
On International Day of the Girl Child, it's important to recognize and celebrate the achievements and contributions of famous girls from Pakistan who have made a significant impact on the international stage.
Here are a few notable Pakistani girls and young women;
Malala Yousafzai is perhaps the most famous Pakistani girl internationally. She is an advocate for girls' education and women's rights.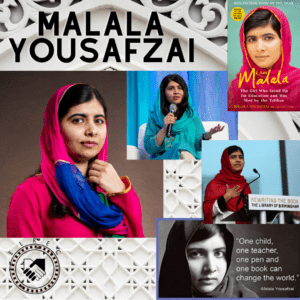 Malala survived an assassination attempt by the Taliban and went on to become the youngest Nobel Prize laureate. Her courage and dedication to education for girls have inspired people around the world.
Arfa Karim was a child prodigy in the field of computer science. She became the youngest Microsoft Certified Professional (MCP) at the age of nine.
Her achievements in the tech industry garnered international recognition until her unfortunate passing at a young age.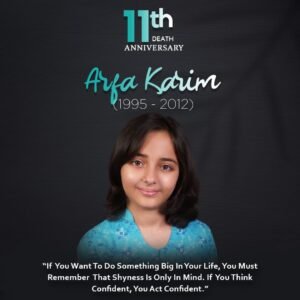 Noreena Shams is a young Pakistani girl who gained international attention for her work in science. She invented a solar ironing cart to help women who work as street vendors in Pakistan.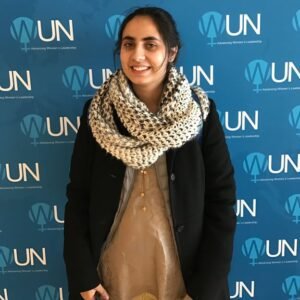 Her invention not only helps these women but also has the potential to be a sustainable solution in other parts of the world. Hadiqa Bashir is an advocate against child marriages in Pakistan.
She started speaking out against this practice at a young age and has been recognized for her efforts on the international stage. She received the Muhammad Ali Humanitarian Award for her activism.
Sumaila Kabir is known for her work in social entrepreneurship and women's empowerment. She co-founded the social enterprise The Pukar Foundation focusing on providing vocational training and employment opportunities to women in Pakistan.
These young Pakistani girls have demonstrated remarkable resilience, intelligence, and dedication to making a positive impact on their communities and the world.
Their stories serve as an inspiration for girls everywhere and highlight the importance of empowering girls to reach their full potential.