Kyiv, 14 February 2022 (TDI): According to the UN Children's Fund (UNICEF), the ongoing violence in eastern Ukraine is progressively harming the mental health of boys and girls, causing nightmares, social isolation, and panic attacks.
Two children, Illia, 15, and Afina, 9, have recounted how, despite the fact that they have no visible scars from the conflict, which is now in its tenth year, mortar shells and shrapnel have left them with severe invisible wounds.
"My life has changed drastically," Illia stated. He says that he would not have had visual difficulties if it hadn't been for the war, and he would have continued to play hockey and attended university in Donetsk.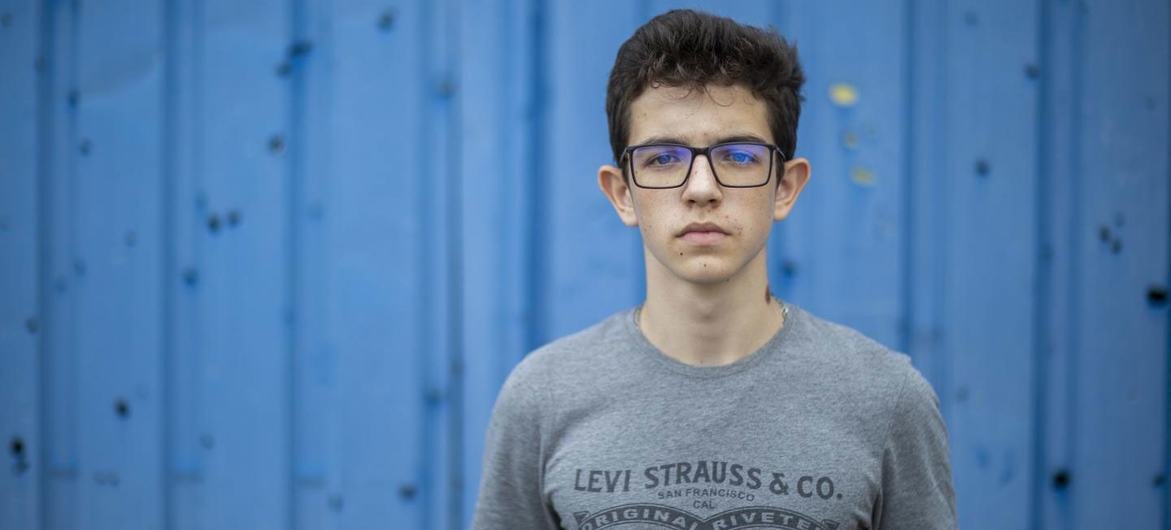 A split-second difference
Unfortunately, the adolescent is not alone. According to UNICEF, nearly every kid caught up in the fighting in eastern Ukraine is now deemed to require psychosocial help. Illia remembered being in the kitchen when a shell hit his house.
There was an explosion in a fraction of a second. All he remembers is his ears buzzing and seeing a yellow line of fire, followed by red, orange, and pieces. His eyesight has degraded over time. Nights spent hiding out in a dark cellar have only exacerbated the situation.
Life during the conflict
"During a conflict, the most important thing is to get to safety in time," Illia remarked.
When a shot is heard, one must dash to the cellar, hide, and await the explosion. Illia says that one must live while fleeing to the basement and then figure out how to survive in the basement.
Illia has long desired to relocate to a large metropolis, but the war has upended both his life and his aspirations. Due to the conflicts, the hockey team on which he participated has been disbanded.
The university he intended to attend is now located on the opposite side of the "contact line," in territory beyond government control. And his vision has suffered as a result of his worry.
However, thanks to hospital treatment, Illia's vision has not deteriorated any further. To address his myopia, he now wears spectacles. While he intends to return to athletics one day, he now enjoys assisting around the house and baking cupcakes and other delectable delicacies for his family.
Conflict-related anxiety
Afina, who is only nine years old, has diabetes as a result of conflict-related stress. Her blood sugar levels must be monitored up to seven times each day, and her family frequently struggles to buy life-saving insulin due to financial constraints.
Afina was just two years old when war erupted in eastern Ukraine. Daria, her mother, recalls her daughter playing near their house when a tank drove down the street. The small girl raced so fast that she tripped and tripped over her shoes.
"She became terrified and began hiding behind me, crying hysterically," Daria recalled.

"Yes, I remember," Afina replied softly.

"How I raced away from the tank and lost my slippers." And I ran barefoot.
Afina was diagnosed with diabetes after years of stress from shelling. "I began drinking a lot of water," she explained. "As if everything inside me was dry." As her mother said, the conflict has also had an influence on her family's financial status, and their lives have been turned upside down.
"We were left without a means of subsistence," Daria explained. "They stopped paying my husband's salaries. My parents' payments were also delayed, and our cow stopped milking at the same time."
Afina's family is now struggling to purchase new test strips and needles, as well as insulin for her daily injections. Daria noted that her kid had always wanted to take a plane holiday. Maybe someday they'll be able to do it. But, until the battle is ended, they must go about their daily lives.
Keeping Ukraine's Children Safe
Despite recent improvements aimed at preserving the rights of children affected by the crisis in eastern Ukraine, UNICEF reported that almost 500,000 girls and boys continue to face grave threats to their physical and psychological well-being.
The UN organization and its partners provide mental health and psychosocial support services to children who live along the 420-kilometre contact line that separates government and non-government held territories.
UNICEF's assistance touched approximately 70,000 children, youth, and caregivers last year. Teachers were educated to provide psychological support, which means they can now provide better care for children in school as well as manage conflict's anxiety and stress. This year, UNICEF needs $2.2 million for its child protection mission to offer essential psychosocial support to more than 85,000 children.