Bogota, 23 March 2022 (TDI): Germany has donated millions of doses of Pfizer vaccine to help Colombia fight Covid-19. Columbia received 2.3 million doses of the Covid19 vaccine Pfizer.
The operation was coordinated by the Colombian government, the Government of Germany, and the German Agency for International Cooperation (GIZ).
The Vice President of Colombia, Marta Lucia Ramirez, along with the Minister of Health Fernando Ruiz and the German Ambassador to the Republic of Colombia, Peter Ptassek, attended the occasion.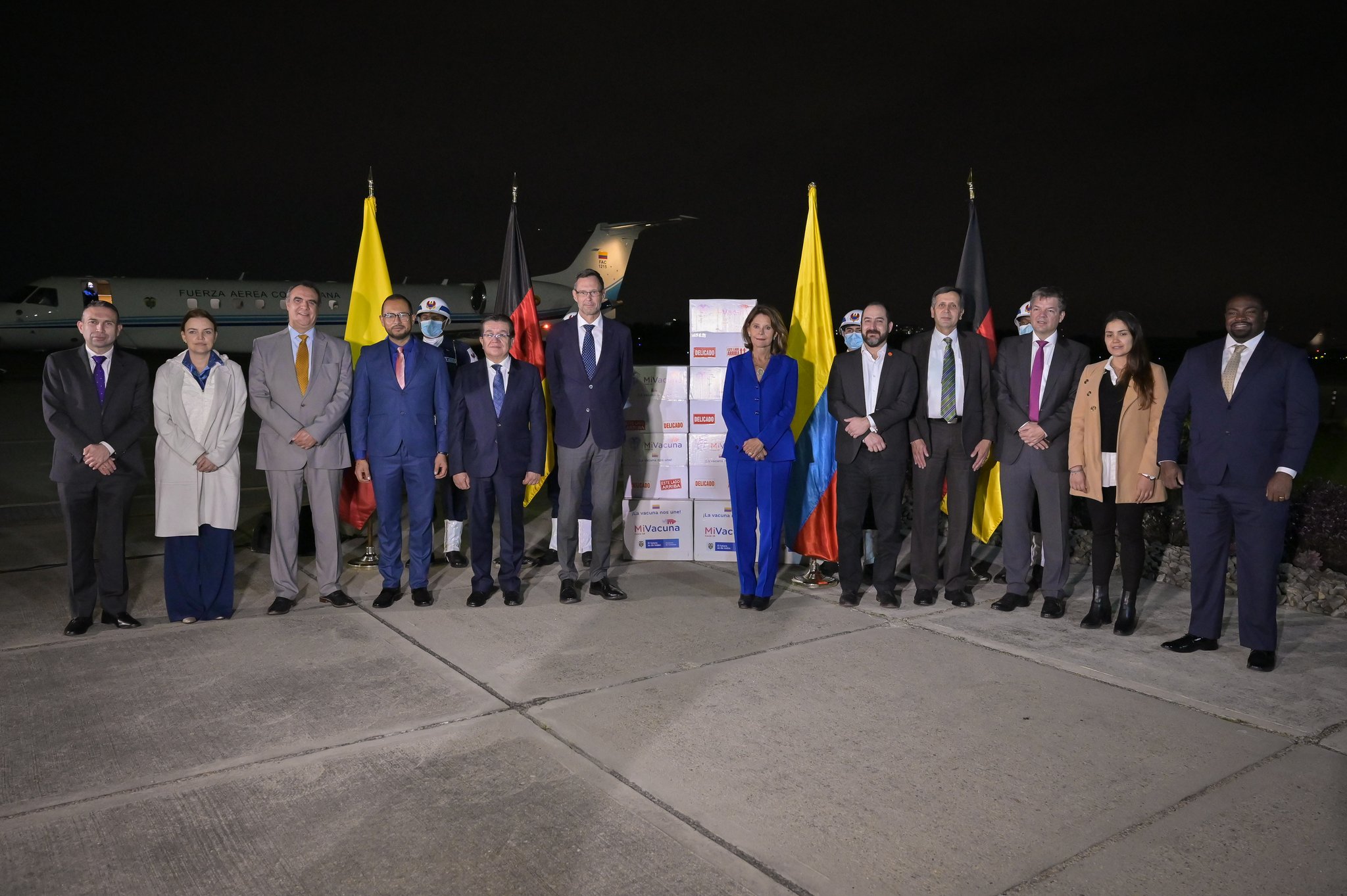 The Vice President of Colombia, Marta Lucia Ramirez, expressed gratitude to the German government. She wrote in a tweet that "Once again, Germany honors its solidarity with Colombia!
This donation of 2.3 million vaccines Pfizer is added to the 500 thousand PCR tests delivered. We will continue to deepen this cooperation, with development and research in the field of health. Thanks!"
¡Una vez más, Alemania honra su solidaridad con Colombia! Esta donación de 2.3 millones de vacunas #Pfizer, se suma a las 500 mil pruebas PCR entregadas por @ChariteBerlin. Seguiremos ahondando en esta cooperación, con desarrollo e investigación en el campo de la salud. ¡Gracias! pic.twitter.com/hH7JroZuJq

— Marta Lucía Ramírez (@mluciaramirez) March 23, 2022
The German Ambassador to Colombia thanked the Vice President and the Colombian Minister of Health for attending. Announcing the donation of Covid19 vaccines to Columbia on his Twitter.
He said that "Friends help each other when it's time". He further added that "Germany and Colombia always working together to fight the pandemic".
Amigos se ayudan cuando toca: Hoy donamos 2.3 millones de vacunas pfizer/Biontech covid-19 a Colombia a través de mecanismo #COVAX Gracias Canciller @mluciaramirez y Ministro de Salud @Fruizgomez por asistir! Alemania y Colombia trabajando siempre juntos para combatir pandemia 💪 pic.twitter.com/zYxBB7E0Z3

— Peter Ptassek – Embajador de Alemania en Colombia (@alemEmbajador) March 23, 2022
This donation testifies to the cordial relations between the two countries. During the occasion, the Ambassador stated that Covid19 is still present and for this reason, he stressed that "among friends you have to help".
Moreover, the Ambassador recalled that both countries have been exchanging medical cooperation for two years. The Vice President secured the donation on her visit to Berlin in November 2021.
Germany has become one of the main cooperating partners for the country in response to the COVID-19 health emergency.
Covid-19 in Colombia
Up to January 2022, the South American country has faced four waves of the Covid-19 pandemic. There have been 6,081,933 infections.
139,489 coronavirus-related deaths have been reported in the country since the pandemic began. The government has engaged in vaccination efforts to reduce the impact of the pandemic.