Lusail, 22 November 2022 (TDI): During Tuesday's FIFA World Cup match between Saudi Arabia and Argentina, Emir of Qatar Sheikh Tamim bin Hamad was spotted wearing the Saudi flag around his neck.
A Saudi flag was given to the Emir of Qatar, Sheikh Tamim, and he wore it around his neck while waving to the adoring throng, while amused fans were making his video.
Emir of Qatar with Saudi Flag
Why this scene captured attention?
Riyadh and Doha resumed diplomatic ties in January 2021 after years of hostile tensions. The resumption of relations between Saudi Arabia and Qatar brought cordial relations between two sides.
Prince Mohammed's presence in Qatar was a result of the two Arab nations' mending their relationship. He demonstrated his support for Qatar hosting the FIFA World Cup.
The Crown Prince gave orders to all Saudi ministries, agencies, and government bodies to provide whatever additional aid or resources were needed to help Qatar hold the World Cup.
At the opening ceremony of the FIFA World Cup in Doha, on Sunday, Crown Prince Mohamad Bin Salman was also spotted with the Qatar-FIFA flag around his neck.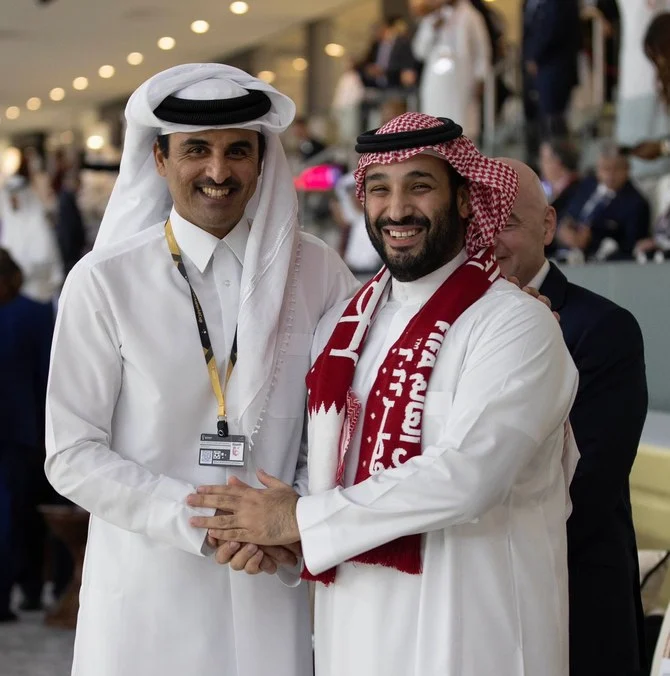 KSA vs. Argentine highlight
One of the biggest surprises at the World Cup was Saudi Arabia's 2-1 victory over Lionel Messi's Argentina at Lusail Stadium in Qatar.
By swatting in a penalty in the 10th minute of his fifth and last World Cup, Messi gave Argentina the lead and set them on track to shatter Italy's record of 37 undefeated games.
Saleh Alshehri and Salem Aldawsari of Saudi Arabia scored goals within a difference of five minutes in the second half and gave their country their most significant victory.
The match brought to mind of people the World Cup of 1990 when Cameroon beat defending winners Argentina 1-0.
Also Read: