Beijing, 4 November 2022 (TDI): German Chancellor Olaf Scholz during his official visit to China met President of China, Xi Jinping on 4 November 2022 at the Great Hall of the People in China's capital, Beijing.
President Xi Jinping just met with German Chancellor Olaf Scholz on his official visit to China. pic.twitter.com/HRrQHrNe5d

— Hua Chunying 华春莹 (@SpokespersonCHN) November 4, 2022
According to the statement released by the Ministry of Foreign Affairs of the People's Republic of China, both the leaders discussed economic exchange between China and Germany and understanding to pursue mutual-beneficial cooperation.
Moreover, both sides agreed to work together to contribute more towards global peace, stability, and development.
German Chancellor became the first G7 leader to visit China after the COVID-19 Pandemic. He is the first European leader to visit China after the 20th National Congress, Xi Jinping noted.
President Xi Jinping's remarks
President Xi stressed on successful 50 years of diplomatic relations between China and Germany. He added that both countries had followed the principles of respecting each other, seeking common ground, and maintaining exchanges and mutual learning throughout the years.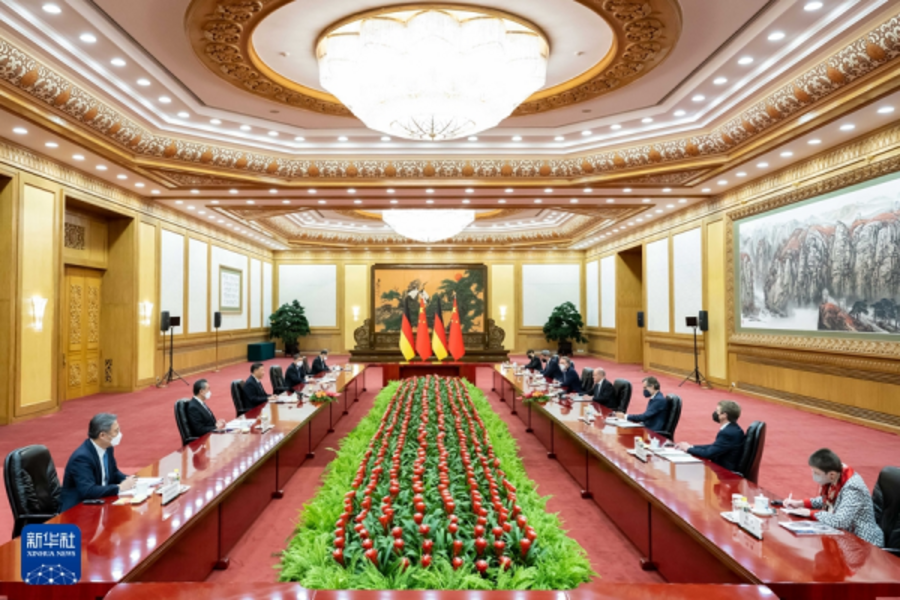 Moreover, he said that China will work closely with Germany for future-oriented bilateral cooperation and progress between China-Germany and advancing China-Europe relations.
President briefed Chancellor on 20th CPC National Congress, highlighted the success of Chinese modernization policies, and urged the world to modernize them in light of their own national realities.
He further stated that China would continue its high development standards, to promote the world economy and expand converging interests with other countries.
Besides that, he stressed that both sides should keep working on building bilateral ties from a strategic height, and enhance bilateral cooperation on common ground for long-term and steady growth.
Also Read: China hopes to expand cooperation with Europe, Xi Jinping tells the leaders of France and Germany
He called on Germany to follow a positive China policy for the mutual benefit of both countries. China urged Germany to explore more cooperation potential in emerging fields such as new energy, artificial intelligence, and digitalization.
President Xi offered to work with Germany and Europe to further deepen cooperation in aviation, and COVID-19, increase mutual learning and understanding in green development and encourage people-to-people exchange.
President Xi Jinping emphasized the importance of China-Europe relations as they can bring stability and prosperity to Eurasia.
He shared that China always regarded Europe as a strategic partner and it will work with Germany and Europe to coordinate and cooperate on global issues mainly climate change, biodiversity, and food security.
German Chancellor's remarks
German Chancellor, Olaf Scholz expressed his pleasure to visit China in a year that marks the 50th anniversary of China-Germany diplomatic relations.
He did an in-depth discussion on matters of mutual interest. He further said Germany wants coordinate with China to better safeguard regional and global peace and security.
Putin's war is challenging the global peaceful order. In #Beijing, I asked President #Xi to bring his influence on Russia to bear. We agree that atomic threats are extremely dangerous. The use of such weapons would cross a red line. pic.twitter.com/xtgjgi35qX

— Bundeskanzler Olaf Scholz (@Bundeskanzler) November 4, 2022
On top of that, Chancellor Scholz showed a willingness to exchange views with China to enhance further mutual understanding and trust, stabilize, and grow bilateral ties. Germany will play a vital role in stabilizing Europe-China relations.
German Chancellor stressed achieving greater free trade with China as in recent years economic exchange with China has become more difficult due to market access and imbalance in China-Germany trade relations.
While exchanging views on the Ukraine crisis, the German Chancellor adjured President Xi Jinping to bring his influence on Russia to bear.
China reaffirmed its support for Germany and Europe to play an important role in facilitating, peace talks and building a sustainable security architecture in Europe.
Both leaders agreed to oppose the use of nuclear weapons and advocate that nuclear wars must not be fought. Other than that, both agreed to keep global industrial and supply chains stable.
They also agreed to bring up international cooperation in areas of food, energy, finance, and humanitarian assistance during the severe crisis.
At the end of the meeting, President Xi Jinping held a banquet for Chancellor Olaf Scholz at the Golden Hall of the Great Hall of the People.