Ahmed Ameen Rabaie, Ambassador of the State of Palestine, is known for his activism for Palestinians. His active participation, patriotism, and quest for freedom for the country from oppressors have helped him to emerge as the voice of Palestine.
The Palestinian Ambassador has highlighted the miserable condition of Palestine and the continued human rights violations of Palestine by Israel at global forums such as the Human Rights Council. He is also actively promoting the rights of Palestinians and their cause on social media. voice
Israel is an illegitimate state. PAKISTAN WILL NEVER ACCEPT IT." Quaid-E-Azam Muhammad Ali Jinnah

— Ahmed Ameen (@RabaieAhmed) May 29, 2022
According to Rabaie, Palestine is a common denominator of the Arab Countries and requires immediate reunification, conflict resolution, peace, harmony, and mutual trust among all brotherly states.
Ambassador Rabaie has also proactively advocated the rights of Muslims under oppression in different parts of the world, including Kashmir.
He supports the unity of the Muslim Ummah to find consolidated solutions to issues of Muslim communities worldwide.
يوم النكبة 15/5/2022
"لن ننسى البداية، لا مفاتيح بيوتنا، ولا مصابيح الطريق التي أضاءها دمنا"
(محمود درويش)

15th May 2022
Nakba 1948
" We will not forget the beginning, nor the keys to our homes, nor the road lamps that were lit by our blood"
(Mahmoud Darwish) pic.twitter.com/96Xt7zBiz7

— Ahmed Ameen (@RabaieAhmed) May 14, 2022
Ambassador Rabaie received his Ph.D. in Law and Political Sciences from the University of Tunis El Manar, Tunisia, in 2019. He has done M.A in Strategic Planning and State Administration from Mutah University, the Hashemite Kingdom of Jordan, in 2013.
Moreover, he has a Diploma of Higher Studies in National Resource Management from the National Defence College in the Hashemite Kingdom of Jordan in 2012.
His diverse academic background includes a Diploma in Criminal and Security Sciences (Institute of Competency Upgrading and Capacity Development) from the Russian Federation and civil engineering from Palestine Polytechnic University.
During his career, the Ambassador has served at various forums by representing Palestine in the international community. He served as Assistant Secretary-General of the Arab Interior Ministers' Council (AIMC) in Tunisia between 2016-2019.
In addition, he has served as Assistant of the Minister of Interior for Arab Relations and International Corporation, Director of Administrative and Logistic Planning at the Strategic Planning Group, and Assistant Director-General of the Preventive Security Agency.
Furthermore, he has also served as the Director-General of the Crossings and Borders Department in the Ministry of Interior Palestine.
Strengthening Bilateral relations with Pakistan
General Retired Ahmed Rabaie is the serving Ambassador of Palestine in Pakistan. His appointment was made as an Ambassador to Pakistan in 2019.
Before his appointment, Rabaie served as Assistant Secretary-general of the Council of Arab Interior Ministers and Assistant Minister of Interior and Director General of Arab and International Relations.
The distinguished Ambassador has made tremendous contributions to enhancing the representation of Palestine globally. His vision is to "transform Pakistan into Palestine and transform Palestine into Pakistan."
The bilateral relations between Palestine and Pakistan have improved remarkably due to the immense input from the Ambassador. Both countries have made progress in cultural, political, trade, economic and educational exchange.
Moreover, he has been tirelessly working to achieve development in both countries. He has initiated various projects to promote peace and economic stability in both countries.
During his tenure as the Ambassador of Palestine, the Embassy of Palestine in Islamabad is actively engaged in local cultural and social events.
Most recently, he took to his official Twitter account to express his sorrow over the loss of life because of an unfortunate bus accident.
🇵🇰🤝🏻😥🇵🇸
Deeply saddened by the loss of lives in the unfortunate bus accident in the road of Balochistan.
On behalf of Palestinian people we wish Allah's mercy upon those who lost their lives and extend our condolences to Pakistani brotherly people and to the families

— Ahmed Ameen (@RabaieAhmed) July 3, 2022
MoUs between Pakistan and Palestine
Due to his massive input, thirteen MoUs have been signed between Pakistan and Palestine to promote education, trade, business, science and technology, and trade among both countries.
Pakistan will soon host a mega delegate of two hundred Palestinian people in business to promote trade between countries.
In addition, the Ambassador has also proposed to establish a work business council between Palestine and Pakistan.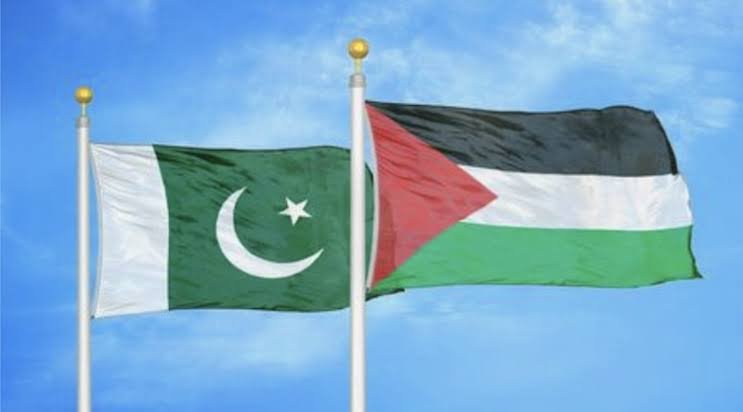 Political Achievements
Meanwhile, Ambassador Ahmed Rabaie developed political relations more efficiently and frequently between the leadership of Pakistan and Palestine through political positions, consolidated political consultation, and institutions.
In addition, he has accelerated contact between the countries at the presidential and state level. The Ambassador has demonstrated great potential at the economic forefront.
Due to his tireless efforts and massive input, Pakistan and Palestine strategically plan to open an economic Corridor between both Muslim countries.
This economic corridor can facilitate bilateral trade and multiple investment opportunities for food, textile, wooden goods, and other handicrafts.
The Ambassador actively engages with different Chambers of Commerce in Pakistan to boost economic opportunities for both countries.
The Ambassador also aims to promote the tourism industry to consolidate cultural and economic ties between countries.
Work to enhance access to education
The Ambassador has increased the ratio of fully-funded scholarships for deserving Palestinian students to 500 with the collaboration of COMSTECH Pakistan and other private universities.
His initiative has been endorsed by the President of Pakistan, Dr. Arif Alvi, for this dedication to improving education for the youth of Palestine.
Also, he is working to facilitate teachers and student exchange programs between countries for technical training and social sciences. Both countries will soon initiate technical training programs as well.
Cultural Achievements  
Aside from that, Ambassador Rabaie believes in promoting people-to-people diplomacy for social transformation and supports the comprehensive exchange of music, art, poetry, and literature between countries.
His most enormous contribution is in cultural exchange and linguistics through which numerous known pieces of Palestinian poetry are translated into Urdu.
Recognition for his contributions
Recently, Ambassador Rabaie was conferred with the Global Ambassador Award by the Diplomatic Insight Group to recognize his outstanding contributions toward building a trustworthy alliance between Palestine and Pakistan.
Palestinian Ambassador to Pakistan conferred with Global Ambassador Award https://t.co/If9DtInrE2 via @DiplomaticIns#GlobalAmbassadorsAwards #TDI #Palestine #PalestinianAmbassador @ForeignOfficePk @IpdsPakistan @senatorMtalha @pmofa @RabaieAhmed

— The Diplomatic Insight (@DiplomaticIns) June 18, 2022