Worldwide, 18 – 24 November 2022 (TDI): Antimicrobial Awareness Week is organized worldwide from 18 to 24 November this year to spread public awareness. "Preventing Antimicrobial Resistance Together" is the theme of WAAW this year.
According to research, by 2050, antimicrobial-resistant illnesses could overtake all other causes of mortality worldwide. The world may be entering a post-antibiotic period where it will be impossible to cure formerly specific bacterial diseases.
The World Antimicrobial Knowledge Week (WAAW) campaign aims to raise AMR awareness. The purpose of this campaign is to comprehend this global issue among the public and sectors that are crucial in preventing AMR.
What is an antimicrobial?
Anything that kills or prevents the growth of microorganisms like bacteria, viruses, protozoa, and fungus, whether it is natural, semi-synthetic, or synthetic in origin
Antimicrobial compounds include pharmaceuticals comprising antibiotics, antivirals, and antifungals, or chemicals like sterilants, antiseptics, disinfectants, and preservatives in personal care products.
Antimicrobial resistance (AMR)
Antimicrobial resistance (AMR) is a condition in which bacteria, viruses, fungi, and parasites evolve with time and cease to be responsive to drugs. This ability can be inherited or learned.
Superbugs are germs that have developed resistance to many antibiotic substances. This makes infections more difficult to cure and raises the risk of disease transmission, life-threatening sickness, and death.
Antibiotic resistance makes it harder or impossible to cure illnesses and renders antibiotics and other antimicrobial medications useless. As per research in 2019, 1.27 million fatalities were attributed to AMR in bacteria.
Regarding this concern, at the 68th World Health Assembly in May 2015, a worldwide action plan was approved to combat the escalating issue of antibiotic and other antimicrobial medication resistance. Enhancing knowledge and comprehension of AMR through effective communication, education, and training is one of the main goals of this global action plan.
Moreover, according to the World Health Organization (WHO), the environment has a significant role in antimicrobial resistance. It is seen that AMR may also evolve spontaneously; bacteria and fungi have been shown to develop defense mechanisms to withstand antimicrobial attack and live, becoming antimicrobial resistant.
This is similar to how most antimicrobial compounds are generated from the natural environment. Human activity is, however, significantly speeding up this process and posing a worldwide hazard.
The human activities contributing to antimicrobial resistance include misuse and overuse of antibiotics in human health, food-animal production, and agriculture, along with poor management of waste emanating from households, farms, factories, and human and veterinary healthcare settings.

"One Health"
The Global Action Plan (GAP) on AMR has designated antimicrobial resistance as a One Health concern because of its meaningful connections to the health of people, animals, and the environment.
Thus, there is a need to address the problems associated with the growth and spread of antibiotic resistance to avoid them. This can happen by utilizing a coordinated multi-sectoral strategy.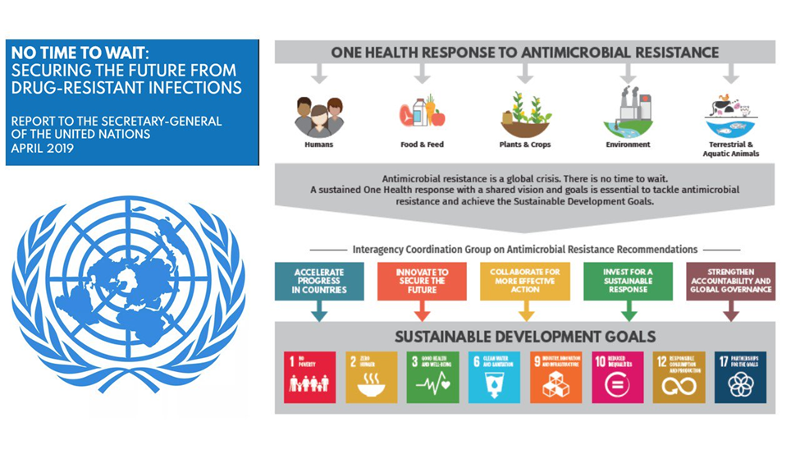 Joint efforts for "One Health"
The World Organization for Animal Health (OIE), the Food and Agriculture Organization (FAO), and the World Health Organization (WHO) collaborate on AMR through a coordinated One Health strategy.
The WHO created a Global Action Plan on AMR in cooperation with the FAO and OIE. Member States were invited to develop National Action Plans for AMR by 2017 after Member States of each of the three organizations agreed to implement the GAP.
Ecology and antimicrobial resistance
Across the human, animal, plant, and environment, AMR poses a serious global threat. Compared to AMR in human or animal health, the ecological aspect of antimicrobial resistance has received less attention. There are significant antimicrobial resistance reserves in the natural world. People, animals, food, and the environment all contain drug-resistant microbes.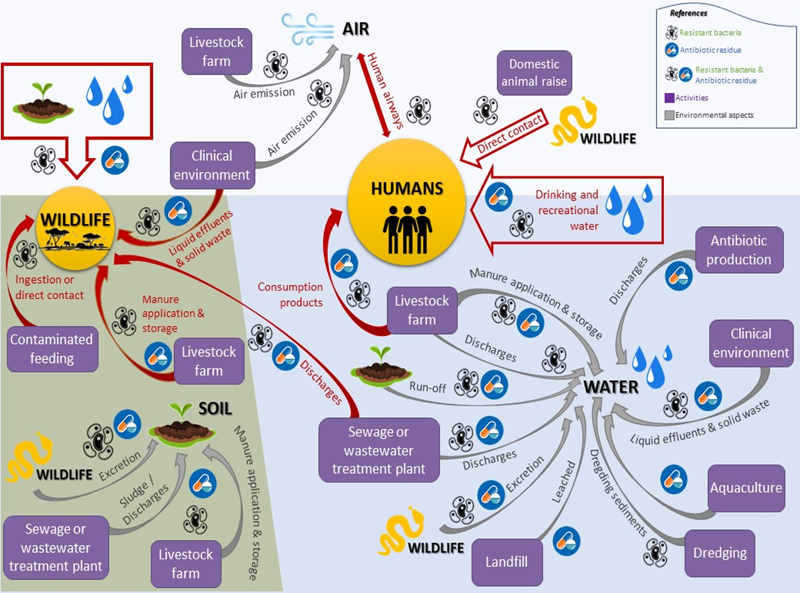 Particularly in areas with poor water supply, sanitation, and hygiene, water, and possibly soil may be prime locations for AMR development and spread. "Superbugs" can spread from person to person, from food with animal origins, and between people and animals.
Often without antibiotic treatment, wildlife that comes into touch with output from wastewater treatment facilities or animal farms where antimicrobials are utilized might become colonized with drug-resistant microbes.
Also Read: