Tharparkar, 17 October 2023 (TDI): Dr. Mahipala, the World Health Organization representative in Pakistan, played a pivotal role in inaugurating a Nutrition Stabilization Center in THQ Diplo, Tharparkar, with crucial backing from WHO.
This center serves as a beacon of hope for addressing malnutrition-related challenges in the region. WHO's support extends beyond the mere inauguration, as they have diligently provided the essential elements required for its operation.
This includes an experienced support staff, cutting-edge equipment, and a steady supply of essential resources.
What's truly commendable is WHO's unwavering commitment to scaling up their response to malnutrition issues in the Sindh region.
They are actively engaged in supporting a total of 47 Nutrition Stabilization Centers across Sindh, a significant number of which were newly established during the response to floods in the area.
This expansion is a testament to WHO's dedication to addressing malnutrition on a broad scale, ensuring that more communities have access to vital resources and care.
During his visit to Tharparkar, Dr. Mahipala, WHO's Representative in Pakistan, expressed WHO's unwavering commitment to supporting the Provincial Government of Sindh in their mission to treat children suffering from severe malnutrition.
This commitment extends far beyond singular actions and signifies a long-term collaboration aimed at enhancing the overall health and well-being of the region's children.
In a separate, but equally important development, Dr. Mahipala marked the inauguration of the Government Dispensary Shakoor abad, located in the remote area of Taluka Kalohi in District Tharparkar.
This health facility has undergone significant refurbishment with the generous backing of WHO.
It stands as a testament to the organization's dedication to reaching even the most underserved communities, ensuring that essential healthcare resources are available where they are needed the most.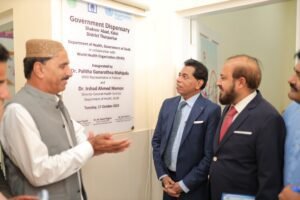 The Government Dispensary Shakoor abad is poised to play a crucial role in addressing the healthcare needs of the local community, contributing to improved well-being and access to medical care in the region.