Washington DC, 8 July 2022 (TDI): President Joe Biden presented the Presidential Medal of Freedom to 17 political, sports, entertainment, business, civil rights, and military officers on Thursday.
The Presidential Medal of Freedom is an honor given by the President of the United States to those who have "made an extraordinarily outstanding contribution to the security or national interests of the United States, international peace, cultural or other major public or private efforts.
It was presented to 17 individuals, including Olympic gymnast Simone Biles, Arizona Republican John McCain, with whom Biden served in the Senate, and gun-control champion Gabby Giffords.
It was Biden's first time awarding the Presidential Medal of Freedom. His awardees included both living and deceased people.
Olympic Gymnast Simone Biles
Simone Biles and Megan Rapinoe are expected to become the fifth and sixth women to be awarded the Medal of Freedom. Rapinoe will be the first female soccer player to win the award while Biles is an Olympic Athlete.
First American to get Covid-19
The President, who took office at a critical point during the coronavirus pandemic, also honored Sandra Lindsay, from New York, a nurse who was the first person to be vaccinated against COVID-19 outside of clinical trials during a live television appearance in December 2020.
Khizr Khan, Gold Star Father
Gold Star parent Khizr Khan is due to receive the Medal of Freedom during a White House event. Last year, Biden appointed Khan to the US Commission on International Religious Freedom.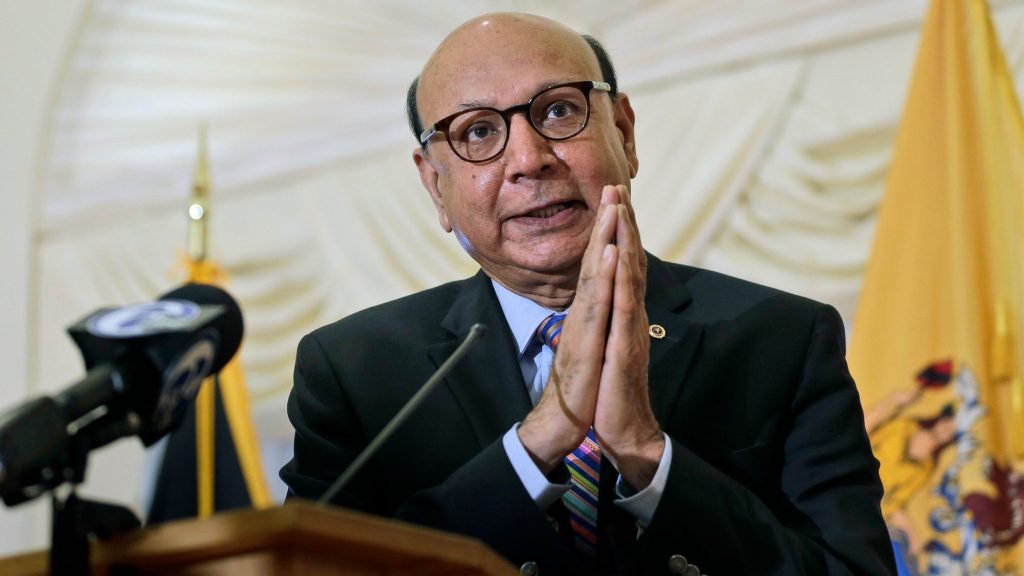 Gabby Giffords
The former Arizona congresswoman formed the Giffords Foundation to advocate for an end to gun violence and curbs on gun availability. The Democrat almost died after she was shot in the head in January 2011 during a constituent event in Tucson.
I'm deeply humbled and honored that @POTUS will be awarding me the Presidential Medal of Freedom.

Serving southern Arizona in Congress was an honor of a lifetime, but I'm also lucky to have had a second chance at service: in the fight to end gun violence. https://t.co/9djr89YJ6t

— Gabrielle Giffords (@GabbyGiffords) July 1, 2022
John McCain
Several deceased recipients will receive the Medal of Freedom, including Apple co-founder Steve Jobs, Arizona Republican Senator. John McCain, and AFL-CIO President Richard Trumka.
McCain died in 2018 from brain cancer. He was held captive in Vietnam for more than five years while serving in the United States Navy.
Happening Now: President Biden, alongside Vice President Harris and the Second Gentleman, awards the Presidential Medal of Freedom to seventeen recipients. https://t.co/NWnDkg5SWH

— The White House (@WhiteHouse) July 7, 2022
Other Medal Recipients
— Sister Simone Campbell, a Social Service Sister and former executive director of NETWORK, a Catholic social justice organization.
— Former President of the University of Texas at Brownsville, Julieta Garcia. According to the White House, Garcia is the first Latina college president.
— Fred Gray was one of the first African American legislators in Alabama after Reconstruction. He was a notable civil rights attorney who represented Rosa Parks, the NAACP, and Martin Luther King Jr. He is still practicing law at the age of 91.
— Apple Inc. co-founder, CEO, and Chairman Steve Jobs in 2011, he passed away.
— Archbishop Demetrios of America's assistant, Father Alexander Karloutsos. According to the White House, Karloutsos has advised various US presidents. He is "one of my dear pals," according to Biden.
— Khizr Khan, is a Pakistani immigrant whose Army officer son, was murdered in Iraq. After speaking at the 2016 Democratic National Convention, Khan rose to national fame and became a target of Donald Trump's ire.
— Diane Nash, a founding member of the Student Nonviolent Coordinating Committee organized some of the most major civil rights initiatives of the twentieth century and collaborated with King.
—Megan Rapinoe, the Olympic gold medalist and two-time Women's World Cup winner lead the OL Reign in the National Women's Soccer League.
— Simpson, who served in Biden's Senate and has been a vocal supporter of campaign finance reform, a responsible government, and marriage equality.
— Richard Trumka, who had been President of the AFL-12.5 CIO's million members for more than a decade when died in August 2021. He was a former President of the United Mine Workers of America.
— Wilma Vaught, a Brigadier General, is one of the most decorated women in US military history, having broken down gender boundaries as she rose through the ranks. Vaught was one of just seven female generals in the Armed Forces when she resigned in 1985.
— Denzel Washington, is a two-time Academy Award winner for his work as an actor, director, and producer. He is also the recipient of a Tony Award, two Golden Globes, and the Cecil B. DeMille Lifetime Achievement Award.
— Raquel Yzaguirre For 30 years, Yzaguirre served as President and CEO of the National Council of La Raza.