Beijing, 13 June 2022 (TDI): Mbelwa Kairuki, Ambassador of Tanzania to China held a meeting on Monday with stakeholders in Tanzania's Cassava industry.
The purpose of the meeting was to address the market challenges for Tanzanian cassava products. Board management from Handeni attended the meeting and expressed their requests for cassava products.
China and Tanzania have been actively cooperating in agricultural trade. Whereas, in the field of cassava, there is still a lot of room for improvement in trade between China and Tanzania.
The cassava trade has a bright future especially when the overall production of Cassava in Tanzania is on the rise.
According to Nyasebwa Chimagu, the Director of Crops Development in the Tanzanian Ministry of Agriculture, China has at least an annual need for more than 2 million tons of dry cassava. Therefore, promoting cassava trade between China and Tanzania has great significance.
Tanzania's Cassava Industry
Cassava is famous for its resilience. Accordingly, cassava could play an important role in ensuring stable local food systems and food security.
Cassava is the main subsistence crop after maize in Tanzania, especially in the semi-arid areas of Tanzania. Moreover, because of the drought tolerance of cassava, it sometimes plays a role as a famine reserve when crops fail.
Data from Tanzania Invest shows that 84% of cassava production in Tanzania (84%) is for human consumption. While the remainder is used for animal feed, alcohol brewing, and starch production.
From 2018 to 2019, Tanzania's cassava production increased significantly from 5.9 million tons to 8.2 million tons. However, Tanzania's cassava production is about 8 tons per hectare, well below its estimated potential yield of 20 tons per hectare.
Thus, the effectiveness of Tanzania's cassava production needs improvement compared to the large demand in domestic and international markets.
To promote the cassava industry, the Tanzanian Government has begun a 10-year (2020-2030) study aimed at identifying improved cassava seeds.
The research focuses on increasing cassava production from 8.2 million tons annually to 24 million tons annually by 2030.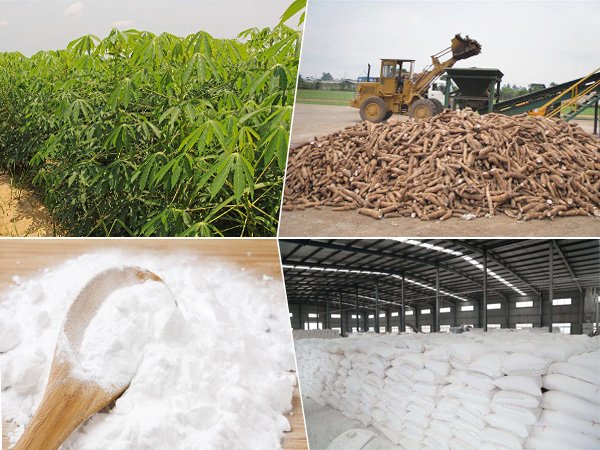 China-Tanzania Cassava Cooperation
The cooperation and trade between China and Tanzania in cassava is maintaining a positive trend. In 2018, Tanzania has signed a $1 billion partnership agreement with a Chinese firm to commercialize cassava farming and processing.
Later in 2019, farmers growing cassava from Handeni District, Tanga Region secured a market for cassava production in China.
Such improvement followed an agreement reached by the regional, district leaders, and stakeholders with officials of the Tanzania Agricultural Export Processing Zone (TAEPZ) company.
After Handeni's cassava products started their journey to the Chinese market, in 2020, Chinese companies are buying more cassava raw materials from farmers in the region and neighboring regions.
In recent years, with the deepening of agricultural cooperation between China and Tanzania, more and more Chinese enterprises have also shown great interest in Tanzania's cassava industry.
These Chinese enterprises not only buy raw materials from the local market but also build cassava product processing plants in the local market, helping to raise the value of the cassava industry in Tanzania and promote the development of local communities.