Beijing, 3 November 2022 (TDI): While Prime Minister Shehbaz Sharif was on his two-day visit to Beijing, he met with Liu Jianchao, Minister of the International Department of the Communist Party of China (IDCPC), and Luo Zhaohui, Chairman of the China International Development Cooperation Agency (CIDCA).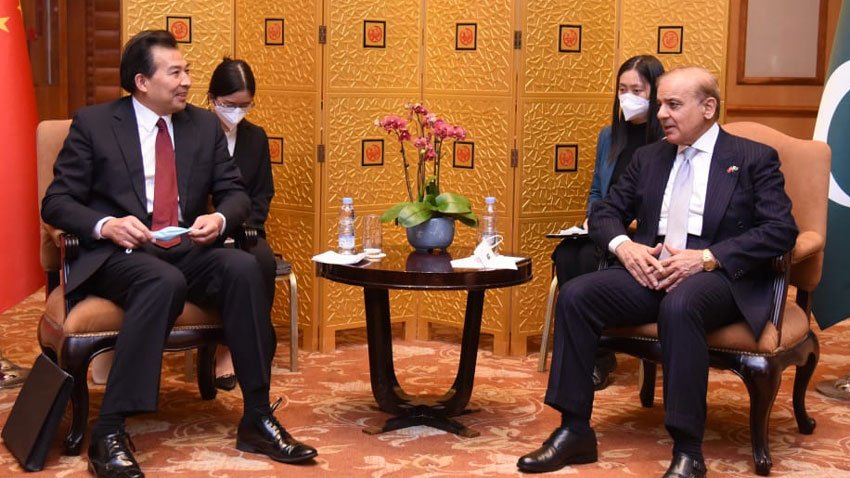 Both sides spoke about their respective countries' bilateral relations and discussed topics of shared interest.
China and Pakistan promise to continue advancing their All-Weather Strategic Cooperative Partnership.
The decision was made in a joint statement made following Prime Minister Shehbaz Sharif's trip to China.
Also Read: Pakistan-China friendship: a sacred tale of abiding trust and love
On November 1st, Prime Minister Shehbaz Sharif landed in Beijing for a two-day visit. Prime Minister Shehbaz Sharif was on his historic visit to a neighboring state.
He met the Chinese President in the Great Hall of the People Government office in Beijing, on November 2, 2022.
During his visit, Prime Minister Shehbaz Sharif had extensive discussions on bilateral relations, the situation in the region, and the global political environment with the Chinese leadership, including the President and the Prime Minister.
Also Read: Pakistani Prime Minister met Chinese President Xi Jinping
The two sides spoke on bilateral ties between China and Pakistan as well as international problems that both countries found important.
The Prime Minister said that Pakistan found inspiration in China's socioeconomic development and national resolve for the country's progress and prosperity and thanked President Xi's leadership for China's success as well as his vision for improving bilateral relations.
The two leaders discussed a variety of issues, including disaster preparedness, green energy, science and technology, agriculture, health, and trade.
They emphasised that CPEC's high-quality development would further strengthen relations between Pakistan and China as they reaffirmed their mutual commitment to the project.
The visit to China is Prime Minister Shehbaz's second encounter with his counterpart Xi Jinping since taking office. The first time both leaders met was at the Shanghai Cooperation Organization (SCO) summit in Samarkand, Uzbekistan.