Islamabad, 1 November 2023 (TDI): In a remarkable series of diplomatic meetings, the President of Pakistan, Dr. Arif Alvi, recently received the diplomatic credentials of nominated ambassadors from Jordan, the Holy See, the Czech Republic, Brunei, and Qatar.
These separate encounters, held at Aiwan-e-Sadr, showcased Pakistan's commitment to nurturing its international relationships and fostering cooperation with the global community.
Ambassador of the Czech Republic, Ladislav Steinhubel, expressed his thoughts on the event, stating, "Today, I presented my credentials to the hands of Dr. Arif Alvi, President of Pakistan. After an impressive ceremony, we had an interesting discussion, among others, also about the future strengthening of ties, especially in B2B cooperation."
During the diplomatic credentials presentation ceremony, the President emphasized the importance of enhancing diplomatic ties and promoting cooperation in various sectors.
The ceremony saw the participation of several distinguished ambassadors and high commissioners, including Dr. Maen A.M. Khreasat, the Ambassador Designate of Jordan, Archbishop Germano Penemote Apostolic Nuncio representing the Holy See, Colonel (r) Pengiran Haji Kamal Bashah bin Pengiran Haji Ahmad from Brunei Darussalam, and Ali Mubarak A.E. Al-Khater from Qatar. Each envoy presented their diplomatic credentials to President Dr. Arif Alvi and later engaged in separate discussions.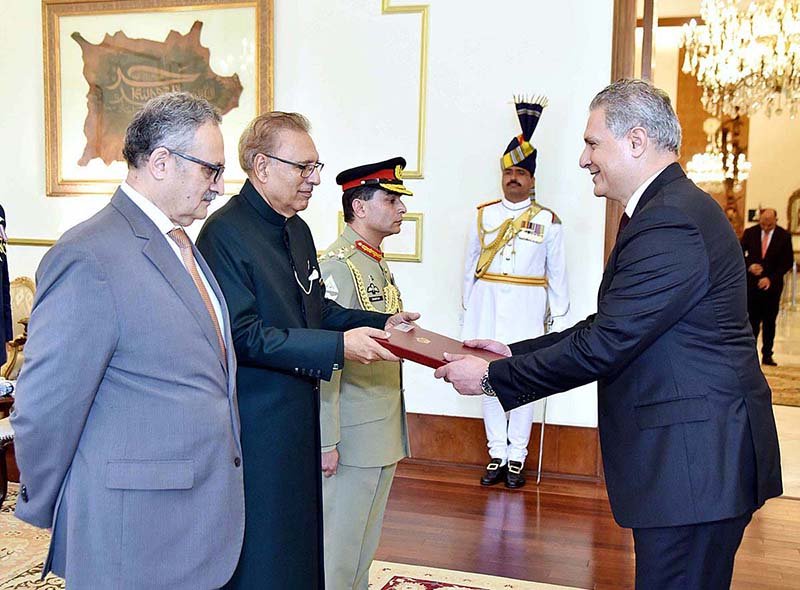 President Dr. Arif Alvi discussed several key diplomatic and regional issues during the meetings, demonstrating Pakistan's commitment to peace and stability in the region.
Moreover, he reaffirmed Pakistan's support for the restoration of the inalienable rights of the people of Palestine and its consistent backing of the Palestine cause. The President stressed the need for a comprehensive resolution of all outstanding Arab-Israeli disputes to ensure lasting peace in the region.
Additionally, President Dr. Arif Alvi expressed Pakistan's eagerness to intensify political, economic, and cultural relations with friendly countries and to foster increased bilateral trade and investment ties.
He highlighted the establishment of the Special Investment Facilitation Council (SIFC), which provides a one-window facility for investment in critical sectors such as IT, Corporate Farming, Minerals, and Energy in Pakistan. The President encouraged foreign investors to take advantage of Pakistan's investment-friendly policies and invest in these promising sectors.
Also Read: Pakistan seeks Danish support for 40% Renewable Energy target
Furthermore, President Dr. Arif Alvi raised concerns about the ongoing gross human rights violations in the Indian Illegally Occupied Jammu and Kashmir, emphasizing the need for international attention to address these issues.
The President congratulated the newly appointed envoys on their new assignments and expressed confidence that their roles would further strengthen the bilateral relations of their respective countries with Pakistan.