Astana, 26 June 2023 (TDI): The second round of Pakistan-Kazakhstan Bilateral Political Consultations (BPC) was successfully conducted in Astana, where representatives from both countries emphasized the importance of strengthening their bilateral relations.
The Pakistani delegation was led by Syed Ahsan Raza Shah, Additional Secretary (Afghanistan & West Asia), while Kanat Tumysh, Deputy Minister for Foreign Affairs of the Republic of Kazakhstan, headed the Kazakhistan side.
Discussions on diverse areas of Cooperation
During the consultations, the delegations engaged in discussions on various facets of bilateral relations, spanning political, diplomatic, trade, economic connectivity, science & technology, and culture sectors.
The aim was to foster closer ties and explore opportunities for mutual growth. In quest of this, both sides exchanged views on regional and global issues of significance, aiming to align their perspectives for constructive engagement.
Collaboration in International Forums
Recognizing the importance of collaboration within the framework of international organizations, the two sides reviewed their cooperation in organizations.
The organizations include the United Nations (UN), Conference on Interaction and Confidence-Building Measures in Asia (CICA), Organization of Islamic Cooperation (OIC), Economic Cooperation Organization (ECO), and Shanghai Cooperation Organization (SCO).
By reaffirming their commitment to these forums, Pakistan and Kazakhstan emphasized their shared goals of peace, stability, and development in the region.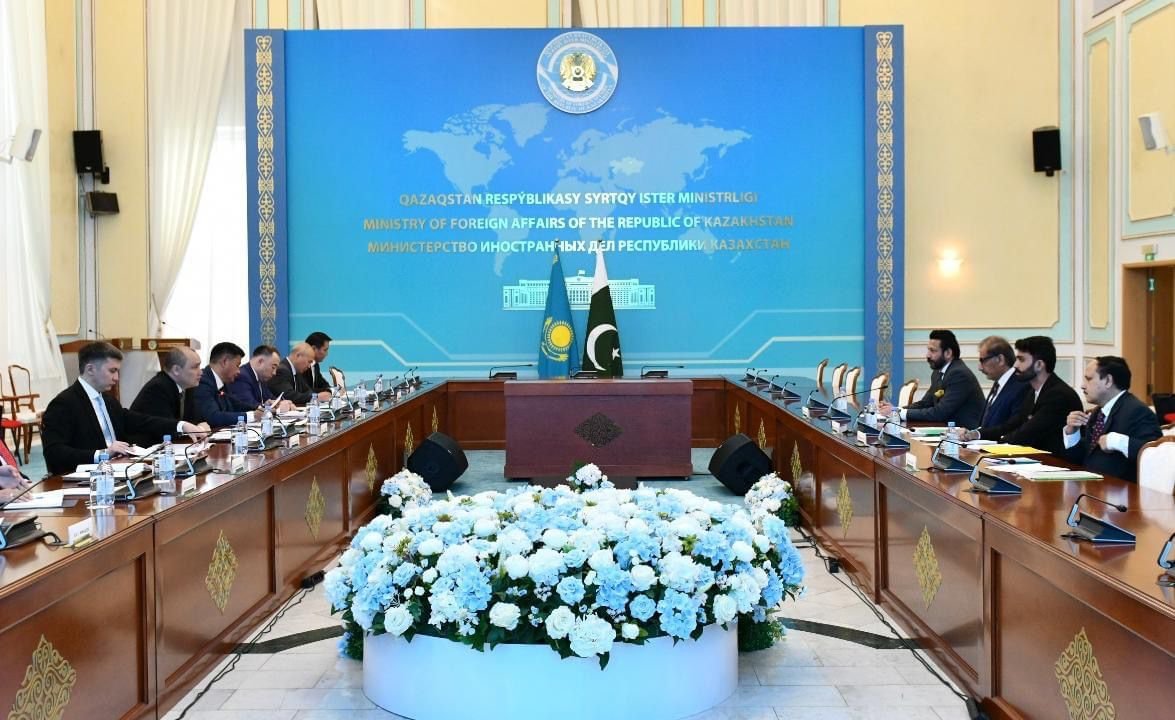 Transit Trade Agreement and Enhanced Connectivity
A significant outcome of the discussions was the agreement to expedite the finalization of the Transit Trade Agreement.
Also Read: Pakistan, Kazakhstan reach agreement on Trade transit for increased economic cooperation
This agreement, once finalized, will serve as a catalyst for enhanced trade between Pakistan and Kazakhstan, unlocking new opportunities for economic cooperation.
Moreover, both sides expressed their intention to boost connectivity between the two nations. As a positive step in this direction, the resumption of direct flights was warmly welcomed, with operations set to commence early next month.
Identifying new areas of Mutual Interest
The bilateral consultations offered a valuable opportunity for a comprehensive review of the current level of relations between Pakistan and Kazakhstan.
Both sides recognized the existing cooperation and achievements while identifying new areas of mutual interest.
The delegations expressed their shared commitment to further strengthen and expand bilateral relations, building on the solid foundation of friendship and cooperation between the two nations.
Promoting stronger Pakistan-Kazakhstan ties
The second round of Pakistan-Kazakhstan Bilateral Political Consultations held in Astana highlighted the mutual desire to deepen bilateral relations.
With a focus on political, economic, and cultural collaboration, both countries expressed their commitment to promoting peace, stability, and prosperity in the region.
The consultations served as a platform for constructive dialogue and the identification of new avenues for cooperation, signaling a promising trajectory for the future of Pakistan-Kazakhstan relations.