Manama, 12 October 2021 (TDI): Pakistan and Bahrain celebrate 50 years of diplomatic relations this year. The two countries established diplomatic relations on 14 October 1971. Pakistan has an embassy in Manama. While Bahrain maintains an embassy in Islamabad and a consulate general in Karachi.
Logo Launch Ceremony
Pakistan and Bahrain launched a logo to commemorate the 50th anniversary of diplomatic relations. Pakistan embassy in Manama organized a ceremony on 5 October to unveil the logo. Pakistan's ambassador to Bahrain, Muhammad Ayub, and Chief of Afro-Asian Affairs in the Foreign Ministry of Bahrain, Fatima Abdullah Al Dhaen, attended the ceremony. Members of the Pakistani community, businessmen, parliamentarians, and media personnel were also present on the occasion.
Ambassador Muhammad Ayub congratulated the people of Pakistan and Bahrain on 50 years of diplomatic relations. He said Pakistan has longstanding relations with Bahrain.  He further added this year both countries celebrate years of fraternal relations and unwavering mutual support.
Speaking on the occasion, Fatima Dhaen said Bahrain highly regards its distinguished relations with Pakistan and aims to further augment cooperation in areas of mutual interest.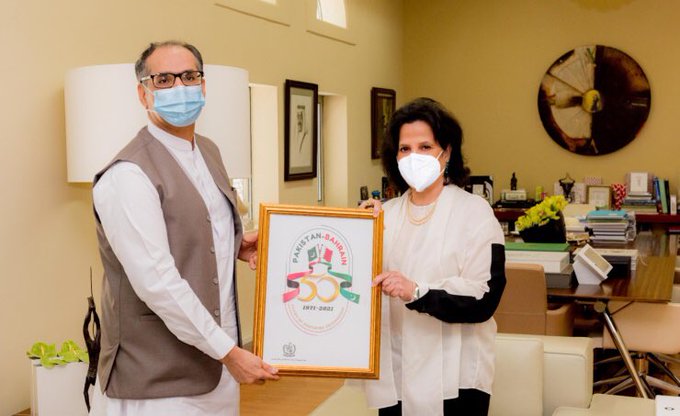 Furthermore, Ambassador Muhammad Ayub also presented a copy of the Golden Jubilee logo to the President of the Bahrain Authority for Culture & Antiquities Shaikha Mai bint Mohammed Al Khalifa . During the meeting, both officials exchanged views on enhancing cultural cooperation.
Overview of Pak-Bahrain relations
Pakistan and Bahrain share cordial diplomatic relations based on mutual trust and respect. The two countries are members of Organization of Islamic Cooperation (OIC) and G77.
Bahrain paid its first official visit to Pakistan in February 1974 under the leadership of late Prince Isa-Bin-Salman-Al-Khalifa. Likewise, Pakistan's President General Muhammad Zia-ul-Haq visited Bahrain in January 1981. Since then, the two countries  have been exchanged many official visits to promote bilateral relations.
Both countries cooperate in various sectors including trade, investment, culture, and defense. On May 8, 1994, the two countries signed an economic cooperation agreement. Later on, an agreement for cooperation in fields of culture, education, and information exchange entered into force on September 27, 1994. Pakistan and Bahrain held first Bilateral Political Consultations in 2016. Moreover, Pakistan and Bahrain signed a joint defense agreement on June 26, 2018. This diversified relationship between the two countries has been strengthened with time.