North Kivu, 4 August 2022 (TDI): Since the end of March 2022, M23 and the Congolese Army clashes have compelled more than 190,000 people to flee their homes.
As reported by the MSF (Doctors without Borders) Western & Central Africa, the clash has instigated a new humanitarian crisis in the province of North Kivu.
#DRcongo – Clashes between the M23 and the Congolese army have forced more than 190,000 people to flee their homes since the end of March 2022, leading to a new humanitarian crisis in North Kivu, a province already facing a dire #humanitarian situation. pic.twitter.com/FPz5n5t5Q3

— MSF Western & Central Africa (@MSF_WestAfrica) August 3, 2022
In a province facing a dire crisis, humanitarian aid is slow to reach Rutshuru and Nyiragongo. The crises that have been ongoing for months have left the displaced people in a far too precarious situation.
As a result of several factors, including violence, natural disasters, and disease outbreaks, the Democratic Republic of the Congo (DRC) is currently experiencing a complex and prolonged crisis.
In the same vein, the population in North Kivu is impacted by internal and cross-border relocation, severe food insecurity, severe malnutrition, diseases, and protection difficulties.
Also read: UN Security Council urges curbing DRC insurgencies
Displacement of Posie Banda's family 
According to the reports of MSF (Médecins Sans Frontières), Posie Banda, with his family were displaced after the clash became close to their hometown. In June, the father of 13 found refuge in Virunga National Park's primary school in Rumangabo.
Ponsie Benda told MSF in utter despair, "We sleep outside. I built this shelter with wooden sticks. We eat boiled leaves from Monday to Sunday. My wife takes them from people's fields, asking the owners first. There is mutual help because the community knows how much we are suffering."
Furthermore, most people have gathered in congested areas along the National Road linking Rutshuru to Goma, the capital of North Kivu.
In Rutshuru center, more than 1,400 families have gathered at the Rugabo Stadium. Even though the UNHCR has built community shelters, the condition remains extremely precarious.
While this crisis has been going on for months, humanitarian assistance is slow to arrive & many needs remain unmet in Rutshuru & Nyiragongo, leaving displaced people in far too precarious conditions. Listen to Dr. Padoue, @MSF doctor in Rutshuru. ⬇️ pic.twitter.com/hxWkNlNDlv

— MSF Western & Central Africa (@MSF_WestAfrica) August 3, 2022
MSF's regional officials' remarks on the despairing situation  
As per Bénédicte Lecoq, MSF's emergency coordinator, the proximity of the internally displaced persons (IDP) sites, along with the absence of restrooms, is a significant risk factor for the spread of infectious diseases like measles or cholera.
Dr. Padoue Kamamba, an MSF doctor in North Kivu, reiterates that the security situation in Rwanguba has deteriorated. The population has moved towards Rutshuru to seek refuge.
Consequently, MSF withdrew from the Rwanguba health zone as fighting escalated. People remain stuck in Rwanguba, but MSF doesn't have access due to insecurity.
Dr. Padoue further states that MSF assists the displaced and refugees by setting up mobile clinics and supporting health care structures. The three illnesses widespread are malaria, pneumonia, and digestive pathologies like diarrhea.
Grave humanitarian concerns in North Kivu 
The MSF-supported unit for extremely malnourished children at the Rutshuru general referral hospital has had a bed occupancy rate of 140% for several weeks.
Moreover, the average number of consultations daily in the health structures that MSF's teams serve in the Rutshuru and Nyiragongo areas frequently surpasses 100.
Additionally, there are an estimated 1.6 million displaced people and more than 2.5 million in need in the North Kivu province as of June 2022. The recent uptick in violence in the Rutshuru and Nyiragongo areas is escalating an already terrible humanitarian situation.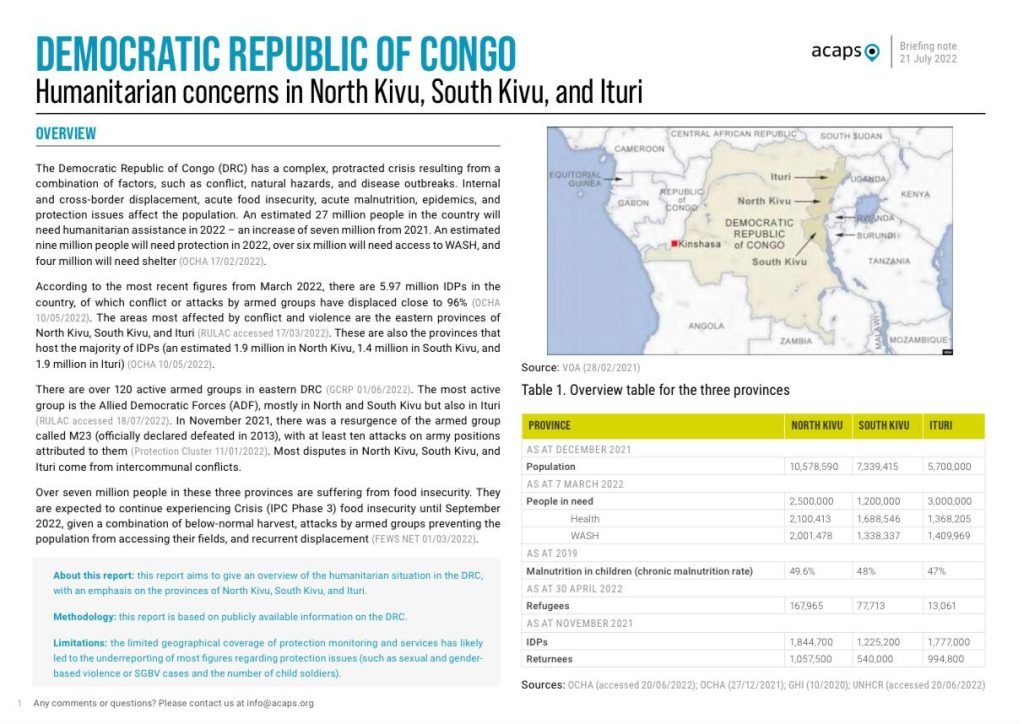 MSF's response to the emergency
MSF continues to adapt its response to changing conditions and demands. It has established two temporary clinics, one at Rugabo stadium in Rutshuru-center and the other next to the Rumangabo health post, where many displaced people have collected.
Besides, MSF has also constructed restrooms and showers at several locations, assisting in enhancing the water supply.
In Munigi, in addition to the health center, MSF provides clean water daily at four locations and has given hygiene kits to the displaced people.